As we look ahead to the new year it's traditional in many countries to cooke foods that symbolize luck. This good luck soup fits that bill deliciously. An Instant Pot full of lucky ingredients makes the very best New Years soup recipe!

And if soup is your thing, you may also enjoy my spicy tomato soup or lemon asparagus soup. And of course, don't forget the crackers!
For ease of browsing, here are all of my soup recipes.

My wonderful, talented friend Anshie from SpiceRoots has generously written this guest post for you guys. If you've never read SpiceRoots, you really should. It is full of goodness and beautiful photos.
Watch my Instant Pot good luck soup recipe web story here.
Lucky Foods for the New Year
As we begin this new year with hopes and dreams about the near future, I have gathered a few things to bring you this Instant Pot Good Luck Soup to start the new year on the right note.
Whether or not you believe in the superstitions, it's a nice thing to have a little tradition surrounding the first meal of the year!
After all, it is fun and there's no downside in making lady luck smile on us!
Many cultures follow the tradition of eating greens on the first day of the year. Some cultures prefer black eyed peas, lentils, beans or chickpeas.
And in some cultures, pork is the dish of the day. This year, instead of making three different dishes with the "lucky" ingredients, I combined them together and made a delicious spiced soup.
Served with a crusty bread on the side, it makes for a wonderful meal.
Ingredients and Substitutions
While there are quite a few spices involved in adding flavor to this soup, the ingredient list is not super long, and, with the exception of the kokum, you should be able to find all the ingredients at your local grocery.
Here's what you'll need:
black eyed peas, soaked in water for at least 8 hours: You may use other beans, but black-eyed peas are traditional
cooking oil: a neutral vegetable oil is best, but use what you have. The recipe calls for 1/2 teaspoon, so you can even leave it out and just use the fat from cooking the bacon and sausage
diced bacon: any bacon will do. It provides richness and a smoky base flavor.
hot Italian sausage: The pork products symbolize "progress," plus they add additional flavor and spices. Use bulk sausage or sausage in casings. Just cut away the casings and use the sausage mixture itself.
chopped garlic: Fresh is best, but the pre-minced kind in jars or bottles will work well also
bay leaves: fresh or dried
cumin seeds: if you don't have whole cumin seeds, use ground
cayenne: use more or less, to taste. Some people might find the soup spicy enough if using hot Italian sausage, so if you are sensitive to spice, omit or leave it to the end of cooking to see if you want to add it
turmeric: In this amount, it is mainly there for a little color, but turmeric is also an anti-inflammatory, so I try to use it as often as I can. If you don't have turmeric, it is okay to omit it.
collard greens: fresh. Wash them well and cut away all the thicker, fibrous stems and ribs
salt: brings out the flavor of all the other ingredients. Salt to taste and adjust at the end of the cooking time.
rosemary chopped: brings a fresh, woodsy note to the soup. You can substitute thyme or Italian seasoning if you don't have rosemary
water: Feel free to use vegetable broth or chicken broth/stock instead. If using salted broth, omit the salt and taste at the end to adjust
2- 3 dried kokum (garcinia indica), soaked in 2 tbs of hot water; or substitute with 1 tsp lemon juice: I have not made it with the kokum, which should be available at Indian markets. It's delicious with the lemon, though. If you don't have lemon, add just a touch of vinegar for brightness at the end of cooking.
lemon zest: If you don't have fresh lemons, just omit it, but it does add a lovely, bright floral note to the soup.
Procedure
The soup is pretty easy to make, and in the Instant Pot, it only takes about an hour, including 30 minutes of natural pressure release (NPR). Here's what you'll do:
Soak the beans in cold water (enough to cover the beans by about 3 inches) for several hours.
On saute, add the oil and the cook the bacon and sausage until browned.
Add the garlic, salt, and spices and mix well.
Add the collards, rosemary, rinsed and drained beans, and water.
Cook on high pressure for 30 for 30 minutes and then allow 30 minutes NPR.
Remove lid from the Instant Pot, and add lemon juice and zest right before serving.
Other Ways to Cook the Soup
If you don't have an Instant Pot, you could make this soup in a crock pot, a Dutch oven or a stove-top pressure cooker.
You will have to adjust the cooking time accordingly.
In case of the Dutch oven, you will need to adjust the liquid based on how quickly it evaporates.
Good Luck Soup Q&A:
Can I make a vegan good luck soup?
Yes. Omit the bacon, use a plant-based sausage plus a teaspoon of liquid smoke. The rest of the ingredients are vegan as written. NOTE: Cook and crumble the vegan sausage first and then add it at the end of cooking to heat through so it doesn't get mushy in the Instant Pot.
Do I have to remove the sausage casings?
No, you don't, especially if you like larger pieces of sausage in your soup. Removing the casings will allow the sausage to crumble more readily, and you can even use bulk sausage rather than sausage in casings. Either way is just fine.
How long to soak the black-eyed peas before cooking?
I soaked the black-eyed peas for over 12 hours in cool water. There are many schools of thought on whether you should salt the soaking water or not. I belong to the group that doesn't salt the soaking water. But it's really up to you.
Can you cook the beans without soaking?
Yes. But the time it takes for the beans to get tender will be longer. So in effect you can not make this a one pot dish because you will have to partially cook the beans first.
Can you use canned black-eyed peas?
Absolutely. Drain and rinse them and then cook it as per instructions but only for 5 minutes under pressure.
Can you use any other greens?
Kale is a good substitute and can be used exactly like the collards in this recipe. However, If you were to use any tender greens like spinach add them in the end to shorten the cooking time.
How long will it keep in the fridge?
Cool your leftover soup quickly and then refrigerate it in a sealed container for up to five days. To reheat it, be sure to heat it to at least 165F for at least 15 seconds. You may reheat it either in the microwave or on the stove.
Can I freeze it?
Yes. I find it best to freeze individual portions (maybe 1 1/2 cups) in quart-sized freezer bags. Press out as much air as possible before sealing and storing them flat in the freezer for up to 3 months.
I hope you all enjoy this soup as much as my family does. And I wish you all a very Happy New Year.
Questions?
It would be so helpful to me and to other readers that, when you make a recipe, you rate it and leave a comment. Whether it's a recipe or an informational post, your feedback helps others decide if the post is helpful or if the recipe works as advertised.

If you could leave a star rating, that would be very helpful. Thank you for being here!
I really hope you love this New Year's soup recipe, you guys!
Thanks, and enjoy!
Instant Pot Good Luck Soup
Good Luck Soup is warming on any cold night, and with collards, beans, sausage and spice, it is full of flavor too.
Ingredients
1

c

black eyed peas

soaked in water for at least 8 hours

½

tsp

cooking oil

3

– 4 strips of bacon

diced

14

oz

hot italian sausage

about 5 to 6 , cut into ½ in rounds

1

Tbs

chopped garlic

2

small bay leaves

¼

tsp

cumin seeds

¼

tsp

cayenne

⅛

tsp

turmeric

1

bunch collard greens

roughly chopped

1.5

tsp

salt

½

tsp

rosemary chopped

4

cups

water

2- 3

dried kokum

garcinia indica, soaked in 2 tbs of hot water; or substitute with 1 tsp lemon juice

Zest of 1 lemon
Instructions
Set your instant pot on Saute mode and heat.

Add the oil and then cook the diced bacon until lightly browned.

Add in the sausage and get them nicely browned on all sides.

Now add in the garlic, bay leaves, cumin, cayenne, turmeric and mix.

Add in the collard greens, salt, rosemary.

Drain the beans and add them in.

Add 4 cups of water, Cover and cook for 30 minutes on High Pressure.

Allow to NPR ( Natural Pressure Release ) for 30 minutes.

Add in the kokum along with the soaking water and cook on saute for 5 minutes.

(Add the lemon juice just before serving if not using kokum)

Add lemon zest just before serving.

Eat hot.
Did You Make Any Changes?
Notes
Dutch Oven Instructions
Cook bacon and sausage until mostly done. Add the spices and saute for a minute. Add the rest of the ingredients including the soaked beans and cook at a slow simmer over low heat for 2 hours or until the beans are nice and tender, adding additional water as needed. Add lemon juice and zest at the end of cooking. Taste and adjust flavors as necessary.
Slow Cooker Instructions
Cook bacon and sausage until mostly done. Add spices and saute for a minute. Transfer to your slow cooker, and add the rest of the ingredients. Cook on high for 4 hours or until the beans are nice and tender. Add lemon juice and zest at the end of cooking. Adjust seasonings as necessary.
Storing
Cool soup as quickly as possible and store in the fridge in a sealed container for up to 5 days. To reheat, bring to at least 165F for at least 15 seconds. You may reheat in the microwave or on the stove.
Freezing
Ladle cooled soup into individual portions in freezer bags and press out all the air before freezing. Store the bags in the freezer for up to 3 months. Thaw overnight in the fridge and then reheat at least 165F for at least 15 seconds either in the microwave or on the stove.
Nutrition
Serving:
1
g
Calories:
318
kcal
Carbohydrates:
13
g
Protein:
19
g
Fat:
22
g
Saturated Fat:
8
g
Polyunsaturated Fat:
16
g
Cholesterol:
45
mg
Sodium:
1217
mg
Fiber:
4
g
Sugar:
3
g
And there you have it friends. A rich and flavorful Good Luck Soup made in your Instant Pot, ready to bring you luck in the new year and also a very happy tummy.
And thank you again to my friend Anshie for helping me out with this delicious guest post. Please don't forget to go visit her at SpiceRoots, friends!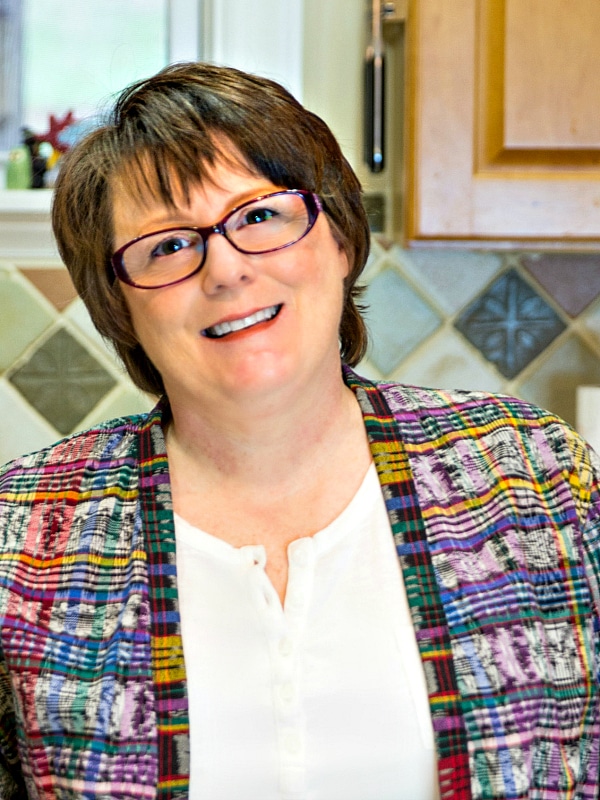 What are my qualifications to teach you baking and pastry? As a former working pastry chef and special educator, I marry my passions for both teaching and for baking into explaining techniques, methods, and developing the best possible recipes. For more info, you can read more about me.
If you'd like to receive new recipes and the occasional newsletter, I'd love for you to sign up for my Inbox Pastry Chef.
Thank you for spending some time with Anshie and me today. I wish you the very best of what the new year has to offer.
Take care, and have a lovely day.