Cinnamon buttermilk cheesecake is brightened up with the addition of buttermilk, so it feels light in your mouth. Don't worry, it's still a pretty decadent cheesecake I think you will love!

For another take on cinnamon cheesecake, try my King Cake cheesecake recipe.

For more cheesecake resources and recipes, please check out my Cheesecake Recipes page.
Cheesecake is Dangerous
I hardly ever make cheesecake. Not because I don't like it but because I like it a little too much.
I am pretty sure I have never met a cheesecake I didn't love and eat more of than maybe I should. I have even purchased a tub of Philadelphia cheesecake filling just to eat straight like pudding. Wait, that wasn't me…
How This Recipe Came About
I ordered a jar of Apple Pie Jam from Fogwood Farm as part of our order through Carolina Grown. When I ordered it, I didn't actually have a plan for it. I just had an idea that I'd be able to use it to make something delicious at some point. When the jam arrived, I put it in the cabinet and waited for inspiration.
The next week, I bought 6 blocks of cream cheese at the warehouse store, because I had started thinking about cheesecake. I went in search of gingersnaps for an easy cracker crust, but when I saw the enormous container of biscotti, I changed my mind and bought it instead.
The Magic of Buttermilk in Cheesecakes
I had every intention of using heavy cream or maybe sour cream in the cheesecake, but then I spied the bottle of buttermilk. And, feeling somewhat sorry for it as it seldom gets chosen when I open the refrigerator door, I decided to use it instead.
I did look up "buttermilk cheesecake" to make sure that there was precedent and documented success (yes, and yes), and cinnamon buttermilk cheesecake was born.
I can now declare myself a very big fan of the buttermilk cheesecake.
Since it adds more liquid but not more fat, as sour cream or heavy cream would, the texture is much lighter. Plus, I can feel a little bit less guilty since it is somewhat lower in fat and calories than a "regular" cheesecake.
The texture is almost mousse-like. Not quite that fluffy, but pretty close. The tang of the buttermilk also helps to make it seem lighter.
More Cheesecake Recipes
If you're a cheesecake fan, don't miss these other great cheesecakes, y'all:
I do hope you give this cinnamon buttermilk cheesecake a try. It is pretty delicious.
For convenience, consistency, and accuracy, almost all my recipes are written by weight, either in ounces and/or grams, even the liquids.
I strongly encourage you to purchase a kitchen scale and learn to use it.
This is the one I used for years. I love it and highly recommend it:
Best for Home Use
Escali Primo Digital Food Scale
Don't let its small price and small size fool you. The Escali Primo is an accurate and easy-to-use food scale that I have used for years. It's easy to store, easy to use, has a tare function, and easily switches between grams and ounces/pounds for accurate measurements.
This is an affiliate link which means I earn from qualifying purchases. Your price is unaffected.
Cinnamon Buttermilk Cheesecake
This cinnamon buttermilk cheesecake is not too sweet. Feel free to up the amount of granulated or brown sugar by an ounce or so. The critical ratio is egg to cream cheese and other liquid, so it's okay to play with the amount of sugar some.
Ingredients
For the Crust
15

small biscotti

(about 3″ long x 3/4″ thick)

1.5

Tablespoons

4 1/2 teaspoons granulated sugar

heavy pinch of salt

1

teaspoon

cinnamon

2

oz

1/2 stick unsalted butter, melted
For the Cheesecake
4-8

oz

blocks full fat cream cheese

room temperature

1

tablespoon

ground cinnamon

2

teaspoons

pure vanilla extract

½

plus 1/8 teaspoon fine sea salt

or to taste

several gratings of fresh nutmeg

(optional)

5

oz

granulated sugar

4

oz

dark brown sugar

4

eggs

, beaten and at room temperature

1

cup

8 oz buttermilk, at room temperature
For the Topping
1

cup

of apple pie jam

pureed and melted
Instructions
For the Crust
Set your oven rack to the middle setting and preheat your oven to 350F.

Whir up the biscotti in the food processor until you have fine crumbs.

Add the rest of the ingredients and pulse until evenly blended.

Pat evenly on the bottom and partway up the sides of a 9″ springform pan. I find it easiest to use a glass for this.

Bake for 10 minutes.

Remove from oven and set aside.
For the Cheesecake
Reduce the oven temperature to 325F.

On low speed in your stand mixer, mix the cream cheese until smooth.

Ad the cinnamon, vanilla, salt and nutmeg and mix on low until evenly blended, scraping the bowl as necessary.

Slowly add in the sugars, keeping the mixer on low speed and scraping the bowl as necessary.

Drizzle in the eggs, a bit at a time, until they are all incorporated.

Continue mixing on low speed, scraping the bowl as necessary.

Slowly stream in the buttermilk, mixing until well combined. Scrape the bowl as necessary.

Pour the batter into the pan, rapping it on the counter a couple of times to dislodge any air bubbles. Pop any bubbles that rise to the surface.

Bake for an hour, or until just the center of the cake is a bit jiggly.

Carefully and evenly spread on the apple pie jam. (See Notes for other ideas for toppings)

Turn off the oven but leave the cheesecake in for another 30 minutes.

Crack the oven door and leave the cheesecake in the oven for another 30 minutes.

Remove the cheesecake from the oven and let cool to room temperature.

Chill for four hours or overnight before slicing and serving. (Run a thin-bladed knife or icing spatula around the inside of the springform pan to loosen it before removing the sides to slice).

The cake will be more flavorful if you let it sit out for about thirty minutes after slicing but before serving.

Store leftover cake in the refrigerator, covered, for up to four days.
Did You Make Any Changes?
Notes
If you can't find apple pie jam, feel free to top with your favorite cooked apple pie filling. You could even top it with cinnamon apple sauce or apple butter if you wanted, as well.
So, are you as addicted to cheesecake as I am? What is the dessert that you can't have in the house too frequently lest you lose control? Let me know in the comments!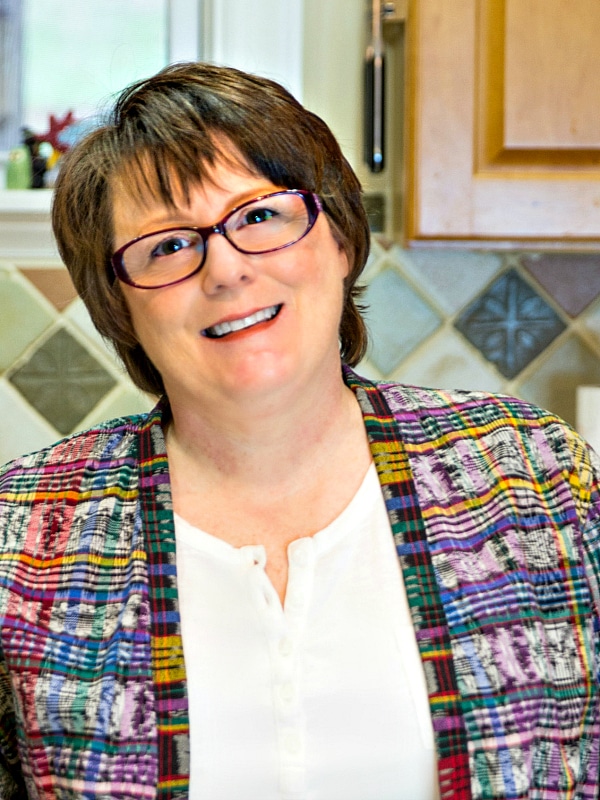 What are my qualifications to teach you baking and pastry? As a former working pastry chef and special educator, I marry my passions for both teaching and for baking into explaining techniques, methods, and developing the best possible recipes. For more info, you can read more about me.
If you'd like to receive new recipes and the occasional newsletter, I'd love for you to sign up for my Inbox Pastry Chef.
Thanks so much for taking the time to read today. Take care, and have a lovely day!