Most Recent Update:

I'm glad you're here to learn to make chocolate peanut butter porter ice cream sauce! Please feel free to jump straight to the recipe. Below that, you'll find all the Progressive Eats posts for this month, too.
Chocolate Peanut Butter Porter Ice Cream Sauce
For someone who is a fan of homemade ice cream and has quite a few ice cream recipes on the blog, I have a Dearth of sauces. As soon as I heard the theme of this month's Progressive Eats meal Cooking with Alcohol, my brain went straight to ice cream sauce. Chocolate Peanut Butter Porter Ice Cream Sauce, to be specific. I enjoy cooking and baking with beer, so whenever I find a beer that seems to need a kitchen job, I pick up one (or a six-pack if they don't come in singles) and then figure out what I can bake with them. When I saw DuClaw Brewing's Sweet Baby Jesus, a chocolate peanut butter porter, on the shelf at our local grocery store, I immediately grabbed some and stashed them in the outside fridge, waiting for the Perfect Moment. And this is it. What makes more sense than making chocolate peanut butter porter ice cream sauce out of chocolate peanut butter porter? Nothing, that's what.
And this stuff is Good. Seriously. It's sweet but not too sweet. It's the perfect pouring consistency, and it has just a bit of bite from the porter which is happily balanced by whatever sweet ice cream you choose to pour it over.
Do check out my recipe below, and then see what fun everyone had with this month's beery, boozy theme–the links are below.
But first, if you love homemade ice cream, I have a gift for you!
Click HERE for a FREE Restaurant
Ice Cream Recipe and Eleven Variations
It's Progressive Eats Time!
Welcome to Progressive Eats, our virtual version of a Progressive Dinner Party. This month's theme is Boozy Cooking and is hosted by Megan Myers, who blogs at Stetted. For our Boozy Cooking dinner, we all created recipes using beer, wine, or spirits. Thanks for such a great theme, Megan!
If you're unfamiliar with the concept, a progressive dinner involves going from house to house, enjoying a different course at each location. With Progressive Eats, a theme is chosen each month, members share recipes suitable for a delicious meal or party, and you can hop from blog to blog to check them out.
We have a core group of 12 bloggers, but we will always need substitutes and if there is enough interest would consider additional groups. To see our upcoming themes and how you can participate, please check out the schedule at Creative Culinary or contact Barb for more information.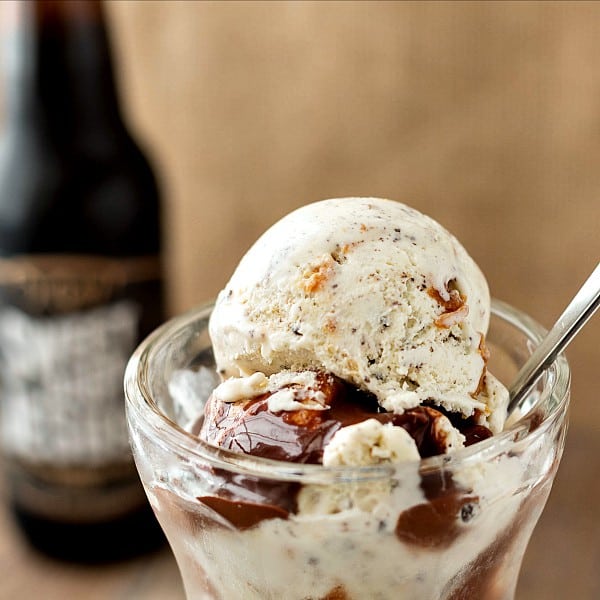 And now, without further ado, I give you this simple but decadent ice cream sauce. It take about fifteen minutes from "Hey, I think I'll make some chocolate peanut butter porter ice cream sauce" to "Tada! Let's find some ice cream to pour it on!"