If the ready-made Whole 30 compliant ketchups aren't doing it for you, I came up with this Whole 30 ketchup recently to have a compliant, spicy, smoky option that packs a ton of flavor.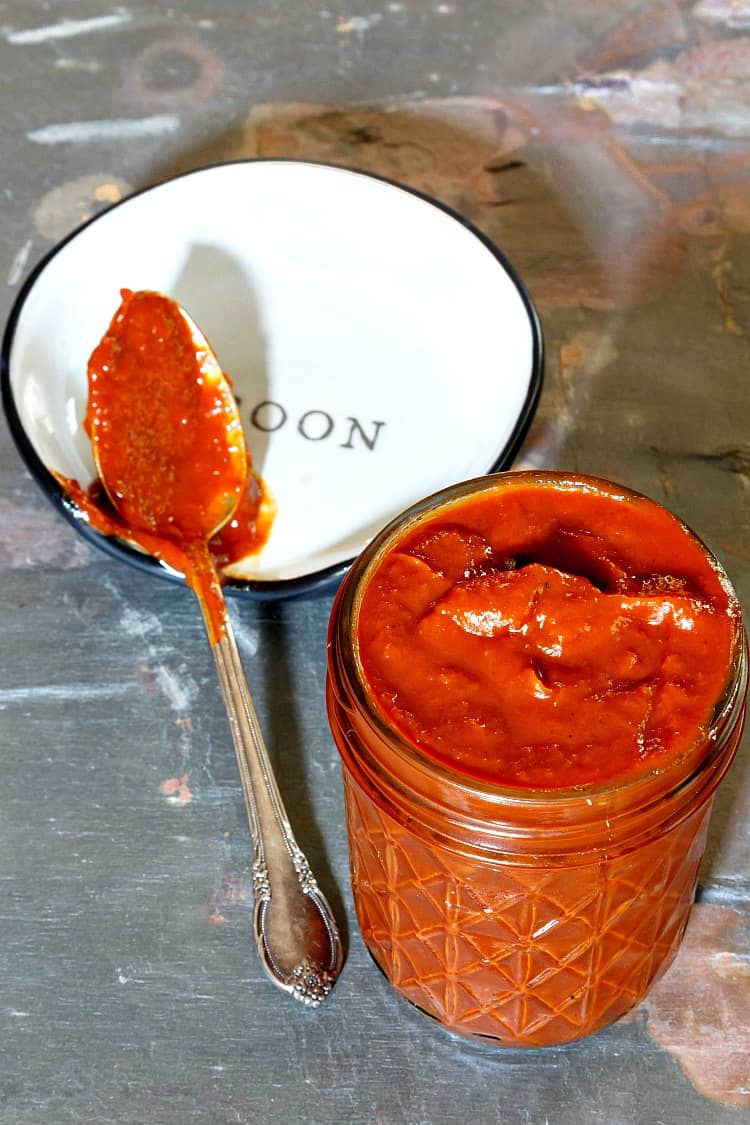 The Beloved and I did a Whole30 in April/May of this year. There's so much cooking. So much cooking! Whenever I could find a prepared product that was "compliant," I bought it to cut down even just a bit on The Cooking.
Now that we're not on Whole 30 but are trying to still eat "Whole 30-ish during the week," I have time to tinker with some Whole 30 condiments to have on hand. This ketchup is rich and thick, smoky and spicy, and it sweetened with dates.
What Makes Ketchup Whole 30 Compliant?
Whole30 gives your body a 30-day break from 5 groups of foods:
Sugar and sugar substitutes
Alcohol
Grains
Beans and Legumes
Dairy
Whole 30 ketchup generally uses dates for sweetness and contains none of the other Whole 30 Big Bads.
Can I Use Paleo Ketchup?
Probably not for Whole30. Paleo folks can have honey, so many paleo ketchups use that as a sweetener. Sadly, honey is a no-go on Whole30.
Can I Buy Whole 30 Ketchup?
Yes! Especially if you are in the thick of Whole 3o and the thought of making one more thing from scratch makes you want to cry.
Here are two great options:
Let's Make This Spicy, Smoky Whole 30 Ketchup
Just look at that! Thick and gorgeous. Since not everyone likes the same level of smokiness and heat, check the recipe notes for variations.
Once you're off Whole30, you might decide to reintroduce sweeteners. In that case, feel free to sub in honey for the date syrup or chopped dates in this recipe. Enjoy!
Smoky Whole 30 Ketchup
This Whole 30-compliant ketchup packs a good amount of heat and smoke, making it great alone or as a base for barbecue sauce. Good stuff!
Cuisine:
American via Chinese
Keyword:
condiment, ketchup
What You'll Need
2

Tablespoons

avocado oil

3/4

cup

sweet onion

diced

1/2

teaspoon

kosher salt

2

cups

tomato puree or sauce

6

Tablespoons

apple cider vinegar

1/4-1/3

cup

date syrup

or 1/3 cup chopped, pitted dates plus 1/4 cup water

1

chipotle in adobo

diced

2

teaspoons

adobo sauce

from the can of chipotles

2

teaspoons

smoked paprika

1/2

teaspoon

garlic powder

1/2

teaspoon

cinnamon

1/8

teaspoon

ground cloves

or allspice
What To Do
Heat a medium saucepan over medium-high heat. Add the oil and then the diced onion and salt.

Carefully transfer the onions to your blender jar. Add the rest of the ingredients to the blender and puree until smooth.

Return the mixture to the saucepan and bring to a boil. Turn the heat down to maintain a simmer and simmer for about 40 minutes, stirring fairly frequently to prevent sticking.

Transfer to a container. Cool and then store in the fridge for up to 3 weeks.
Recipe Notes
Whole 30 Ketchup Variations
Classic Whole 30 Ketchup
Leave out the chipotle and adobo, and decrease the smoked paprika to 1/2 teaspoon. Add 1/2 teaspoon celery seed. Proceed as directed.
Whole 30 Cocktail Sauce
Leave out the chipotle and adobo, and decrease the smoked paprika to 1/2 teaspoon. Substitute freshly squeezed lemon juice for the vinegar. Add 1/2 teaspoon celery seed and Whole30-compliant prepared horseradish, to taste (3-4 teaspoons or so). Proceed as directed.
Whole 30 Bacon Ketchup
Finely dice 3 slices of Whole 30 compliant bacon and cook until crispy. Remove the bacon to drain on a paper towel. Pour off excess bacon drippings, leaving about 2 Tablespoons in the pan. Cook the onions in the bacon drippings. Reduce the amount of chipotle and smoked paprika to taste. Proceed as directed and stir the bacon bits back in at the end of cooking.
Nutrition Facts
Smoky Whole 30 Ketchup
Amount Per Serving
Calories 41
Calories from Fat 18
% Daily Value*
Total Fat 2g 3%
Sodium 221mg 9%
Potassium 182mg 5%
Total Carbohydrates 5g 2%
* Percent Daily Values are based on a 2000 calorie diet.
And there you have it, friends. Now, if you're on Whole30, you can enjoy ketchup.
Thanks for spending some time with me today. Have a lovely day.