This blood orange caramel sauce recipe is like the grown up version of one of those Brach's caramel's with the orange-flavored centers.

It's perfect over vanilla ice cream, but don't discount its charms over pound cake or swirled into coffee or hot chocolate.

I'll teach you how to make it, how to modify the level of sweetness and bitterness, and provide short video clips so you'll know exactly what to do.

For ease of browsing, you can find all my dessert sauce recipes in one place. Thanks so much for being here, and I hope you enjoy this recipe!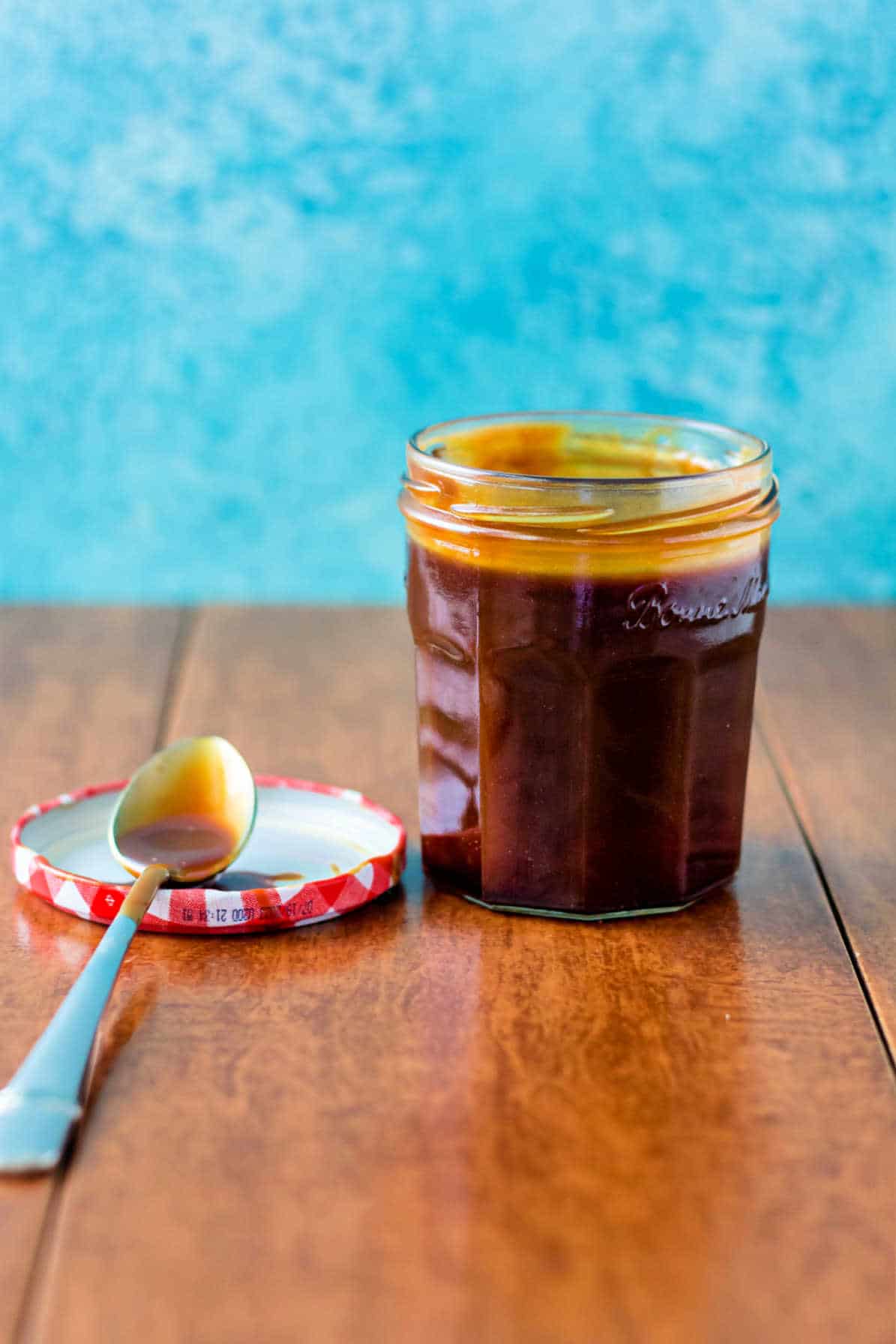 Please see my blood orange caramel sauce web story here.
Why You Need to Make This Recipe
Blood orange caramel sauce is spectacular, friends.
If you love orange and caramel, this sauce is for you.
It's easy to make, and you can vary the sweetness and depth very easily.
This sauce is also a bit out of the ordinary because most people make caramel sauce with heavy cream.
The truth is, you can use almost any liquid to make a caramel sauce, either as a stand-alone, or as a step in making a more complex sauce.
Once you master this sauce, the sky is really the limit.
But I wouldn't blame you for stopping here, because this sauce is That Good!
How To Make Blood Orange Caramel Sauce
This recipe follows the procedure for making any caramel, either candy or sauce.
Here's what you'll need.
Ingredients and Substitutions
sugar: To get the best idea of the color of your caramel, use basic white sugar. If you are used to working with caramel, you could use a less-refined sugar like Sugar in the Raw
water: You don't even need to measure the water. You just need enough to moisten the sugar so that it melts and cooks evenly
salt: I use a fairly assertive amount of salt. Don't leave it out, because it helps to bring out all the flavors and counteract any bitterness from both the caramelized sugar itself and the blood orange juice
blood orange juice: In my neck of the woods, I can generally get blood oranges in the grocery store during the winter months. If you can find it bottled, you may also use that. Moro oranges are easiest to find in the US, and that's what I recommend using
heavy cream: Use equal parts heavy cream and blood orange juice, or adjust the proportions to suit your taste. The more cream you use, the creamier your sauce will be. The more blood orange juice you use, the more orangey your sauce will be. It's up to you, and you can even use all oj if you prefer
butter: Technically an optional ingredient, it does lend a bit of creaminess. I use unsalted butter
vanilla: Because vanilla and orange complement each other beautifully. Use vanilla extract or paste
Procedure
As I said earlier in this post, the procedure for making this caramel sauce is pretty much identical to how you'd make any sort of caramel sauce.
In a nutshell,
Moisten the sugar with water.
Caramelize the sugar to your desired degree of darkness (from light honey to mahogany)
Turn off the heat and stop the cooking by pouring in the juice/cream
Add butter and simmer for a few minutes to thicken.
Here's an image collage that shows the basic process and the final product:
Equipment You May Need
You will want to cook your caramel in a heavy-bottomed saucepan. It's much easier to watch the color of your caramel in a pan with a white enameled or shiny stainless interior.
Do not use a non-stick pan, because it's almost impossible to gauge the color correctly.
Keep in mind that sugar will boil up alarmingly when you add your liquid (blood orange juice, cream, etc), so make sure the pot you use is larger than you think you need.
Variations
You always have the option to use all-cream and then add 3-4 drops of blood orange oil to taste after cooking.
Consider using varying amounts of cream, blood orange juice, and "regular" oj to adjust the assertiveness of the orange flavor as well as the bitterness.
If using whole fruit and not bottled juice, zest the oranges first, add them to the juice, and then heat and let steep for about an hour. Then strain out all the zest with a fine-mesh strainer and continue with the recipe.
This will give you a fuller blood orange "experience" as you'll be using both the juice and the essential oils in the zest.
Visual How-To
Here are some short video clips so you know exactly what you're looking for as you make this sauce.
I hope you find them helpful!
You don't really need to measure your water–you just need enough to moisten the sugar.
Regardless of your ratio of juice to cream, whisk the two together.
It may curdle sightly, but that will not affect the taste or texture of your final sauce. I promise.
Once the sugar gets to the color you want, pour in the cream and juice all at once.
Let the sauce boil on high for about a minute or so.
Add the butter and then simmer the sauce for a few minutes to thicken.
Pour the sauce into a clean jar.
The sauce will be fairly thin, but it will thicken as it cools.
Tips for Success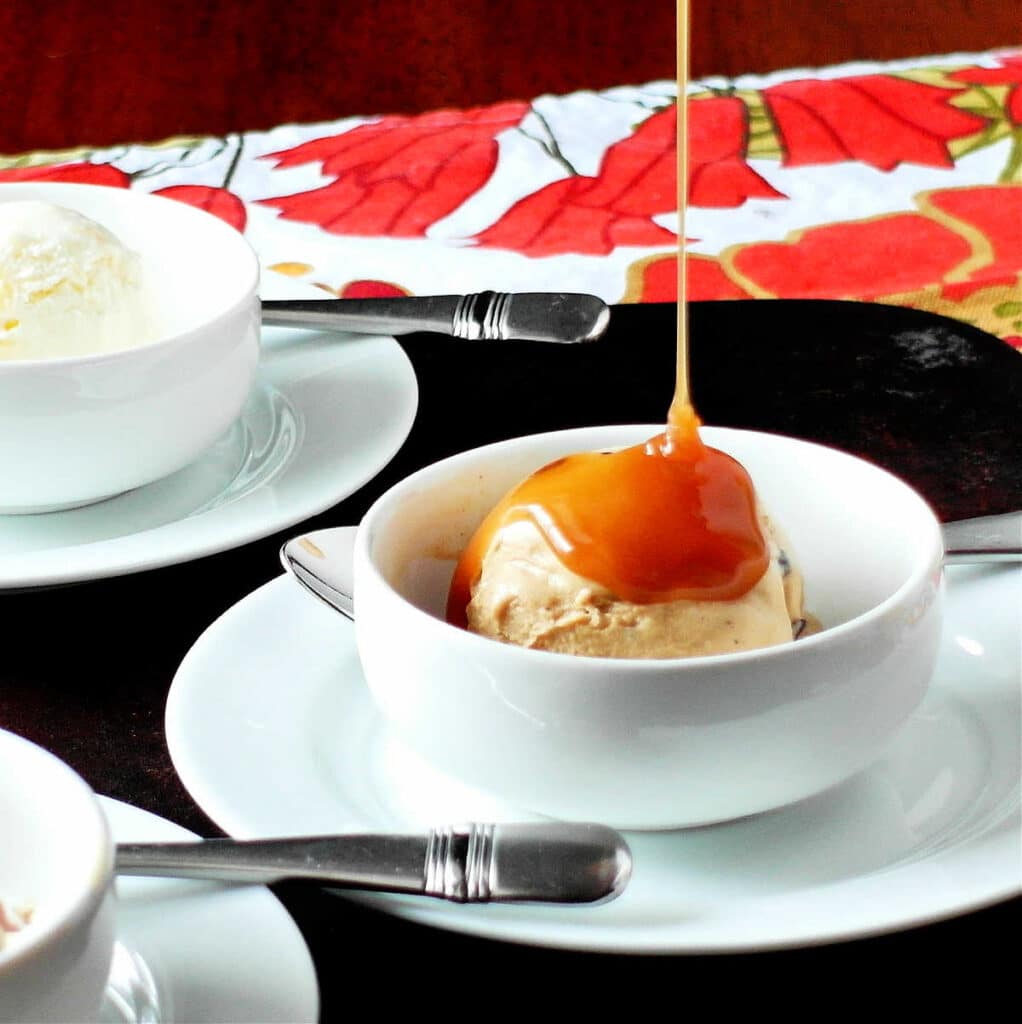 For more sweetness, take your caramel only to a medium honey color and use a mixture of cream and orange juice. For a darker, less sweet option, take the caramel to a dark amber and use all blood orange juice or a mixture of blood orange juice and "regular" orange juice which is sweeter.
For best texture, simmer your sauce for 5-10 minutes so it thickens as it coos. If you still think your sauce is too thin, you may reheat and simmer for an additional 5-7 minutes to reduce it even further. Add the vanilla off the heat once you are pleased with the texture.
After tasting your sauce, if you find it a little bitter, add additional salt. Keep in mind that some bitterness is desirable as it makes a nice contrast with whatever sweet you pair it with (cake, ice cream, etc)
Blood Orange Caramel Sauce Q & A
Is caramel sauce gluten-free?
As written, this is a gluten-free recipe.
Is this vegan?
As written, it is not. You can make a vegan version by substituting full-fat coconut cream (NOT cream of coconut) for the cream and plant-based butter for the butter. You can also use all-juice and avoid the cream substitute altogether.
How long will it last in the fridge?
Your sauce will keep for a good 2 weeks in the fridge. It may last longer, but I tend to err on the side of caution because of the dairy component.
Can I can this in a water bath?
Since it contains dairy, I would say no. It is possible that you can pressure can it, but I'm not a canner. Please consult a master canner and/or the Ball Blue Book for best practices.
Serving Suggestions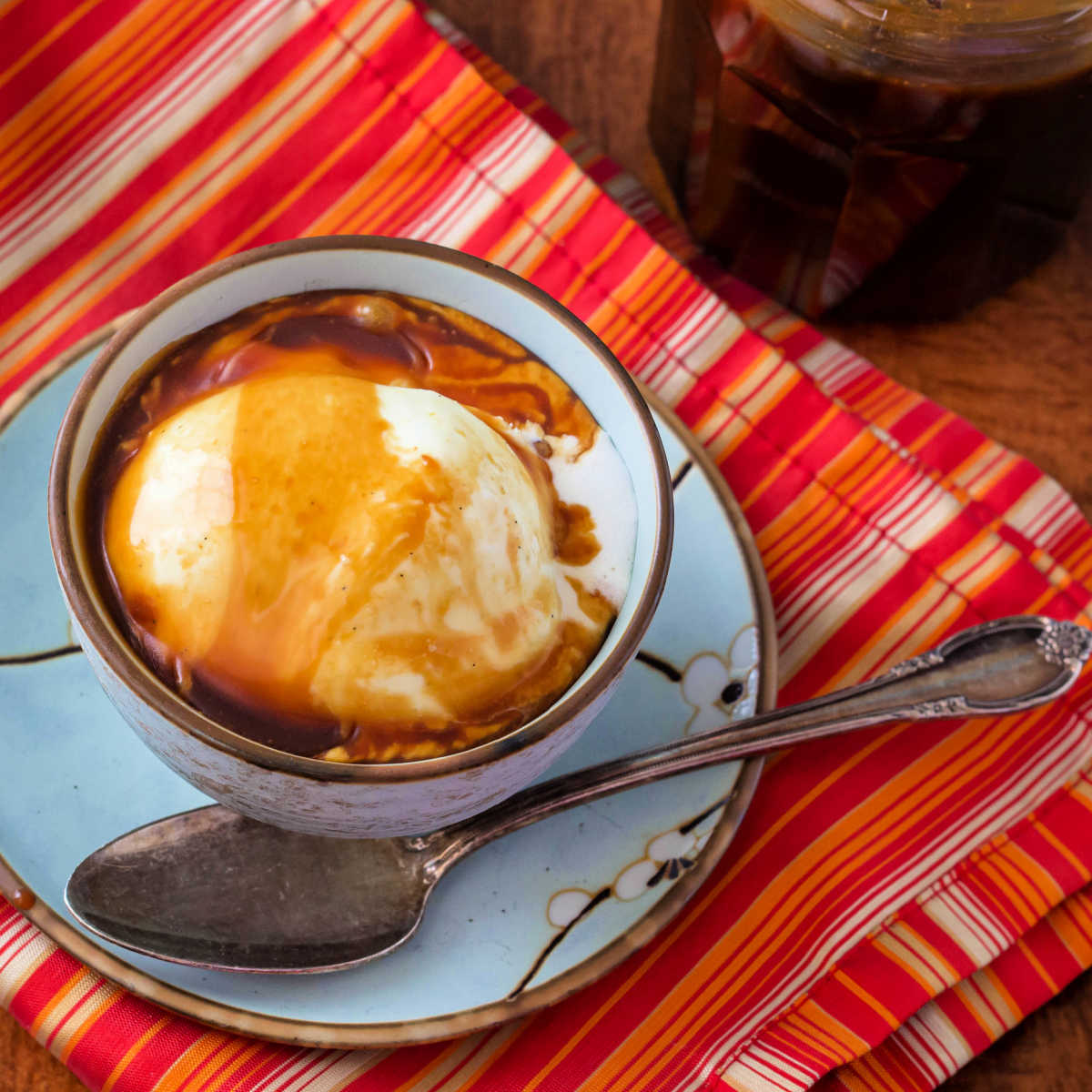 Aside from draping it over vanilla ice cream, there are many ways to serve orange caramel sauce.
Try it over pound cake, either a "neutral" whipped cream pound cake or something brown sugar-based like this brown sugar cinnamon pound cake.
Sauce a creamy New York-style cheesecake or even a creamy panna cotta with blood orange caramel.
Underscore the vanilla-orange flavor combo by pouring some on creamsicle ice cream. Heck, you could even dip your Creamsicle popsicle into the sauce if you want!
And don't discount pairing this sauce with hot desserts. Consider bread pudding, for example!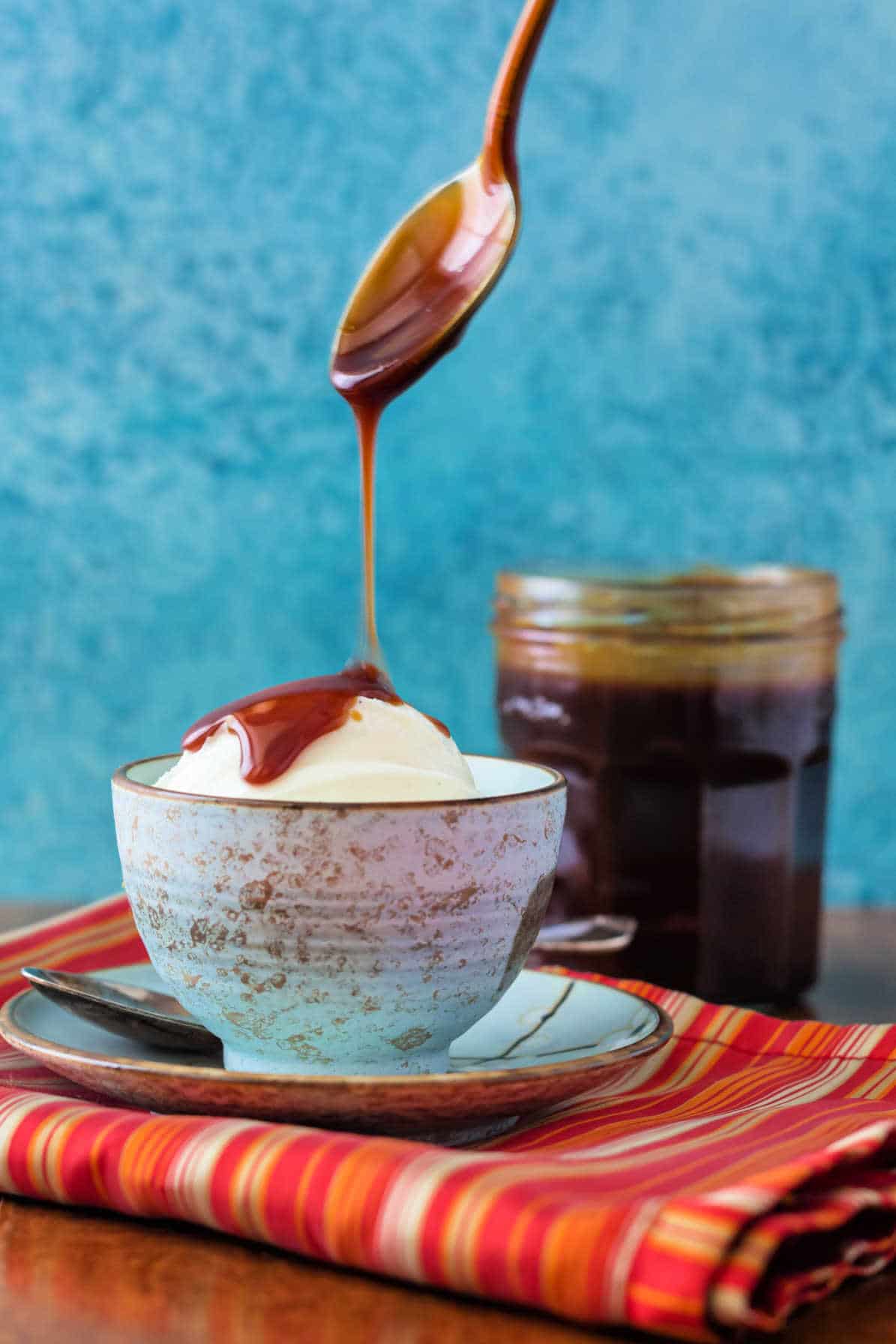 Questions
A Note About Measurements
For convenience, consistency, and accuracy, almost all my recipes are written by weight, either in ounces and/or grams, even the liquids.
I strongly encourage you to purchase a kitchen scale and learn to use it.
This is the one I used for years. I love it and highly recommend it:
Best for Home Use
Escali Primo Digital Food Scale
Don't let its small price and small size fool you. The Escali Primo is an accurate and easy-to-use food scale that I have used for years. It's easy to store, easy to use, has a tare function, and easily switches between grams and ounces/pounds for accurate measurements.
This is an affiliate link which means I earn from qualifying purchases. Your price is unaffected.
It would be so helpful to me and to other readers that, when you make a recipe, you rate it and leave a comment. Whether it's a recipe or an informational post, your feedback helps others decide if the post is helpful or if the recipe works as advertised.

If you could leave a star rating, that would be very helpful. Thank you for being here!
Blood Orange Caramel Sauce
This blood orange caramel sauce tastes just like one of those Brach's orange caramels but in sauce form. While it is fantastic on vanilla ice cream, don't discount pouring it over cheesecake, pound cake, pancakes or bread pudding.
Ingredients
1

cup

granulated sugar

¼

cup

water

4

oz

freshly squeezed blood orange juice

strained (or up to 6 oz. See Notes, below)

4

oz

heavy cream

1/4-1/2

teaspoon

fine sea salt or kosher salt

1

Tablespoon

unsalted butter

1

teaspoon

vanilla extract
Instructions
In a heavy bottomed sauce pan much larger than you think you need, cook the sugar and water together until it comes to a boil.

Brush down the sides of the pan with a wet pastry brush to wash away any errant sugar crystals and then cook without stirring, until the sugar begins to take on some color.

Gently swirl the pan while heating and continue to cook until the sugar is a lovely deep amber.

Pour in the juice and cream. Be careful, the whole thing will bubble up alarmingly.

Turn the heat down and stir to melt any sugar that may have seized up.

Add the salt and the butter.

Bring up to a very light boil/high simmer and cook, stirring occasionally, for 8-10 minutes.

Strain into a bowl and stir in the vanilla.

The caramel will be fairly thin but will thicken some upon cooling.

Reheat to serve, or serve at cold. Do make sure you stir it well first though as the butter has a tendency to rise to the top in the fridge.
Did You Make Any Changes?
Notes
If you like a sweeter sauce, consider using half blood orange juice and half "regular" freshly sqeezed orange juice since that is sweeter and less bitter. You may also adjust the proportions of cream to juice, using 2 oz juice and 6 oz cream or 6 oz juice and only 2 oz cream.
STORING
Keep in the fridge for up to two weeks. It may keep for longer, but I prefer to err on the side of caution, especially when a recipe contains dairy.
Nutrition
Serving:
1
oz/2 Tablespoons
Calories:
112
kcal
Carbohydrates:
18
g
Fat:
5
g
Saturated Fat:
3
g
Polyunsaturated Fat:
1
g
Cholesterol:
14
mg
Sodium:
162
mg
Sugar:
18
g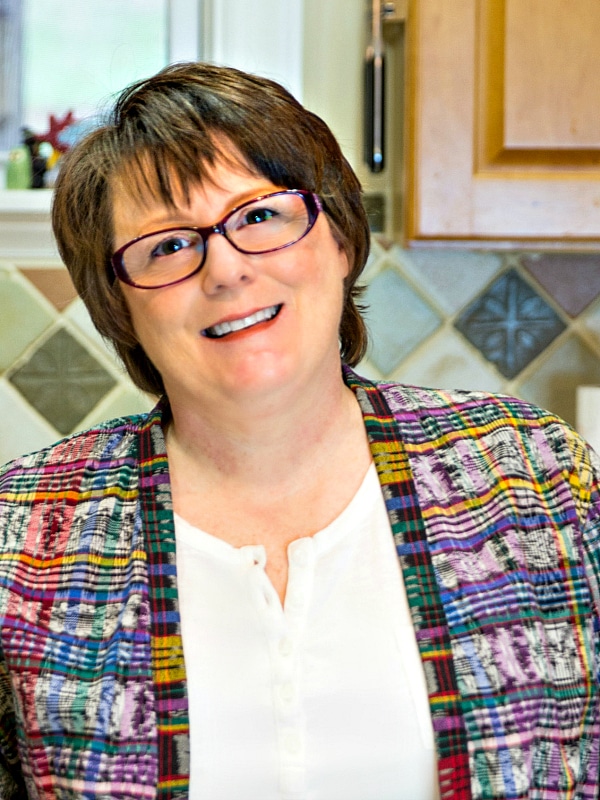 What are my qualifications to teach you baking and pastry? As a former working pastry chef and special educator, I marry my passions for both teaching and for baking into explaining techniques, methods, and developing the best possible recipes. For more info, you can read more about me.
If you'd like to receive new recipes and the occasional newsletter, I'd love for you to sign up for my Inbox Pastry Chef.
Thanks for spending some time with me today.
Enjoy the blood orange caramel sauce, friends!
Take care, and have a lovely day.