Disclosure: I was sent a pdf copy of OATrageous Oatmeals (the book isn't out yet). Stay tuned for a fantastic OXO giveaway as well as a generous pre-order incentive at the end of the post. Any Amazon links are affiliate links. I am not receiving any OXO product for writing this post. I'm promoting OATrageous Oatmeals because I love Kathy and her books.
What You'll Find in This Post
hide
OATrageous Oatmeals
I could not be more excited about helping to promote my friend Kathy Hester's upcoming book, OATrageous Oatmeals. What I love about Kathy's new book is that she didn't take the easy way out, offering us 100 different recipes for breakfast oatmeal. Nope. Kathy takes oatmeal off the breakfast table and puts it in beverages and savory dishes. She even takes it into the bathroom for a scrub and a soak and into the hearts of pet lovers everywhere with dog biscuits and catnip treats for kitties! Yay!
Kathy's recipes are always accessible, and she gives oil-free options when appropriate, for folks who are on fat-free diets. All recipes are also clearly labeled as gluten-free, soy-free, etc as it applies. And of course, all her recipes are vegan.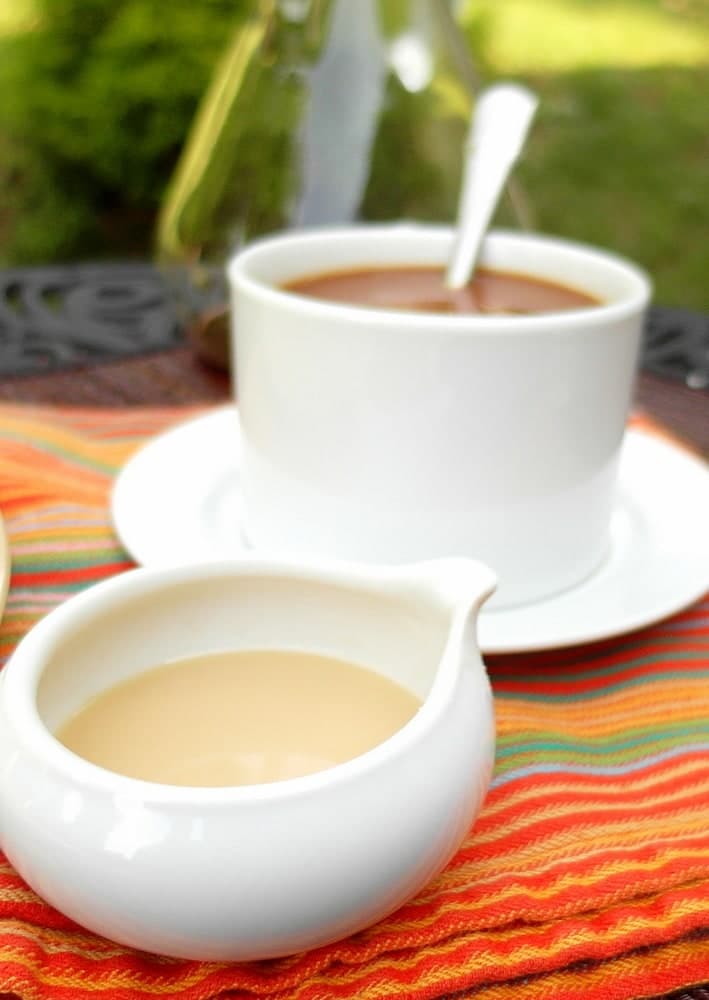 Coconut Oat Vanilla Nut Creamer
I decided to make a coffee creamer from OATrageous Oatmeals, Coconut Oat Vanilla Nut Creamer, to be exact. Why a vegan coffee creamer? Well, I do enjoy my coffee, and even I get a little alarmed by how much half and half and raw sugar I mix into my morning cup.
The creamer comes together in about 15 minutes, 10 minutes of which is wait time for the coconut and oats to soak. It is very mildly flavored with vanilla and almond extract, which is great for me because I like my coffee to taste like coffee, not like a pina colada or something.
I sweetened my creamer with palm sugar which is why mine is a bit on the beige side. I'm sure that you would end up with a paler creamer more akin to the color of cream if you used the suggested agave nectar.
I quite like this coconut oat vanilla nut creamer. First, the soluble fiber from the oatmeal gives the final product enough body to stand up to coffee. As a matter of fact, I actually needed to stir my coffee a couple of times to keep it completely combined. I was a bit concerned that there might be a slight graininess or weird texture to my coffee, but nope–it was just as smooth and delicious as when I use my beloved half and half. I have to say that I'm a fan. I would even add a tiny bit more water and use it as milk for cereal. It has a lovely, mild sweetness and is neutral enough that I don't think my Rice Krispies or Cheerios would mind at all. One caveat: it does need to be stirred or shaken well before using, but most coffee creamers have that same rule, so it is not a big deal.
Let me give you a quick rundown of the chapters with just a couple of example recipe titles from each that you'll find in OATrageous Oatmeals.
Do It Yourself Homemade Staples

Creamy Cashew Oat Cream Cheese
Guilt-Free Stevia Chocolate Syrup

Warming Oats for Fall and Winter

Baked Meyer Lemon Steel-Cut Oatmeal
Baked Apple Blueberry Pancakes

Cooling Breakfast Oats for Spring and Summer

Cinnamon Roll Overnight Oats
Pomegranate Rose Smoothie

Granolas and Bars for Breakfast and Beyond

Bourbon-Scented Pecan Granola
Pepita Oatmeal Raisin Cookie Bars

Satisfying Soups and Stews

Slow Cooker Black Bean Oat Groat Soup
Scottish-Inspired Mushroom Lentil Stew

Savory Oats for Lunch and Dinner

Veggie Oat Taco Mix
Apple-Thyme Savory Steel-Cut Oats with Seared Vegan Sausage

Delightful Desserts

Gingerbread Pear Crumble
Dreamy Dark Chocolate Oat Cream

Drinks, Oat Milk and Even and Oat Liquor

Oat-chata
Vegan Cream Liqueur

Beyond the Dining Room: Other Uses for Oats

Oatmeal Cookie Scrub
Catnip Kitty Treats (our children thank you for this one)
See what I mean? It really runs the gamut and takes us (well, me, anyway) far from where I usually go with oats.
Here's the recipe for the Coconut Oat Vanilla Nut Creamer I made from OATrageous Oatmeals. Stay tuned after the recipe for both the OXO giveaway and the pre-order incentive too, friends!
Recipe from OATrageous Oatmeals by Kathy Hester, Page Street Publishing, 2014, printed with permission.
Coconut Oat Vanilla Nut Creamer
Ingredients
1/4 cup (24 grams) rolled oats
1/4 cup (24 grams) finely shredded coconut
1 cup (237 ml) water
1 Tablespoon (15 ml) agave nectar (or sweetener of choice, to taste)
1 teaspoon vanilla extract
1/4 to 1/2 teaspoon almond extract, ,to taste
Instructions
Whir the oats and coconut in your blender until very fine. Add the water and let soak for 10 minutes (if using steel-cut oats, increase soak time to 30 minutes)
Blend for about 3 minutes, until smooth. Strain through a fine mesh strainer to catch all the oat and coconut pieces.
Add the liquid back to the blender along with the sweetener and extracts. Blend again until smooth.
OXO Giveaway
I'm also excited to announce that OXO is partnering with Kathy to bring you a Most Excellent giveaway! Who doesn't love OXO tools, am I right? I own quite a few of them myself, and I am especially fond of my cherry pitter (seriously–makes life so much easier when dealing with fresh cherries or olives with the pits still in them), my manual can opener, and my silicone spoon spatula.
Just look at all the fun items from OXO that you can use to make life in the kitchen easier. You can even use many of these tools to prepare recipes from OATrageous Oatmeals! Plus, you'll get a copy of OATrageous Oatmeals when it comes you. Cool.
The giveaway runs from July 28 through the end of the day on Monday, August 4. Just enter using the Rafflecopter Widget and one lucky person will win from among all the entries on all the participating bloggers' posts.
a Rafflecopter giveaway

Pre-Order Incentive
OATrageous Oatmeals will be available September 16, but if you act now and pre-order for $15.06, you have a chance to win $25 worth of goodies from Kathy! Be one of the first 100 folks to email your purchase receipt to oatrageousoatmeals@gmail.com along with your full name, mailing address and phone number (Amazon wants your number for delivery purposes only). And even if you're not among the first one hundred, you will still get a keen newsletter with recipes not in the book and e-coupons. Everybody wins!
Pretty sweet deal, if you ask me! Here's a link to pre-order OATrageous Oatmeals.
The OXO giveaway and the pre-order incentive are two separate things, so make sure to both enter the Rafflecopter giveaway and send in your purchase receipt.
And there you have it. I know that this book will broaden your Oatmeal Horizons as it is doing mine (I have my eye on a Kheer Oatmeal right now). Good luck in the OXO giveaway, and don't forget to send in your pre-order receipt for a chance at even more goodies!
PSST! One More Thing…
I am incredibly honored and excited to have one of my very own recipes included in Kathy's cookbook! It's a veganized version of the recipe I made as my entry for Spar for the Spurtle Contest last year. Her testers all loved it, so hooray! Thank you, Kathy, for being such a kind and generous soul!
Thank you so much for spending some time with me here today. If you don't already know Kathy, do get to know her on facebook, twitter, Pinterest and on her blog. She always has something amazing cooking, and again, best of luck in the OXO giveaway. (Thanks, OXO)!