Friends, I am here to inspire you with some wonderful Thanksgiving bread recipes. I have a few really great bread recipes and several dinner roll recipes that would all be at home on your Thanksgiving table.

Many of these Thanksgiving breads and rolls contain pumpkin or at least Thanksgiving herbs. Others are seasoned with garlic, chives, Parmesan cheese and lots of butter. A great one to try is my savory pumpkin sage bread.

I hope you will find a bread or roll recipe to inspire you this Thanksgiving, or for whenever you want to serve a delicious homemade bread along with a special meal.

For ease of browsing, here are all my bread and roll recipes in one place.

I've also included recipes from other bloggers. Maybe you'll find a new blog to love!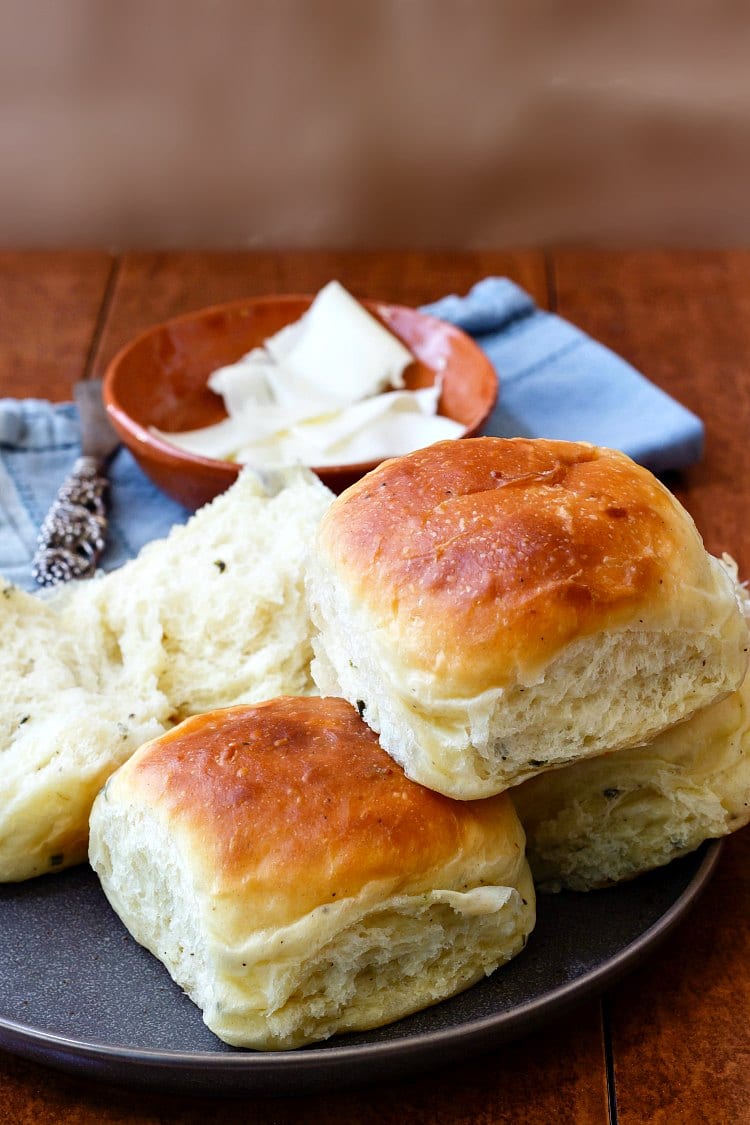 Making Thanksgiving Dinner Definitely Requires Some Planning
For many folks, getting ready for the Thanksgiving meal is the most intense cooking they'll do all year.
So whether you're cooking for a small group or a huge gathering, what with all the different kinds of foods you need to make, some planning is imperative so you can get all your timing down.
You don't want to end up having to figure out how to bake your pumpkin babka and your turkey at the same time at two different temperatures in one oven!
I have never been a great planner, but fortunately I have friends who are.
My friend Beth writes out a serious and detailed schedule each year. If you head over to her place, you can download a clean copy of her schedule to use for yourself from her Thanksgiving Menu post.
Serving Breads and Rolls for Thanksgiving
The following are affiliate links. Pastry Chef Online participates in affiliate programs. If you make a purchase through one of my affiliate links, I will receive a small commission. Your price is not affected.

While it's easy to pass a basket of rolls around the table, if you're serving loaves of bread, it's best to slice them prior to serving.
The one exception is decorative breads like the bread wreath I link to below. A "presentation bread" should be presented whole on a beautiful board so folks can ooh and ah. Then take it back to the kitchen and slice it up for serving.
If you are feeling very fancy and are a good planner, you may want to serve two or three different kinds of bread for your meal. Maybe a loaf, one type of roll, and biscuits.
There is no rule saying you have to do that, but if you love to bake bread, it's a viable choice, especially since bread freezes so well.
For slicing breads, you'll want to have a good serrated bread knife, and for serving, I am a particular fan of baskets lined with a lint-free towel, maybe with a bread warmer tucked into the bottom.
This metal bread basket has scrollwork that makes it fancy enough for a special meal.
And here are a couple of beautiful wicker baskets that I particularly like.
For convenience, consistency, and accuracy, almost all my recipes are written by weight, either in ounces and/or grams, even the liquids.
I strongly encourage you to purchase a kitchen scale and learn to use it.
This is the one I used for years. I love it and highly recommend it:
Best for Home Use
Escali Primo Digital Food Scale
Don't let its small price and small size fool you. The Escali Primo is an accurate and easy-to-use food scale that I have used for years. It's easy to store, easy to use, has a tare function, and easily switches between grams and ounces/pounds for accurate measurements.
This is an affiliate link which means I earn from qualifying purchases. Your price is unaffected.
And now, on with the show. I know you'll find some bread recipes you will really enjoy!
Thanksgiving Bread Recipes
Thanksgiving Bread Recipes
A selection of Thanksgiving breads on the site and from around the Internet in one place to make them easy for you to find.
You can use this technique for any bread, but this wreath is particularly pretty for Thanksgiving with its "Thanksgiving flavor profile" of poultry seasoning. A beautiful centerpiece that you can eat!
Sunny yellow focaccia with olive oil and herbs. This recipe makes a ton, so it's perfect for a large Thanksgiving crowd (and you can also slice it horizontally to make turkey sandwiches).
This bread is not specifically a Thanksgiving bread, but its slight mellow sweetness makes it a good choice to serve because it's soft for "sopping" and doesn't have any assertive seasoning so it won't fight with your other dishes.
Photo Credit: familyspice.com
Now, this bread, from my friend Laura at Family Spice, is all about assertive flavor. A gorgeous bread to serve at the table or to slice thinly and serve as part of an appetizer buffet before the main event.
Photo Credit: www.kingarthurflour.com
This is a King Arthur recipe, and it's a good one. All the Thanksgiving stuffing flavors in a bread. And you can even use this bread to make your stuffing. Stuffing flavor, squared!
Photo Credit: www.fearlessdining.com
A wonderful, chewy gluten free focaccia with caramelized onion topping from my friend Sandi from Fearless Dining. Yes please!
Thanksgiving Rolls Recipes
Delicious Thanksgiving rolls for passing at the table, for soaking up gravy, and for making little sandwiches. Plus a couple of biscuit recipes for folks who prefer biscuits with dinner.
You'll see I'm a fan of potato rolls, because they are super soft and stay fresh for several days on the counter. These guys are flavored with garlic and Parmesan, and they're very very tasty!
These soft dinner rolls use starchy potatoes to make them tender and soft while bread flour gives them a bit of chew. Freeze dried garlic and chives (thanks, Litehouse Foods) lend tons of flavor. Perfect with butter or use them to sop up tasty gravy!
These Soft IdahoⓇ Potato Sandwich Buns are flavorful, soft, and squishy, and they stay that way for days. Just because they're soft doesn't mean they won't hold up to a lot of fillings, so don't hesitate to use them as buns for heartier foods like burgers. You can also choose to make them a bit smaller and serve them as dinner rolls.
Sunny yellow and soft, these pumpkin dinner rolls get rave reviews from adults and children alike. These are one of my favorites.
These all-butter angel biscuits do not rise as high as their vegetable shortening cousins, but what you lose in rise, you more than gain in wonderful, buttery flavor. And if you must have biscuits with dinner, these are for you!
These guys have cheddar cheese rolled into the dough so they bake up with flaky layers. And some Old Bay seasoning too, because I love it. I think stuffing and cranberry sauce sandwiches need to happen with these, don't you?
Photo Credit: mygluten-freekitchen.com
A wonderful gluten-free option for dinner rolls that most everyone can enjoy. Lots of great tips and instructions in this recipe from My Gluten-Free Kitchen, too!
I hope you all have the very best Thanksgiving. And if you make one of these breads or rolls, I really hope you'll tell me about it. Email me!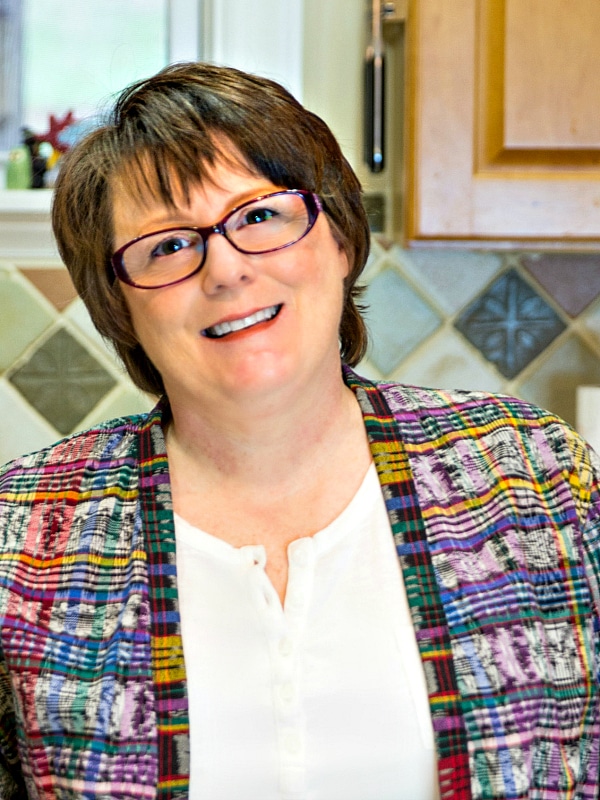 What are my qualifications to teach you baking and pastry? As a former working pastry chef and special educator, I marry my passions for both teaching and for baking into explaining techniques, methods, and developing the best possible recipes. For more info, you can read more about me.
If you'd like to receive new recipes and the occasional newsletter, I'd love for you to sign up for my Inbox Pastry Chef.
Thanks for spending some time with me today. Take care, and have a lovely day.