From the Mad Scientist's Desk: I melted down Peeps candies into a sugar syrup and used it to make Italian buttercream. The result? This cute and super delicious Peeps Jelly Roll for Easter. Enjoy!

Another frosting you might like is my lemon ermine frosting recipe.

For ease of browsing, here are all of my frosting, icing and filling recipes in one place. Thanks for stopping by!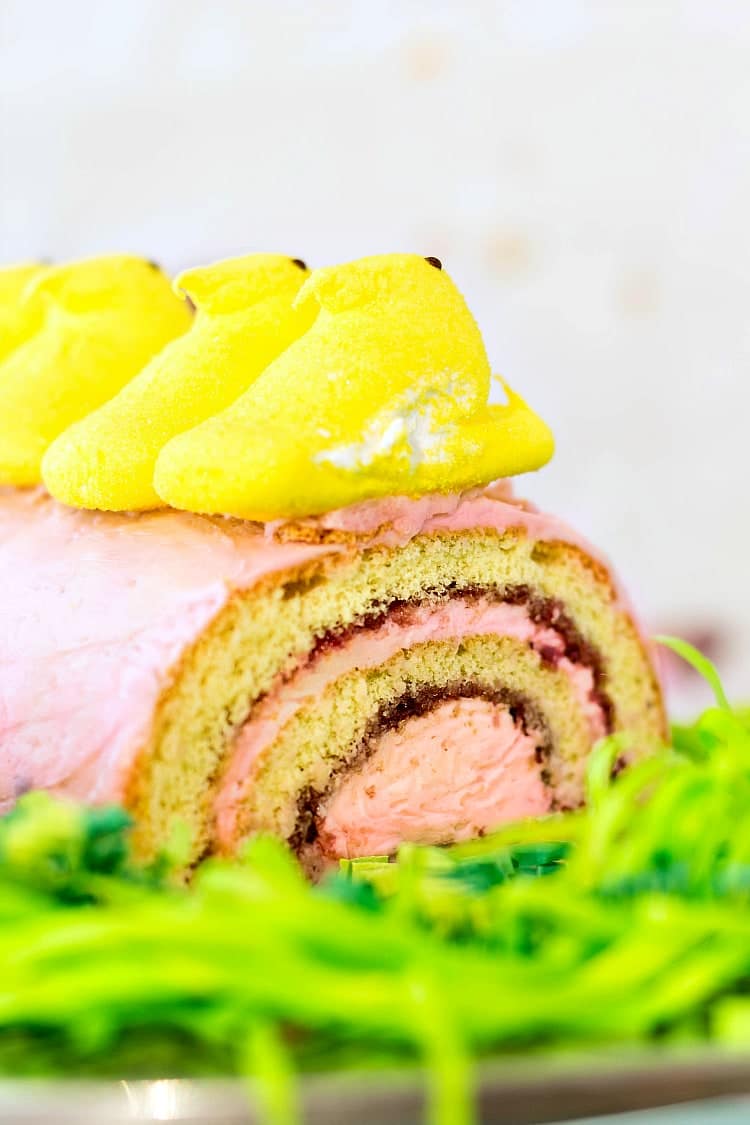 You Can Make Buttercream Out of Peeps!
I have been ruminating on how to get some Peeps into my Easter baking this year. I considered chopping them up and folding them into…something. Melting them down to make some sort of Krispie Treats, maybe? I even thought about making homemade Peeps, although that has been done before, and done well.
And then, I watched The Great British Baking Show because Brandy from Nutmeg Nanny said I should, and she is bossy. I went with the first episode of the first season, and we got to see twelve variations on the jelly roll: basic sponge cake rolled up around a tasty filling.
An Idea began to form.
Maybe I could somehow make Peeps icing. And then, I lost my mind and decided I could probably melt down some Peeps into sugar syrup (they're mostly made of sugar and gelatin) and turn it into Italian buttercream.
Halfway through the melting process, I realized I'd better get some eggs whipping–I so often fly without a net! I used 3 packs of Peeps (the chicks–not the bunnies), 2 pink and 1 "cake batter flavored" pack of blue Peeps.
While they were coming up to temperature (245F) on the stove, I whipped the whites to medium peaks and then kept the mixer on low so they wouldn't set up.
Once my syrup was at the magical temperature, I poured it into the bowl–right down the inside–and whipped it into the whites until the mixture had cooled to room temperature.
Then I added 3 sticks of butter, a bit at a time, until it was all incorporated, and I had a lovely fluffy buttercream. I flavored it simply with a pinch of salt and a splash of vanilla.
Peeps Buttercream Ratio
For each 3 oz package (or 3 oz total) of Peeps, you'll need:
1 large egg white
4 oz (1 stick) unsalted butter
Plus a pinch of salt and a splash of extract.
Easy! Since the white weighs approximately 1 oz, this is the more or less classic Italian buttercream ratio: the weight of the sugar plus egg white equals the weight of butter. Tada!
Cool. But Does It Taste Good?
In a word, yes. Peeps buttercream is just as silky as regular non-Peep Italian buttercream. It's about the same sweetness, as well. It is so tasty, it even surprised me.
Since Peeps contain gelatin, this buttercream isn't suitable for vegetarians, but for folks who don't mind a little gelatin in their lives, Peeps buttercream has the added benefit of not weeping like regular Italian buttercream can, especially as it sits for 2-3 days. Think of it as a gelatin-stabilized buttercream.
An added benefit is that the Peeps flavor comes through. Regular Peeps don't taste like much, but I added a package of cake batter flavored Peeps to the mix, and the cake batter flavor definitely came through in the final buttercream. If you use 3 packs of the cake batter flavor, you'll end up with a lovely, light blue, cake batter flavored buttercream!
Peeps have come a long way since the only choices were yellow and pink. They have a ton of flavors now. The only caveat I'd give is to avoid the ones that are dipped in chocolate. Any other flavors should be fair game. So experiment with color and flavor combinations, and don't be afraid to melt down a bunch of Peeps!
If you're looking for some less mad-scientist recipes, I also have a great round up of Easy Easter Desserts for you.
Other Awesome Peeps-centric Recipes
Before you go, some of my blogging and cookbook friends have also done some pretty interesting things with Peeps. See?
Peeps Peppermint Ricotta Cheesecake from (affiliate link) Peeps-a-Licious: 50 Irresistably Fun Marshmallow Creations. My friends Melanie Underwood and Marge Perry have recipes in that book.
Milk Chocolate Marshmallow Peep Ice Cream from Peabody Johanson of Sweet ReciPEAS
Flower Cupcakes with Peeps from Kelli Davidson of Kelli's Kitchen
You'll also want to check out this gluten-free Unicorn cake where they used Peeps to make marshmallow fondant to make the horn! How cool is that?!
And if you don't want to deconstruct Peeps but would rather make your own, my friend Jane from The Heritage Cook can show you how to make Homemade Marshmallow Peeps. See?
Enjoy all the Peeps recipes, friends. There is really so much more to do with a Peep than just bite of their heads. My buddy Ken Albala actually made pasta out of dried and ground-to-dust Peeps. Think outside of the flimsy white box and make something amazing starring Peeps!
Peeps Jelly Roll Recipe
Okay, y'all. Here we go. We're going to make some Peeps Buttercream and then use that, along with some raspberry jam, to fill our fun Easter Peeps Buttercream Jelly Roll dessert.
And here's a long pin for you, too.
For convenience, consistency, and accuracy, almost all my recipes are written by weight, either in ounces and/or grams, even the liquids.
I strongly encourage you to purchase a kitchen scale and learn to use it.
This is the one I used for years. I love it and highly recommend it:
Best for Home Use
Escali Primo Digital Food Scale
Don't let its small price and small size fool you. The Escali Primo is an accurate and easy-to-use food scale that I have used for years. It's easy to store, easy to use, has a tare function, and easily switches between grams and ounces/pounds for accurate measurements.
This is an affiliate link which means I earn from qualifying purchases. Your price is unaffected.
It would be so helpful to me and to other readers that, when you make a recipe, you rate it and leave a comment. Whether it's a recipe or an informational post, your feedback helps others decide if the post is helpful or if the recipe works as advertised.

If you could leave a star rating, that would be very helpful. Thank you for being here!
Peeps Buttercream Jelly Roll
Easter Peeps Buttercream Jelly Roll is a fun Easter dessert that uses raspberry jam and Peeps-infused buttercream as a delicious filling for a vanilla sponge cake. So good! You will never look at Peeps the same way again!
Ingredients
For the Vanilla Sponge
4

large eggs

room temperature

pinch

salt

½

teaspoon

vanilla extract

4

oz

granulated sugar

4

oz

self-rising flour

butter and granulated sugar for preparing the pan

powdered sugar for preparing the lint-free towel
For the Peeps Buttercream
3 3

oz

packages Peeps plain

(not dipped in chocolate or fudge) marshmallow chicks, any flavor or color or 9 oz total of any other shape (bunnies, seasonal shapes, etc)

¼

cup

water

3

large egg whites

pinch

of salt

3

sticks soft-but-still-cool unsalted butter

½

teaspoon

vanilla extract
To Finish and Decorate
1

cup

raspberry jam

(or other jam of your choice)

Peeps and/or other Easter-themed decorations
Instructions
For the Vanilla Sponge
Line a half-sheet pan or jelly roll pan with a piece of parchment. Butter the parchment and sprinkle it with granulated sugar. Knock out excess. Set aside.

Set a rack in the center of the oven and preheat to 375F.

Spread out a lint free kitchen towel (not terry cloth) so it is flat. Sift on a liberal amount of powdered sugar. Set aside.

In the bowl of your stand mixer, whip eggs with salt and vanilla for 2 minutes until foamy. Stream in the granulated sugar and whip for 7-8 minutes until the mixture triples in volume and is very thick, light, and billowy.

Place the flour in a fine sieve and then sieve it on top of the egg mixture. Fold the flour in gently but thoroughly until no floury pockets remain.

Scrape the batter onto the prepared pan and then use an offset spatula to spread to fill the pan.

Bake for 8-10 minutes until light golden brown. Cake will spring back when pressed lightly. Do not overbake.

When the cake is done, loosen the edges from the pan (if necessary). Turn out onto the powdered sugar-coated kitchen towel.

Starting at a short edge of the cake, roll up the cake, parchment and tea towel all together into a tight cylinder.

Set aside on a rack to cool completely, about one hour.
To Make the Peeps Buttercream
Place all the Peeps and the water in a heavy bottomed sauce pan.

Place the egg whites and salt in the bowl of your stand mixer fitted with the whisk attachment.

Stirring frequently, heat the Peeps over medium heat until they all melt. Bring the mixture to a boil.

Turn the heat up to medium high and cook the syrup until it reaches 245F on an instant read or candy thermometer.

Once the mixture reaches about 230F, whip the eggs on medium speed until foamy. Increase speed to medium high and whip to medium peaks. If the syrup hasn't reached 245 yet, leave the mixer on low so the whites don't set up.

Once the syrup reaches 245F, turn up the mixer to medium and stream the syrup down the inside of the mixing bowl. Don't scrape the pan, but try to let as much syrup drip in as you can.

Increase speed to high and whip until room temperature, about 7-8 minutes.

Whip in the vanilla.

Add the butter, about a tablespoon at a time, whisking all the while. The mixture will thin out a bit and then thicken back up by the time you've added the last half of the 3rd stick of butter.
To Assemble the Jelly Roll
Carefully unroll the cake, peeling off the parchment as you go.

Spread the raspberry jam in a very thin layer all over the surface of the cake.

Hold back about 3/4 cup of the buttercream and spread the rest on top of the jam, leaving about 1″ clear at the end. The buttercream will be about 1/4″ thick or so. Re-roll the cake as tightly as you can, trying to get a nice "curl" in the center. I could have done better. Alas. Still tastes good though!

Cut a thin slice from either end of the cake, leaving your lovely swirly pattern for everyone to see. Stuff those ends into your mouth.

Place the cake, seam side down, on a serving tray. Ice with a very thin coat of the remaining buttercream. Decorate however you want.
Did You Make Any Changes?
And There you have it, friends. Peeps Buttercream, which you can of course use to frost any cakes or cupcakes. I'm partial to the Peeps Jelly Roll though. It's so pretty and such a fun Easter dessert.
Thank you for spending some time with me today. Take care, and have a lovely day.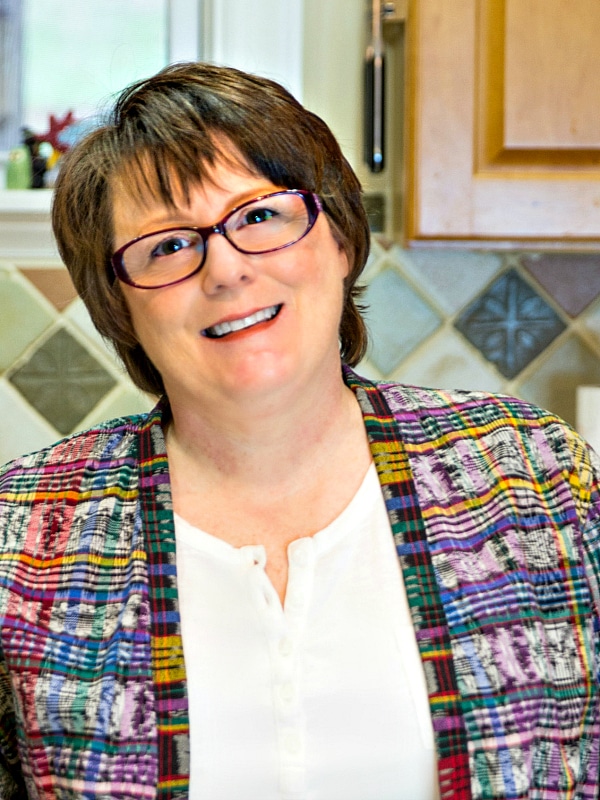 What are my qualifications to teach you baking and pastry? As a former working pastry chef and special educator, I marry my passions for both teaching and for baking into explaining techniques, methods, and developing the best possible recipes. For more info, you can read more about me.
If you'd like to receive new recipes and the occasional newsletter, I'd love for you to sign up for my Inbox Pastry Chef.