Tangy, creamy, sweet, and tart, passionfruit ice cream is really delicious! I am in love with this wonderful tropical "Sicilian Gelato," and I think you will love it as well.

If you enjoy off-the-beaten-path flavors, you may also enjoy my strawberry rose kulfi.

And don't miss the round-up of all my ice cream recipes in one place. Thank you for visiting!
Why This Recipe?
Y'all. This passion fruit ice cream is one of the smoothest and creamiest I've ever made.
It's also nice that there's a very short ingredient list.
There are no eggs to worry about, and that also allows the passion fruit flavor to really shine through.
Eggs often tend to muddy bright flavors, so you won't have that issue here. All you'll taste is pure sweet-tangy passionfruit bite. So great!
In ice cream making, large ice crystals are the enemy of smooth, creamy goodness, and the goal is to minimize them.
One of the easiest ways to do that is to limit the amount of water in the base.
For this ice cream, I cut off the water supply in two ways.
First, I cooked the half and half, reducing its volume by 25%.
I also cooked the puree with corn starch. The starch binds up some water and also thickens up the base.
The resulting ice cream, and I guess it's really more of a "Sicilian gelato" according to Anders over at Ice Cream Nation since it doesn't contain eggs and uses a starch as a thickener, is smooth, dense, creamy and delicious.
It melts to a thin custard-like consistency that coats the still-frozen parts like a sauce.
What Does It Taste Like?
Passion fruit is one of those flavors that's juicy. Just thinking about it makes my mouth water in anticipation.
Passionfruit ice cream is paradoxically creamy and tart at the same time. Think of it like a super creamy sorbet, even though it's dairy-based.
It firms up nicely in the freezer but only needs about five minutes on the counter to a scoopable texture.
How to Make It
Ingredients
passion fruit puree: I used Goya brand, but you could also use a confectionary passion fruit puree available on Amazon. Or if you have access to fresh passion fruit, run the pulp through a food mill to get out the seeds. You can also substitute mango puree or raspberry puree to change the flavor completely. Or try a mango passion fruit combination
sugar: necessary for both sweetness and balance and to keep the ice cream from setting up too firmly
half and half: provides the bulk of the liquid, body, and creaminess. I have not tried to substitute other dairy, but I think you could use whole milk as long as you up the amount of cornstarch by 2 teaspoons or so
lemon juice: adds an additional punch of citric acid, rounding out the juiciness of the passion fruit
salt: counteracts any bitterness. Because we want tart and puckery. Not bitter
cornstarch: gives the final base a thicker texture to help inhibit large ice crystals. It also prevents the ice cream from setting up too hard in the freezer
Procedure
When I first made this ice cream, I allowed the amount of half and half to reduce on the stove to 2 1/4 cups to help limit water content.
Since then, I realized you can just add additional cornstarch and cook everything together at once.
I will outline both procedures, and then you can decide which best fits your time constraints.
Version 1
Cook the half and half and salt until weight is reduced by 6 oz. In this case, that's 25%. Strain and chill.
Bring puree, sugar, lemon juice, and cornstarch to a boil. Keep at a low boil, whisking constantly, for 2 minutes. Strain and chill.
Whisk both the half and half and puree mixtures together until evenly combined.
Chill until at least 40F.
Churn in your ice cream maker until it is the consistency of soft serve.
Pack in a container and freeze for at least four hours before serving.
Version 2
In this second version, we're reducing the amount of half and half and increasing the corn starch to make sure the base still has a velvety texture.
Cook half and half, salt, and cornstarch together. Boil for 2 minutes. Strain and chill.
Bring puree, sugar, lemon juice, and cornstarch to a boil. Keep at a low boil, whisking constantly, for 2 minutes. Strain and chill.
Whisk the two mixtures together, and chill until at least 40F.
Churn in your ice cream making until it's the consistency of soft serve.
Pack in a container and freeze fo at least four hours before serving.
Tips for Success
The reason I don't combine the dairy with the passionfruit before cooking is I don't want to risk the base curdling when the acid hits the dairy.
Cooking the two parts of the base separately takes this issue off the table.
The more you strain your base, the smoother your final ice cream will be. Is it strictly necessary to strain 3 times? No. But multiple strainings will give you the smoothest and creamiest ice cream possible.
Make sure to thoroughly chill the base before churning. The longer it takes to churn the base, the more potential for larger ice crystals.
And larger ice crystals equals grainy ice cream. Which is good for exactly nobody.
Q&A
How long will it keep?
Your ice cream will keep just fine, well-covered, in the freezer for up to two weeks. After that, it may start picking up some "freezer flavor." For best flavor and texture, eat within a week.
How far in advance can I make the base?
Make the base up to five days before you want to churn. Keep the base in a covered container in the fridge until you're ready to churn.
Can I turn this into popsicles?
Yes. If you want to make passion fruit paletas or popsicles, simply pour the churned puree into popsicle molds. Make sure to tap the molds firmly on the counter to get rid of air bubbles. For longer-lasting popsicles, pour the base directly into molds without churning. They will be denser and won't melt as quickly.
A Note About Measurements
For convenience, consistency, and accuracy, almost all my recipes are written by weight, either in ounces and/or grams, even the liquids.
I strongly encourage you to purchase a kitchen scale and learn to use it.
This is the one I used for years. I love it and highly recommend it:
Best for Home Use
Escali Primo Digital Food Scale
Don't let its small price and small size fool you. The Escali Primo is an accurate and easy-to-use food scale that I have used for years. It's easy to store, easy to use, has a tare function, and easily switches between grams and ounces/pounds for accurate measurements.
This is an affiliate link which means I earn from qualifying purchases. Your price is unaffected.
It would be so helpful to me and to other readers that, when you make a recipe, you rate it and leave a comment. Whether it's a recipe or an informational post, your feedback helps others decide if the post is helpful or if the recipe works as advertised.

If you could leave a star rating, that would be very helpful. Thank you for being here!
Passion Fruit Ice Cream
The perfect combination of smooth & creamy and sharp & tangy, this passion fruit ice cream is well balanced and delicious.
See NOTES for Variation 2, for making without the half and half reduction.
Ingredients
24

oz

3 cups half and half (or 18 oz if going with variation 2, see NOTES)

¼

teaspoon

fine sea salt

12

oz

1 1/2 cups passion fruit puree

1

teaspoons

lemon juice

2

teaspoons

corn starch

2 additional teaspoons if going with variation 2. See NOTES

7.5

oz

a slightly generous cup granulated sugar
Instructions
In a large saucepan, bring the half and half and salt to a low boil. Watch it carefully so it doesn't boil over, and let it boil until it has reduced by 25%. When finished, it should weigh 18 oz (2 1/4 cups).

Strain through a fine mesh strainer into an ice bath and stir. until cool.

In the meantime, bring the puree, lemon juice, corn starch and sugar to a boil, whisking constantly.

Allow the puree to boil for about 10 seconds, still whisking constantly, to cook off any starchy taste and let the mixture thicken.

Strain through a fine mesh strainer into the same bowl the dairy is in. You may need to add more ice to your ice bath.

Stir the mixture together until cold, about 45F.

Cover and refrigerate the mixture until thoroughly chilled. I shoot for about 38-39F.

When chilled, strain the mixture once more through a fine mesh strainer and churn according to the manufacturer's instructions.

When the ice cream is the consistency of soft-serve, pack into a container/s and press plastic wrap onto the surface of the ice cream.

Put a lid on your container and ripen in the freezer for at least 4 hours.

Allow the ice cream to sit out for 5-10 minutes for Optimal Scooping.
Did You Make Any Changes?
Notes
You'll note there is a lot of straining in this recipe. It's really necessary to get the smoothest possible result
.***I have not tried this, but I am almost 100% sure that this base (the reduced half and half) and the proportion of puree to base will translate to other fruit flavors. I think mango would be an excellent variation as would raspberry. You might have to adjust the amount of sugar a bit, but it's definitely worth playing with.
FOR VARIATION 2
Reduce the amount of half and half from 3 cups to 2 1/4 cups and cook together with 2 additional teaspoons of cornstarch.
Proceed with the rest of the recipe as written.
Nutrition
Serving:
3
/4 cup
Calories:
217
kcal
Carbohydrates:
55
g
Protein:
3
g
Fat:
1
g
Polyunsaturated Fat:
1
g
Sodium:
94
mg
Fiber:
7
g
Sugar:
38
g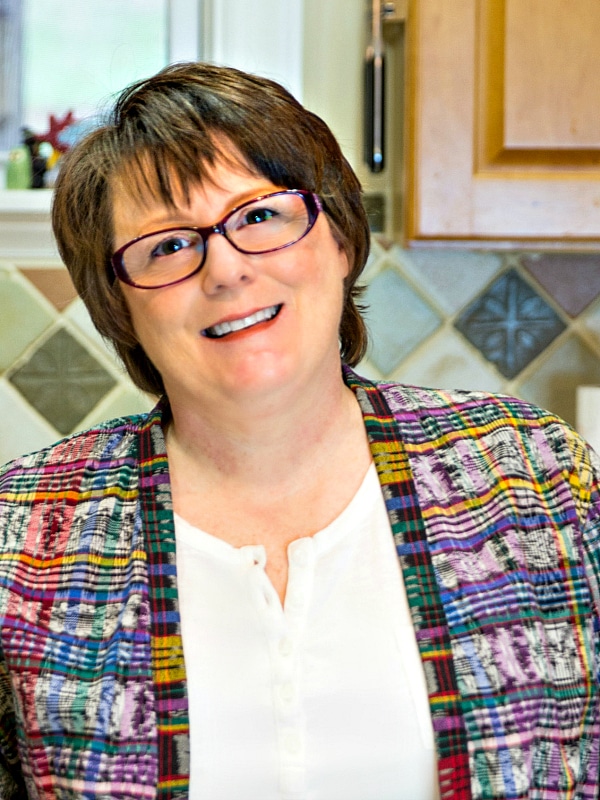 What are my qualifications to teach you baking and pastry? As a former working pastry chef and special educator, I marry my passions for both teaching and for baking into explaining techniques, methods, and developing the best possible recipes. For more info, you can read more about me.
If you'd like to receive new recipes and the occasional newsletter, I'd love for you to sign up for my Inbox Pastry Chef.
If this passionfruit ice cream doesn't shout Summer, I don't know what does.
Thanks so much for spending some time with me today. Have a lovely day.