Hello, friends! I hope you enjoy thiese sweet and spicy pork egg rolls! They are really flavorful and a nice twist on an Asian-American classic egg rolls.
You may also find these pineapple ham skewers a good fit if you're looking for a lighter take on pork.
I missed last month's Soup Extravaganza, and I was so sad. I had a plan and everything, but then I forgot that last February is really short and ended up on vacation the weekend I was supposed to be cooking and writing my post. Fortunately, the wonderful Heather from Girlichef jumped into my spot at the last moment and saved the day!
I did not want March to get away from me, especially because Jeanette from Jeanette's Healthy Living chose the theme this month: Asian Feast. I find Asian food truly exotic. The flavor profiles are so very different from what I grew up with. But there's authentic Asian food and then there's New York Chinese Food, the kind you can get at almost every Chinese restaurant that caters to a Western clientele. General Tso's Chicken. Sweet and Sour Pork. Cashew Chicken. Szechuan Beef. Moo Shu Shrimp. Egg Drop Soup. Hot and Sour.
I'm not saying that forms of those dishes don't exist in China, because quite possibly they do, but I do think these types of dishes have been standardized and tailored to the American palate. I imagine they're the kind of Chinese food that Chinese immigrants to the US made when they didn't have access to ingredients available in their home country. Keep the techniques. Use what's available.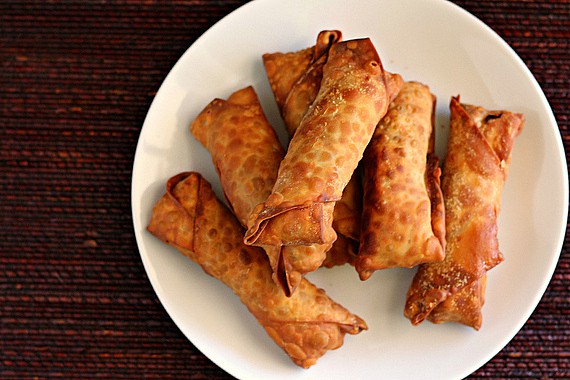 A couple of weeks ago, my friend Kelly from Wildflour's Cottage Kitchen made some egg rolls for dinner and posted a quick picture, and that was all the inspiration I needed. Her picture of egg rolls cosmically aligned with Asian Feast day on Progressive Eats, and I was set. (She has since posted a recipe if you'd like to follow that link.) All I needed to do was to find a recipe. I turned to Steamy Kitchen and her mom's egg rolls. I made them almost exactly as Jaden instructed except for a couple of substitutions for ingredients I didn't have on hand (you know I hate to shop), and they were delicious. Here is Jaden's mom's recipe, Mother's Famous Chinese Egg Rolls.
Once I make a dish and we enjoy it, I generally don't crave it again for awhile, and sometimes I never go back to it. There is just so much food out there to be made that I have a hard time making the same dish more than once, or maybe twice. But I was still craving egg rolls. We had about 12-13 frozen ones from the first batch, and I decided to push the egg roll envelope by using what was already in the house (we were now out of ground pork). So, yesterday, I made an Alternate filling, and The Beloved helped me roll them. We fried up some of the first batch and a few of this new batch and tried them side by side. We both decided that we liked the second batch better than the first. They are definitely nowhere near authentic. But they are fantastic. If you are looking for a slightly-out-of-the-ordinary egg roll that doesn't completely jump ship to "Southwestern Egg Roll" territory, you may really like these. You will recognize some traditional elements as well as wonder "what was she thinking" for some of the ingredients, but it all works. I promise.
Yes, I know they maybe sound a bit odd, but the green pepper really makes them. The Beloved and I couldn't stop eating them, and we are both very glad we still have a few frozen to enjoy soon.

Now that you've seen my egg rolls, please do visit all our other talented Progressive Eats members to see what they have whipped up for our Asian Feast.
Join us for an Asian Feast hosted by Jeanette's Healthy Living
Thanks, Jeanette, for picking such a fun theme! Everyone has really outdone themselves as they do every month. I just love this group!
Appetizer
Salad
Asian Coleslaw from That Skinny Chick Can Bake
Soups
Main Course
Bread
Veggies/Sides
Drink
Dessert
Thank you so much for attending our virtual Progressive Dinner! And thank you for spending some time with me today.
It would be so helpful to me and to other readers that, when you make a recipe, you rate it and leave a comment. Whether it's a recipe or an informational post, your feedback helps others decide if the post is helpful or if the recipe works as advertised.

If you could leave a star rating, that would be very helpful. Thank you for being here!
Sweet and Spicy Pork Egg Rolls
Sweet and spicy pork egg rolls, the best kind of fusion food: snack food! These pork egg rolls have both Asian and Italian flavors.
Ingredients
For the Filling
½

pound

sweet or hot Italian sausage

, casings removed

2

Tablespoons

coconut oil

(or other vegetable oil)

½

medium onion

diced

1

medium bell pepper

small dice

1 10-

oz

bag shredded cabbage

(for slaw) or 10 oz freshly shredded cabbage

2

Tablespoons

soy sauce

1

teaspoon

fish sauce

2

Tablespoons

brown sugar

2-3

teaspoons

Sriracha or chile garlic paste

(depending on how hot you like things)
For the Rolls
1

package egg roll wrappers of your choice

1

Tablespoon

corn starch dissolved in about 1/4 cup of cold water

(this is the glue that will seal your rolls)
Dipping Sauce
3

Tablespoons

water

2

Tablespoons

soy sauce

2

teaspoons

brown sugar

½

teaspoon

fish sauce
Instructions
Cook and crumble the sausage. Let drain in a colander set over a bowl.

Heat a wok, stir-fry pan or large skillet until hot. Add the coconut oil (or other oil) and heat until hot.

Stir-fry the onion for about 2 minutes, and then add the bell pepper.

Fry another minute or two and add the cabbage.

Fry another two minutes and then add the soy sauce and fish sauce. Stir until everything is coated with sauce.

Stir the reserved sausage into the cabbage mixture, but keep the colander and bowl handy.

Taste, then add the sriracha/chile garlic paste and the brown sugar. Stir until well-combined.

Let cool about 30 minutes in the colander set over the bowl.
To Fill
Work with one wrapper at a time and keep the rest under a damp towel so they don't dry out. Have a rack ready to place the finished rolls on with another damp towel to cover them.

Fill each egg roll with about 2-2 1/2 Tablespoons of filling. To read about how to roll egg rolls, read Jaden's post.

As you finish rolling, place each egg roll on the rack and cover with the towel.

At this point, you can freeze them all on the rack and then place in a zip top freezer bag or you can fry immediately.
To Fry
Heat the oil to 350F.

Fry 3-4 egg rolls at a time, making sure not to crowd the pan.

Fry for about 2 minutes on one side and then flip. The egg rolls are done when the skins are blistered and they are a deep golden brown.

Remove to a rack to drain and cool down a bit. Serve with the dipping sauce.
For the Dipping Sauce
Combine all ingredients in a small bowl. Let sit a few minutes so the sugar can dissolve and then whisk well to combine.
Did You Make Any Changes?
Nutrition
Serving:
2
egg rolls
Calories:
132
kcal
Carbohydrates:
11
g
Protein:
5
g
Fat:
8
g
Saturated Fat:
4
g
Polyunsaturated Fat:
4
g
Cholesterol:
11
mg
Sodium:
564
mg
Fiber:
2
g
Sugar:
5
g
Enjoy the spicy pork egg rolls, friends! Thanks for reading. Take care, and have a lovely day.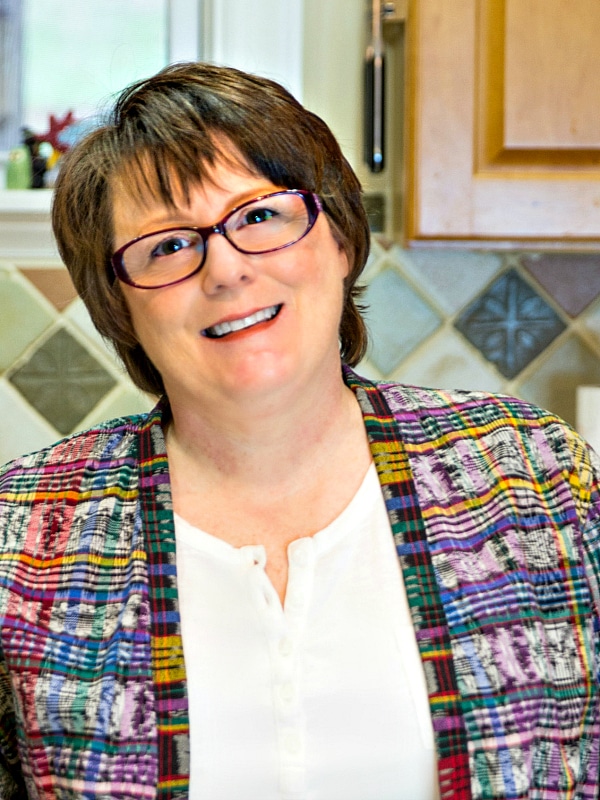 What are my qualifications to teach you baking and pastry? As a former working pastry chef and special educator, I marry my passions for both teaching and for baking into explaining techniques, methods, and developing the best possible recipes. For more info, you can read more about me.
If you'd like to receive new recipes and the occasional newsletter, I'd love for you to sign up for my Inbox Pastry Chef.