Here is a wonderful bread recipe for you, Kashmiri naan bread.

For ease of browsing, here are all of my bread recipes in one place.

Another fantastic bread recipe is whole wheat pita bread.
I have made a few forays into Indian cooking over the years. I make plenty of "Indian inspired" food, but sometimes, I pull out all the stops and try to be as authentic as I can. Remember that time I made Lamb Biryani and about killed myself what with all the steeping and toasting and frying and layering and entombing? Even while performing all those cooking verbs, it didn't occur to me to make naan, perhaps one of my very favorite breads of ever.
But when Renee and Stacy decided to start Bread Bakers and asked me to join up, I thought, "This is my chance!" What better way to stretch myself than in a group that posts monthly, right?
Who are the Bread Bakers, anyway?
#BreadBakers is a group of bread loving bakers who get together once a month to bake bread with a common ingredient or theme. Follow our Pinterest board right here. Links are also updated each month on this home page.
We take turns hosting each month and choosing the theme/ingredient.
If you are a food blogger and would like to join us, just send Stacy an email with your blog URL to [email protected].
Now feast your eyes on all the deliciousness that is yours to explore on this, the first bread baking event for the Bread Bakers!
And Now, Onto the Kashmiri Naan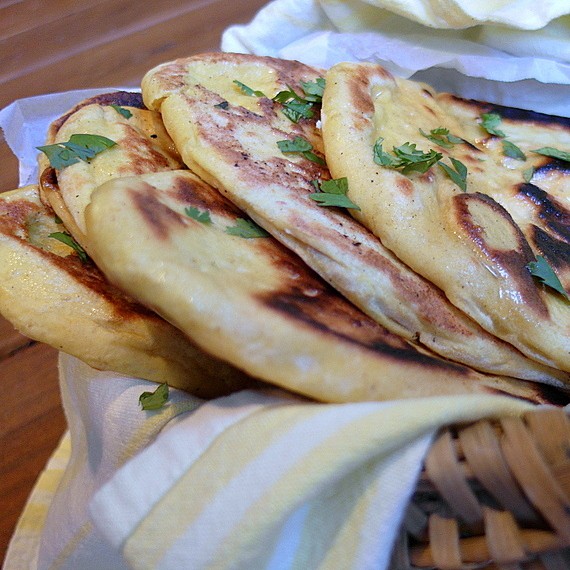 How I met Kashmiri naan
I thought I was a naan expert. I'm a fan of garlic naan, of aloo naan (filled with spiced potatoes–carbs stuffed in carbs! Thank you, India!–of keema naan (naan stuffed with minced spiced lamb). But I had never heard of Kashmiri naan until we ate with our friends Rhys and Lexi at their home in Winter Park, FL a couple of months ago. They had both had long days working in their respective restaurants (Lexi, chef de cuisine at Siro Urban Kitchen and Rhys, chef de cuisine at Cask & Larder), and apologetically asked if they could just pick up Indian take out. Please. Of course! Indian is my favorite, and as much as I enjoy food lovingly prepared by my talented friends, I was more than happy to order up deliciousness from their favorite Indian take out place.
And that's how I met Kashmiri naan. The version I had was stuffed with a paste of coconut, cashews and golden raisins. It was sweet, but perfectly so against the spicy sauces we were enjoying. I've been dreaming about Kashmiri naan ever since; planning my Naan Strategy. And I probably would have planned myself into never making it if it weren't for Bread Bakers. In coming months we'll have a theme, but this first month, the theme is Your Awesomest Favoritest Bread (don't quote me on that). Renee of the lovely southern food and lifestyle blog Magnolia Days is hosting this inaugural event. Thanks Renee!
According to the restaurant's takeout menu, the stuffing in their version of Kashmiri naan was cashews, golden raisins and coconut, so of course that's what I wanted to make as well. I used this post from Clawson Live: My Life as the Baker's Wife (now A Baker's Wife) as reference for the filling which turned out beautifully.
As far as the naan itself, I found several recipes that looked promising, but the one I settled on as my springboard, the Cheese-Stuffed Naan from A Dash of Soul, I chose for 2 reasons. Reason one: it was scaled for eight naan–some other recipes made four (way too few) or sixteen (way too many). As you'll see if you wander over to Lauren's blog, I made a fair number of changes to her base recipe. And one day I will stuff some naan with cheese and be a very happy girl.
It would be so helpful to me and to other readers that, when you make a recipe, you rate it and leave a comment. Whether it's a recipe or an informational post, your feedback helps others decide if the post is helpful or if the recipe works as advertised.

If you could leave a star rating, that would be very helpful. Thank you for being here!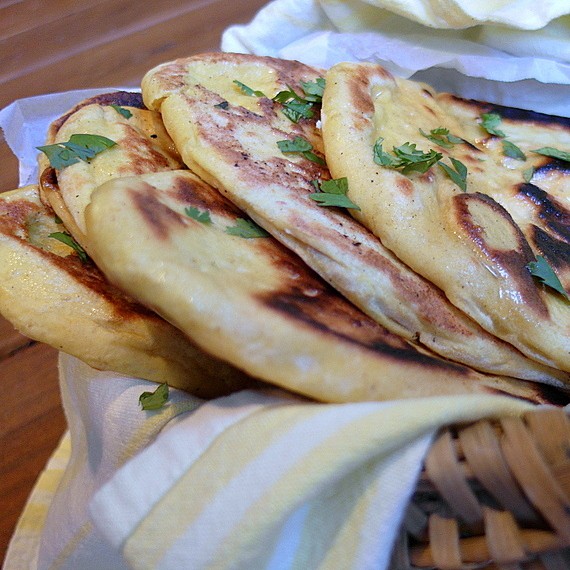 How to Make Kashmiri Naan for #BreadBakers
I chose to flavor my Kashmiri naan dough with both curry powder and cumin, but you can absolutely leave these out if you want a more traditional naan. Also feel free to bake the naan plain or stuff it with whatever filling you like. The dough itself is smooth, supple and very tender.
Ingredients
For the Dough
16.5

oz

all purpose flour

1

Tablespoon

sugar

2

teaspoons

curry powder

1

teaspoon

fine sea salt

1

teaspoon

baking powder

1

teaspoon

active dry yeast

½

teaspoon

baking soda

½

teaspoon

ground cumin

1

Tablespoon

canola oil

7

oz

water

room temperature is fine

½

cup

full fat Greek yogurt

(if you use regular yogurt, you will have to reduce the amount of water)
For the Filling
½

cup

whole roasted cashews

(salted is fine)

½

cup

golden raisins

½

cup

shredded coconut

(I used unsweetened)

2

teaspoons

of honey

(optional if it needs a bit of sweetness. I used it and loved it)

heavy-ish pinch of salt

(add after processing if it needs it)

2-3

Tablespoons

water

(just enough to make a paste in the food processor)
For Baking and Finishing
A small dish of water

A pastry brush

Melted butter or ghee

chopped cilantro
Instructions
For the Dough
In the bowl of your stand mixer, thoroughly whisk together all of the dry ingredients.

Whisk the wet ingredients together in a bowl and then pour on top of the dry ingredients.

Bring the dough together with the dough hook on low speed.

Increase the speed to medium and knead until the dough is very smooth and elastic.

I have given the measurements that made the perfect dough for me with my ingredients and in my kitchen. What you're looking for is a dough that completely clears the sides of the mixer bowl and only sticks in the bottom of the bowl in about a 1 1/2″ to 2″ circle. At higher kneading speeds, the dough may not stick in the bottom of the bowl at all. The dough should be very soft and just a tiny bit sticky. If in doubt, err on the side of a little too wet rather than a little too dry.

Once the dough is lovely, oil your hands and gather the dough into a smooth ball. Wrap in plastic wrap and refrigerate for twelve to sixteen hours.

Remove the dough from the fridge and portion into 8 equal parts. My dough weighed 828 grams, so I portioned my dough out at about 103-104grams of dough per ball. Shape each dough ball into a smooth round, cover with plastic wrap, and let rest on the counter for about twenty minutes.

Press each ball of dough out into about a 4-5″ circle. Plop about 2 Tablespoons of filling (procedure below) in the center of each circle. (I did this one at a time. If you have a helper, you can do this assembly line style).

Gather up the edges of your circle of dough and stretch and wrap them around so the filling is completely enclosed. Pinch all the edges together in the center. Turn the dough pinched side down, flatten just a bit into a puck and cover while you form the other rounds.

Starting with the first puck you made, flour your counter lightly as well as the surface of the puck. Roll out into an oval shape about 10″ long and 6″ wide. You will think it won't roll out this big, but you will be wrong, because I was wrong to begin with. The first puck I rolled was small and too fat. It still tasted good, but it wasn't really naan. Try not to let any filling smoosh out, but if some does, don't worry about it. Just put some flour on those spots and keep going.

Flip the dough from one side to the other and keep rolling it until it is no more than 1/4″ thick. You may roll all the dough "halfway," and then go back and roll them fully once they've rested a bit. Keep the dough covered.

Heat a well-seasoned 12″ cast iron skillet over medium-high heat until it is very, very hot.

Lightly brush one side of a dough oval (doughval?) with water. Slap that side down into the hot pan. Quickly brush water on the side facing up and stab the dough all over with a fork. Slap a lid on and set the timer for a minute.

After the minute is up, check the bottom of the bread, It should have some char marks on it in a few places. If not, re-lid and bake another 30 seconds or so. Through trial and error, I found that 90 seconds per side when rolled very thin worked perfectly for me.

When the dough is ready to flip, stab any places that have bubbled up with the fork. Flip the bread, and re-lid for another 60-90 seconds (again, if you've rolled it very thin. If your dough is a bit thicker, it will have to cook longer and you may need to turn the heat down a bit so it doesn't completely burn up).

Place the naan in a warm oven and repeat with the remaining dough rounds.

To serve, lightly brush the naan with melted butter or ghee and then sprinkle with chopped cilantro.
To Make the Filling
Place the cashews, raisins and coconut in the bowl of your food processor.

Pulse until coarsely chopped.

Stream in 2 Tablespoons of the water and pulse/process until you end up with a grainy paste that is fairly uniform in consistency. If it seems a bit dry, add a bit extra water and process again.

Add in the honey, if using, and process again, scraping the processor bowl as necessary.

Taste. If you think it needs a bit more salt, add it. You will end up with about 1 cup of paste, enough for 2-ish Tablespoons per naan.
Did You Make Any Changes?
The subtle sweetness of this bread is a lovely foil to spicy Indian sauces. I do hope you give this one a try. I, for one, am Smitten!
Thank you so much for spending some time here today. I hope you've found some inspiration, and I hope I've made you hungry. Have a lovely day.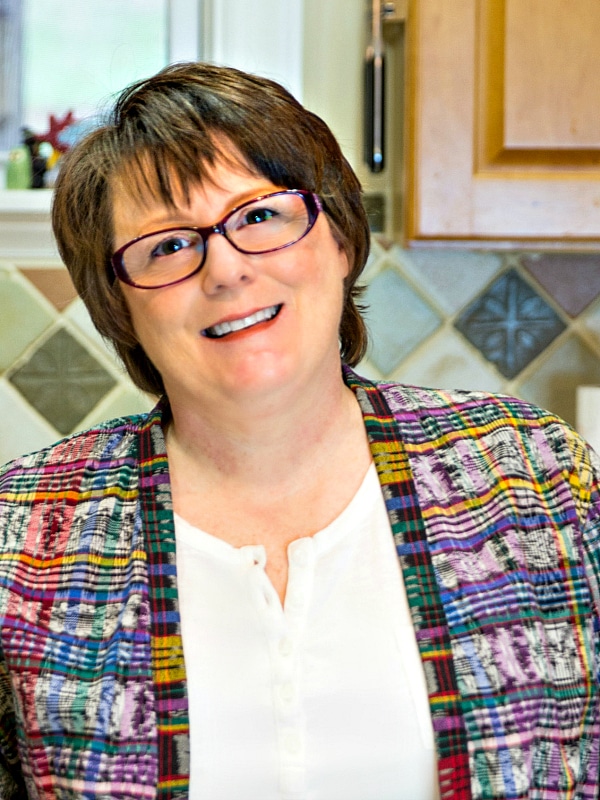 What are my qualifications to teach you baking and pastry? As a former working pastry chef and special educator, I marry my passions for both teaching and for baking into explaining techniques, methods, and developing the best possible recipes. For more info, you can read more about me.
If you'd like to receive new recipes and the occasional newsletter, I'd love for you to sign up for my Inbox Pastry Chef.