Today I am offering you a great recipe for dairy-free blueberry muffins. They also happen to be vegan blueberry muffins! I used some Silk Non-Dairy Yogurt Alternative to make these tasty little guys.

Because I like to challenge myself when developing recipes for new-to-me products, since I had already decided that muffins would be fun to make, I figured I'd go ahead and come up with a gluten-free, egg-free, dairy-free, vegan blueberry muffin.

That way, everyone can enjoy them–folks with egg allergies, folks with gluten sensitivity, vegans, and folks who are lactose intolerant. These muffins will even please your "regular diet" friends since they're moist and bursting with blueberry flavor.

If you don't have dietary restrictions, you may enjoy my buttermilk muffin with cherries, chocolate and pecans.

For ease of browsing, here are all of my muffins and quick breads in one place. Thanks for stopping by!

This is a sponsored conversation written by me on behalf of Silk for their #tastethegoodness campaign. The opinions and text are all mine.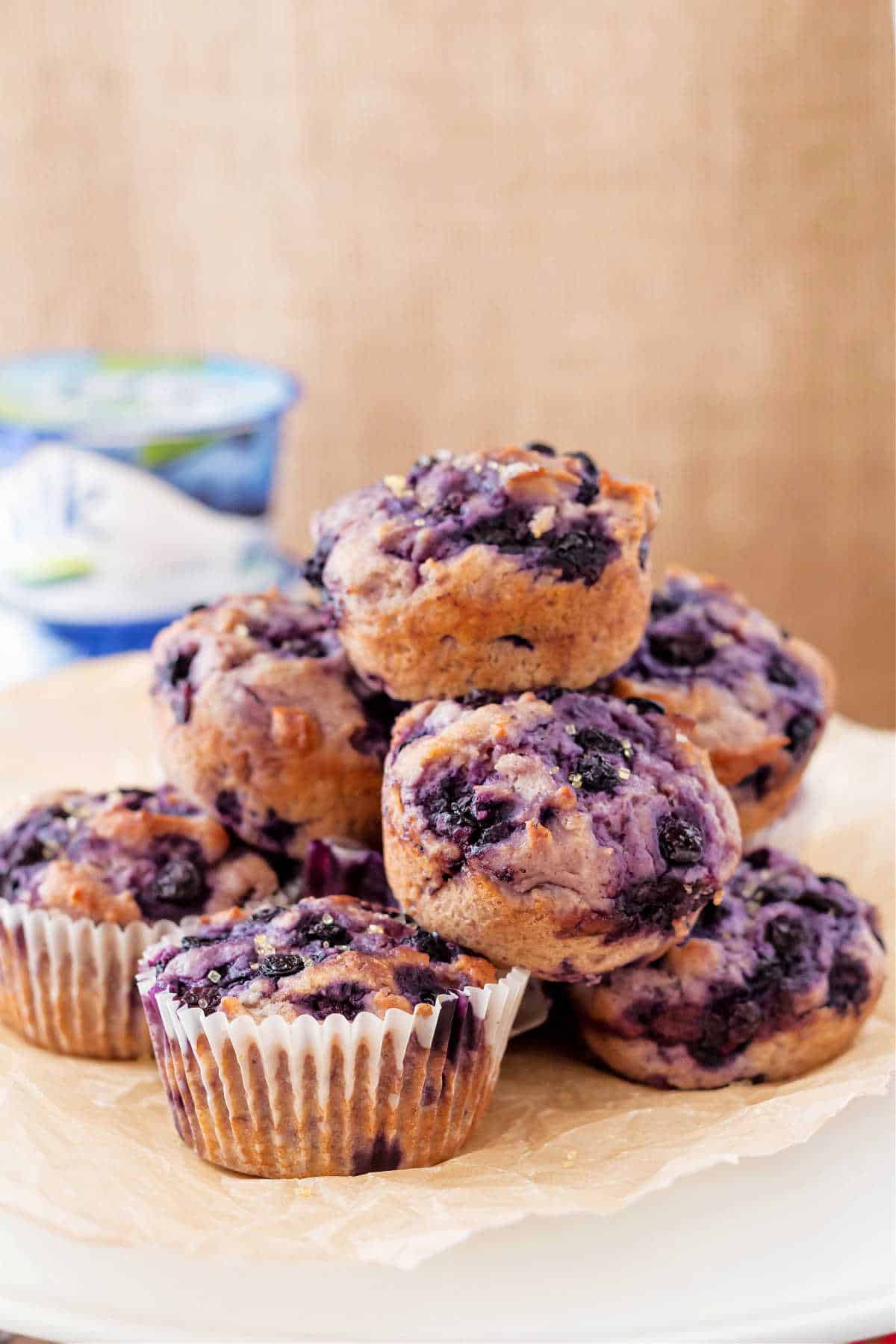 Silk Dairy-Free Yogurt Alternative
The Silk Non-Dairy Yogurt Alternative truly is fruity–the base of the blueberry flavor, is blue-berry-y, plus there are bits of blueberries in the mix. Double blueberry–fine with me! Plus, it's very smooth and creamy.
It's made with cultured soy and packs 6 grams of protein per serving. As well, it's gluten-free, dairy-free, cholesterol-free, non-GMO certified, and did I mention smooth, creamy bright blueberry flavor?
Silk is the first yogurt alternative I've ever had, and while I really like regular yogurt, it's hard to say no to the smooth, creamy texture of the dairy-free yogurt alternative.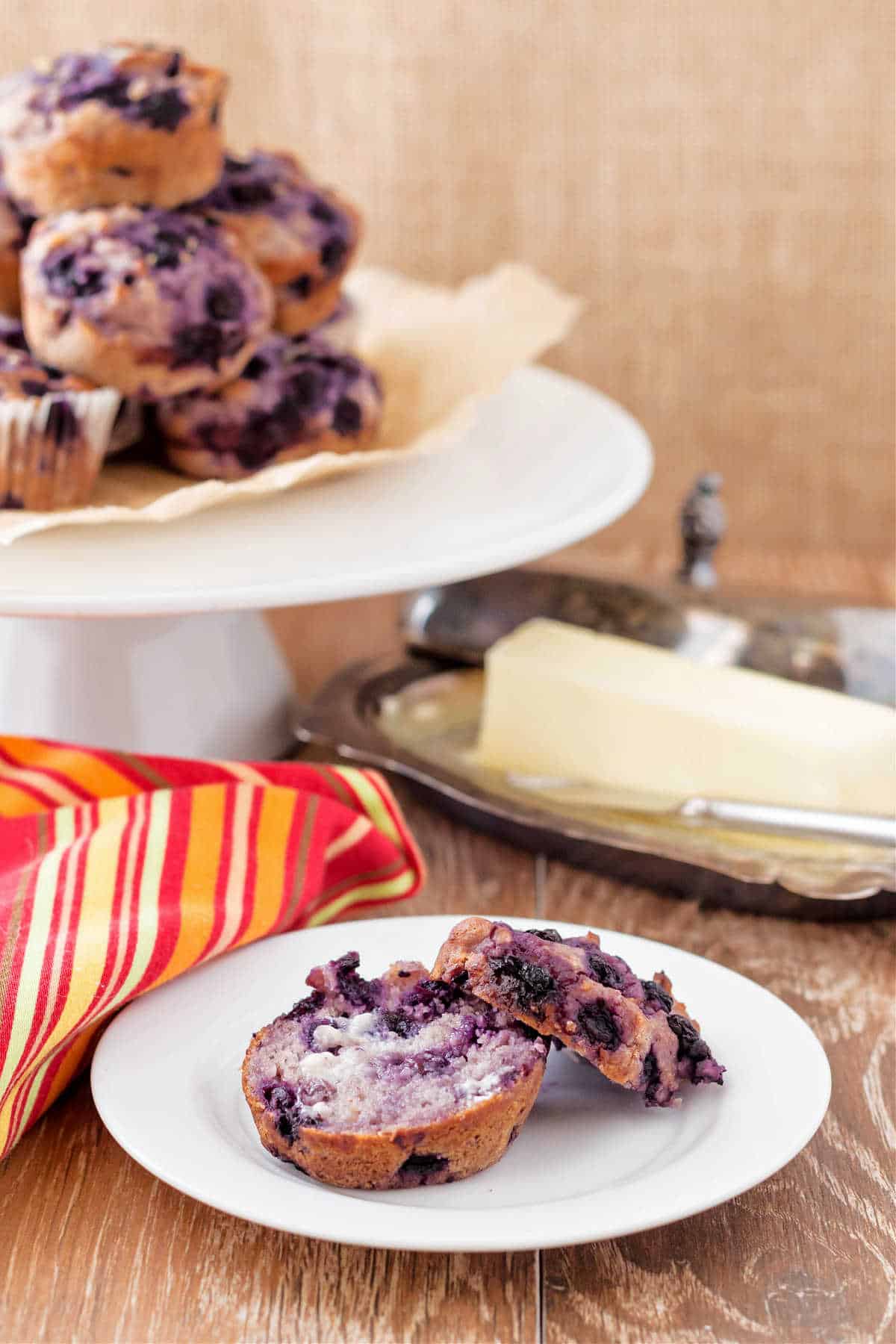 Ingredients and Substitutions
Here's what you'll need to make these blueberry muffins. I will provide substitutions when possible.
gluten-free flour blend: I only tested with Krusteaz, and gluten-free flour blends vary widely as far as how much liquid they will absorb. For consistent results with this recipe, use Krusteaz
sugar: plain granulated for sweetness and browning. You don't need much, especially since the blueberry yogurt is already sweetened
baking powder: helps the batter to rise so you have nice, light muffins
salt: brings all the flavors into focus
dairy-free yogurt: Use Silk as called for, or if you have a favorite non-dairy blueberry yogurt, feel free to substitute that
vegetable oil: Helps to tenderize the muffins
ground flax: Ground flax and water function as an egg replacer. For best results, grind the flax very finely in a spice mill or blender and let the flax and water sit for a couple of minutes until the mixture thickens. You can also use a vegan egg replacer such as JUSTeggs
water:
vanilla: Rounds out the flavors. Feel free to substitute lemon zest or add a bit in addition to the vanilla
blueberries: fresh or frozen. If using frozen, no need to thaw.
Variations
Substitute a different flavor of yogurt alternative and the corresponding berries, or mix and match.
Try vegan blueberry yogurt with blackberries or strawberries.
Try dairy-free strawberry yogurt with strawberries, blueberries, or raspberries.
Take vegan cherry yogurt for a spin, use chopped cherries, and flavor the batter with a little almond extract.
How To Mix Gluten-Free Muffin Batter
When making muffins with wheat flour, I always use The Muffin Method to ensure that the muffins are nice and tender.
The main issue with making muffins with regular wheat flour is that if you mix it too long once you get liquid in it, you can easily activate too much gluten. This results in a chewy, bread-like muffin rather than a tender one with a coarse, open crumb.
When mixing this gluten free blueberry muffin batter, I still used the muffin method, but I was not as concerned about mixing the batter once I added the wet ingredients to the dry. There is no gluten to develop, so you can mix the batter until fairly uniform before adding the berries.
I still wouldn't recommend mixing them like crazy, but you don't have to be quite as careful.
If you are not gluten-free and are just interested in a dairy-free blueberry muffin, check out my post on Ritz Carlton Blueberry Muffins and substitute in your favorite non-dairy milk.
For more gluten-free muffin recipes, visit my friend Sandi's Scone and Muffin category at Fearless Dining. All her recipes, both sweet and savory, are gluten-free, and she has a lot of baked goods on her site as well.
Topping the Muffins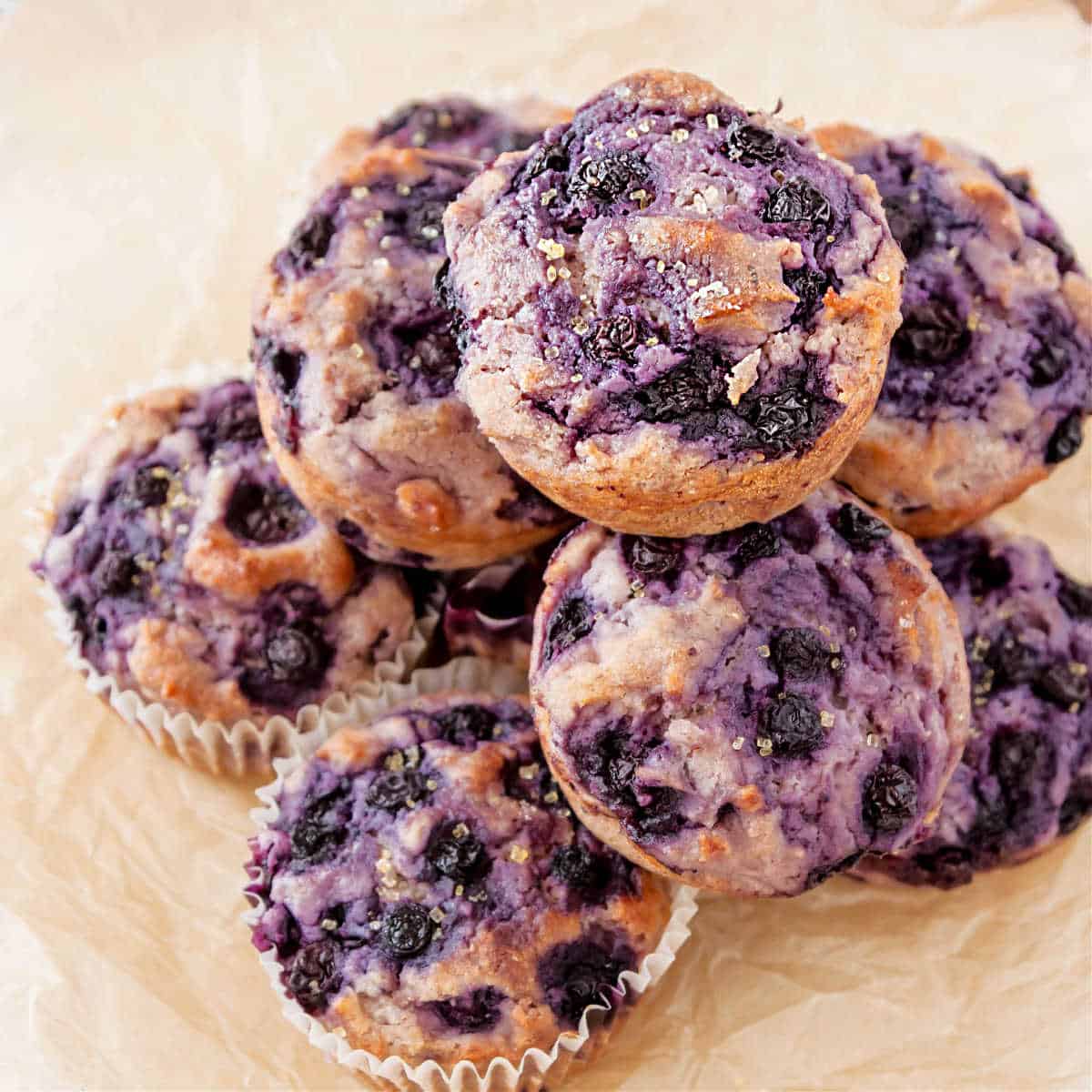 Just look at that blueberry action up there.
Before baking, I like to top my muffins with a few additional whole blueberries because I love the purple color of the juices that soak into the muffin. It gets your mouth ready for intense blueberry flavor.
Another tip is to sprinkle a bit of turbinado sugar on each muffin before baking. I use Sugar in the Raw for a bit of sparkle and crunch.
If you don't like the look, by all means, leave the extra berries off the top and maybe top them with some gluten-free streusel or crumble mixture for a bit of textural contrast.
Either way, do give these gluten-free, egg-free, dairy free blueberry muffins a try. I think you'll really like them. They come together quickly, and you can have hot fresh muffins on the table and ready to serve in about thirty minutes.
And now, on with the muffins!
Questions?
A Note About Measurements
NOTE: Most of my recipes are written by weight and not volume, even the liquids. Including this recipe.
Even though I try to provide you with volume measurements as well, I encourage you to buy a kitchen scale for ease of measuring, accuracy, and consistency.
This is the scale I use, love, and recommend:
For convenience, consistency, and accuracy, almost all my recipes are written by weight, either in ounces and/or grams, even the liquids.
I strongly encourage you to purchase a kitchen scale and learn to use it.
This is the one I used for years. I love it and highly recommend it:
Best for Home Use
Escali Primo Digital Food Scale
Don't let its small price and small size fool you. The Escali Primo is an accurate and easy-to-use food scale that I have used for years. It's easy to store, easy to use, has a tare function, and easily switches between grams and ounces/pounds for accurate measurements.
This is an affiliate link which means I earn from qualifying purchases. Your price is unaffected.
It would be so helpful to me and to other readers that, when you make a recipe, you rate it and leave a comment. Whether it's a recipe or an informational post, your feedback helps others decide if the post is helpful or if the recipe works as advertised.

If you could leave a star rating, that would be very helpful. Thank you for being here!
Dairy Free Blueberry Muffins Recipe
These dairy free blueberry muffins also happen to be both gluten-free and egg-free also. Perfect for serving to a crowd, because you never know who has food allergies or gluten sensitivity or who might be vegan. So moist and bursting with blueberry flavor, you won't miss the gluten, eggs or the dairy! All ounce amounts are measured by weight.
Ingredients
For the Muffin Batter
8

oz

your favorite gluten-free flour blend

I used Krusteaz

2

oz

granulated sugar

2 ½

teaspoons

baking powder

½

teaspoon

salt

10

oz

Silk blueberry Dairy-Free Yogurt Alternative

(2 5-ounce containers)

3

oz

neutral vegetable oil

2

Tablespoons

ground flax seed*

(See Note below)

6

Tablespoons

water

1

teaspoon

vanilla extract

6

oz

generous 1 cup fresh or frozen blueberries (if using frozen, do not thaw)
For Topping
4-6

extra blueberries per muffin

turbinado sugar or other coarse sugar
Instructions
Set a rack in the middle of your oven and preheat to 425F.

In a medium bowl, whisk together the gluten-free flour blend, sugar, baking powder, and salt. Set aside.

In another bowl, whisk together the Silk Non-Dairy Yogurt Alternative, oil, ground flax seed, water and vanilla extract. Let this mixture sit for ten minutes so the flax/water mixture can thicken.

Pour the wet mixture into the dry mixture, mixing well until combined. The batter will be thick.

Fold in the fresh or frozen blueberries.

Portion into a greased or lined standard sized, 12 cavity, muffin tin.

Press an additional 4-6 blueberries on top of each muffin and sprinkle with a bit of coarse sugar.

Bake for 15-18 minutes or until they spring back when pressed and there are some golden brown spots on top in between the blueberries.

Allow to cool for a few minutes, and enjoy warm.
Did You Make Any Changes?
Notes
*To get the finest texture even in pre-ground flax, whir it up really well in a high-speed blender or in a coffee grinder.
Nutrition
Serving:
1
muffin
Calories:
224
kcal
Carbohydrates:
32
g
Protein:
4
g
Fat:
10
g
Saturated Fat:
1
g
Polyunsaturated Fat:
8
g
Cholesterol:
4
mg
Sodium:
233
mg
Fiber:
2
g
Sugar:
13
g
Thanks so much for spending some time with me today. Enjoy the vegan blueberry muffins, and have a lovely day.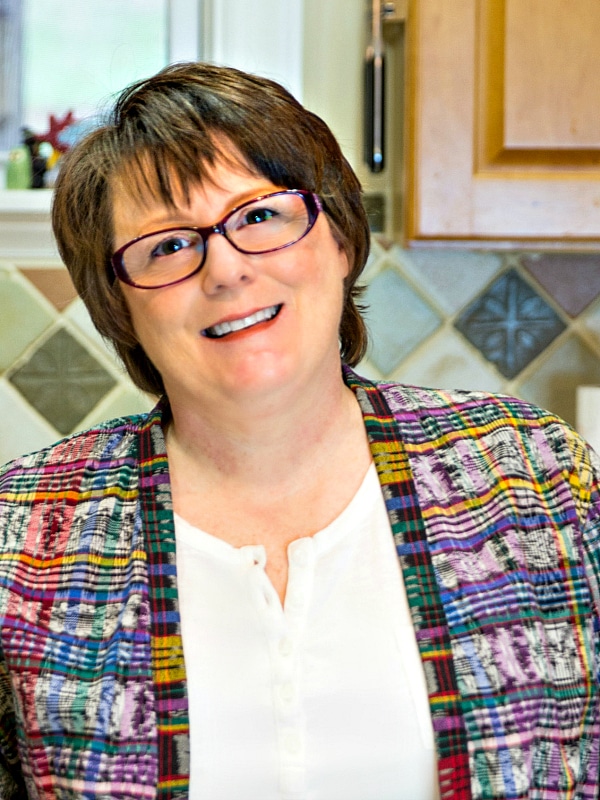 What are my qualifications to teach you baking and pastry? As a former working pastry chef and special educator, I marry my passions for both teaching and for baking into explaining techniques, methods, and developing the best possible recipes. For more info, you can read more about me.
If you'd like to receive new recipes and the occasional newsletter, I'd love for you to sign up for my Inbox Pastry Chef.