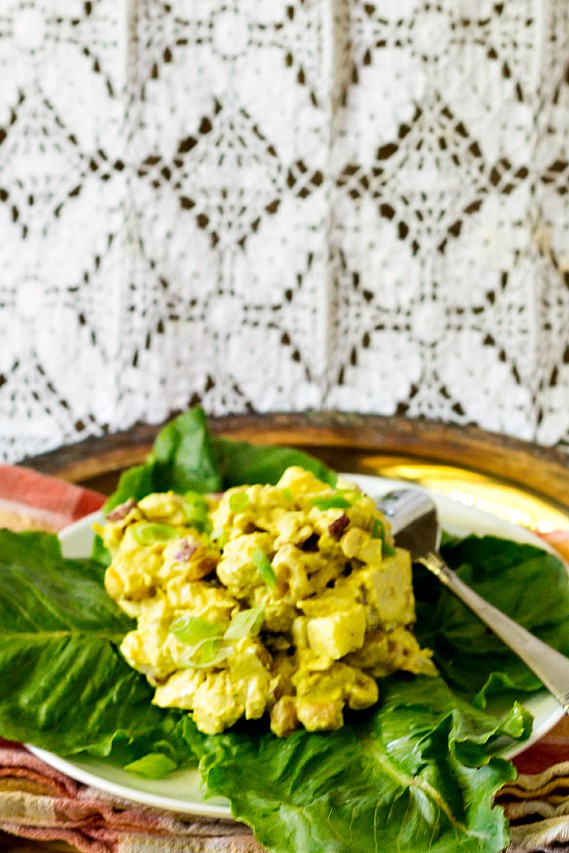 The College Kid came over for dinner on Monday evening. Originally, I had thought to make pizza for us, but since the temperature soared to 100F I scrapped the pizza idea. The poor air conditioner was working hard enough as it was. Instead, we had salads: an old school iceberg wedge salad, my Mom-Style Macaroni Salad to which I added the last of the sweet peppers that have been living in my Oxo GreenSaver (5 weeks of perfect peppers!) and curried chicken salad.
I didn't refer to a recipe for the curried chicken salad. I just added some curry-ish ingredients and made a dressing spiked with curry powder. It was delicious, so I decided to write it up. As a teaser, I shared a photograph of it, and my friend Deon from Food Jam asked if it was like Coronation Chicken.
This was the first time I'd ever heard of Coronation Chicken, so I went and looked it up on The Google. Chicken, fruit, curried dressing. I told him that it was indeed more or less the same thing as Coronation Chicken, and then I started doing some research into the dish.
As you can guess, Coronation Chicken (really just a schmancy curried chicken salad) was invented in celebration of Queen Elizabeth's coronation. The dish was developed by Constance Spry and Rosemary Hume, both of Le Cordon Bleu culinary school in London. The dish not so subtly paid homage to the contracting British Empire, borrowing some flavors from India, the "crown jewel of the British Empire" until 1947.
Over the ensuing years, it seems that Coronation Chicken lost some of its luster, ending up in soggy sandwiches on buffet lines and being made fun of in the way that Spam is made fun of in the US. It became something of a wink and a nod recipe. I imagine British hipsters eating it ironically.
Honestly though, a good curried chicken salad made with mild, juicy chicken punctuated by pops of chewy fruit and bathed in a silken saffron-hued dressing is a beautiful thing. The British seem to think so, too. The dish seems to be making a comeback in the UK, getting updates in both the cooking method and ingredient list. It has also been kept alive with updates called "Jubilee Chicken," commemorating Elizabeth's fifty and now sixty years (and counting–sorry, Charles) on the throne.
So now, for Throwback Thursday Food, here is my unintentional but tasty take on a Coronation Chicken Recipe. Stay tuned after the recipe for links to some authentic British versions of the dish.
Coronation Chicken (Curried Chicken Salad) for #tbtfood
Savory and sweet chicken salad is punctuated with bites of crisp apples, chewy raisins and crunchy/creamy cashews all bathed in a mild, sunny yellow curry sauce.
What You'll Need
For the Chicken
1 1/2

pounds

boneless

, skinless chicken breast

2

cups

chicken stock or broth

2

teaspoons

kosher salt

several grindings of black pepper

2

teaspoons

turmeric
For the Dressing
1 1/2

cups

mayonnaise

(See Notes Below)

1/4

cup

apple cider vinegar

2-3

Tablespoons

honey

2-3

teaspoons

mild curry powder

kosher salt and freshly cracked black pepper

, to taste
For the Mix-Ins (cup measurements are approximate)
1

apple cut into bite sized pieces

(peeling is optional) I used a Gala apple Use your favorite. A tart, crisp apple such as Granny Smith would provide a nice contrast

1/3

cup

golden raisins

(or "regular" raisins)

1/4

cup

chopped cashews

(I used roasted and salted cashews)

1/4

cup

red onion

, finely chopped
What To Do
For the Chicken
Whisk the stock, salt, pepper and turmeric together in a pot just large enough to hold the chicken.

Place the chicken in the pot. Cover and bring to a simmer.

Keep the chicken at a low simmer until the internal temperature of the breasts is 165F. You may need to flip the chicken with tongs a couple of times to make sure it cooks evenly.

Allow the chicken to cool in broth and then chill until cold.

Cut into bite-sized pieces and set aside.
For the Dressing
Whisk all the ingredients together. You may need to adjust the salt, sweetness, acidity and/or spice, so taste and adjust accordingly.

Thoroughly fold the dressing together with the chicken and all the mix-ins. Taste and adjust seasonings if necessary.

Refrigerate for at least a couple of hours or overnight to let the flavors meld.

Serve on lettuce/mixed greens as a salad or on a sandwich. Enjoy!
Recipe Notes
If you are not a mayonnaise fan, substitute all or part of the mayo with Greek yogurt or sour cream.
I didn't do this, and I didn't see any other recipes that did either, but I think this would be excellent made with some of the thick "cream" from full-fat coconut milk substituted for some of the mayonnaise.
Here are some more recipes for Coronation Chicken and Jubilee Chicken:
Thanks, Deon, for innocently asking if what I made was Coronation Chicken because I love learning. And thank you all for taking the time to read. The chicken salad is truly lovely. The College Kid enjoyed it very much and even took some home with her.
Take care, and have a lovely day.