You know what's delicious? A blood orange margarita, that's what!

Homemade, too. You have to wait for blood oranges to be in season, but once they are, juice them, mix them with homemade sour mix, and go to town. You could also use plain simple syrup to really let the blood orange juice shine.

When blood oranges aren't in season, don't go margarita-less, though. You can always whip up a top shelf margarita any time of year.

For ease of browsing, here are all of my beverage recipes in one place. Thanks for stopping by!
It's Always Margarita Time
We've had our beach trip with Ken and his wife Candace on the books for months and months. We didn't have much of a plan, but there was one thing that was certain.
Cousin Ken expected margaritas. Yes, even in the dead of winter at the beach, it is always margarita time.
I had fully intended to make some sour mix, but then I realized that deconstructed sour mix–or rather, simple syrup and some lemons and limes–would be more flexible.
Especially because I had blood oranges on my mind.
What Makes a Blood Orange Margarita So Good?
Not only are blood oranges beautiful, the juice is somewhat less sweet and a bit more astringent than regular old orange juice.
It's a little more balanced–some backbone along with the sweet citrus.
Since blood orange is so nicely balanced, it works really well in cocktails, like these lovely blood orange margaritas.
Other reasons this recipe works so well:
These are not too sweet
They're packed with alcohol but they don't have a harsh alcohol burn (hence the suggestion to leave them at the other end of the house)
nicely balanced between the

peppery tequila
brightness of all the citrus and
just enough simple syrup to bring everything into focus
Enjoy These Margaritas Responsibly!
This recipe makes four enormous margaritas or six normal-people-sized margaritas.
I suggest you leave your glass all the way across the house from wherever you are. I also suggest that you have snacks placed along the corridor between you and your beverage. Here are some Snack Ideas:
Soft Pretzels are pretty easy to make, especially if you have a stand mixer and are always a welcome bar snack.
Blood Orange Muhammara sticks with the blood orange theme. If you've never had it, you owe it to yourself to make some muhammara, or Middle Eastern Walnut Dip. Very More-ish.
Vegan Lahmajoun are sort of like a flatbread pizza spread with well-seasoned hummus and served with cilantro and onion. Really great stuff!
That way, you won't just suck it right down and you'll have something in your stomach to soak up the alcohol.
I am nothing if not helpful.
It would be so helpful to me and to other readers that, when you make a recipe, you rate it and leave a comment. Whether it's a recipe or an informational post, your feedback helps others decide if the post is helpful or if the recipe works as advertised.

If you could leave a star rating, that would be very helpful. Thank you for being here!
I really hope you love these margaritas, you guys! If you make some, please share a photo with me, either in the PCO Facebook Group or on instagram by tagging @onlinepastrychef and using hashtag #pcorecipe. Thanks, and enjoy!
Blood Orange Margarita Recipe
A blood orange margarita made with freshly squeezed blood orange juice as well as lemon and lime juice, homemade simple syrup, silver tequila, and Grand Marnier
Ingredients
For the Simple Syrup
½

cup

granulated sugar

½

cup

filtered water!For the glasses

1

wedge of lime

about 1/2 cup kosher salt spread out on a saucer large enough to accommodate the rim of the glasses
For the Actual Margaritas
1 ½

cups

12 oz silver tequila

½

cup

4 oz Grand Marnier

½

cup

4 oz freshly squeezed lime juice

¼

cup

2 oz freshly squeezed lemon juice

¼

cup

2 oz freshly squeezed blood orange juice

¼

cup

2 oz simple syrup, or to taste
Optional Garnish
one blood orange round per glass
Instructions
For the Simple Syrup
Stir the sugar and water together in a small sauce pan.

Bring to a boil over medium-high heat.

Let boil for about a minute before removing from the heat.

Cool and then chill until cold

This makes more than you will probably need. Use the extra to make more margaritas or to sweeten cold drinks.
For the Glasses
Wipe all around the rim of one margarita glass with the lime wedge.

Dip the rim in the salt, making sure the salt adheres evenly.

Set aside and repeat with the remaining glasses.
For the Actual Margaritas
In a pitcher, stir together all the ingredients.

Taste and add more simple syrup if you think it needs it.

Fill the glasses to the brim with ice.

Fill the glasses with delicious, ruby red margaritas.

Garnish with a round of blood orange if you'd like
Did You Make Any Changes?
Notes
Nutritional values calculated for 6 4.3 ounce cocktails.
If you use more simple syrup than I call for, that will affect the nutritionals.
Nutrition
Serving:
4
.3 oz
Calories:
243
kcal
Carbohydrates:
14.3
g
Protein:
0.2
g
Fat:
0.1
g
Sodium:
1572
mg
Fiber:
0.2
g
Sugar:
17.5
g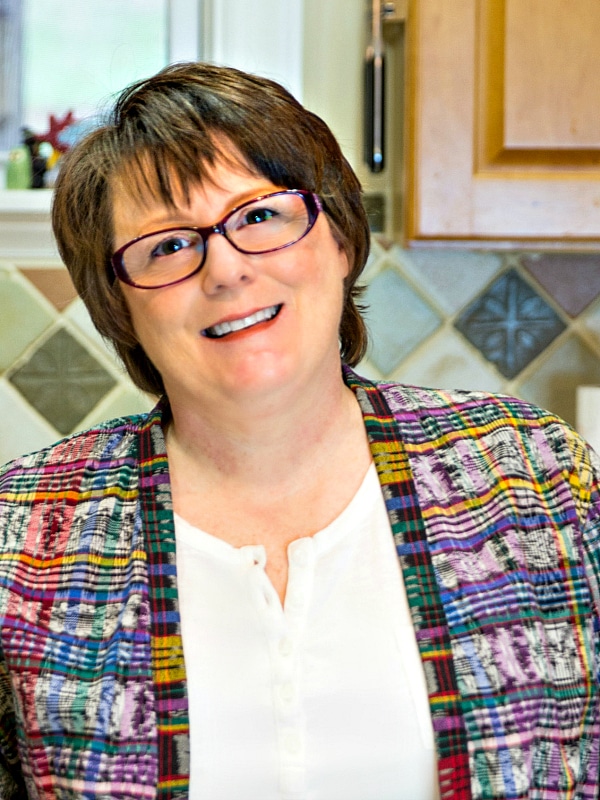 What are my qualifications to teach you baking and pastry? As a former working pastry chef and special educator, I marry my passions for both teaching and for baking into explaining techniques, methods, and developing the best possible recipes. For more info, you can read more about me.
If you'd like to receive new recipes and the occasional newsletter, I'd love for you to sign up for my Inbox Pastry Chef.
I hope you enjoy this blood orange margarita recipe as much as we did.
Thanks for reading, and have a lovely day.