I kept my head down for #BreadBakers the last couple of months when the themes were whole grain. Even though the vast majority of the bread we eat around here is whole grain, the theme just didn't speak to me. But when my pal Anshie of SpiceRoots chose the theme "Griddle Breads" for this month, it was on.
My initial idea was to make crumpets, but then I started thinking about pancakes. There's not much more satisfying than a stack of pancakes. I decided to stretch myself and make yeast-raised pancakes. Yeast raised chocolate chocolate chip pancakes, to be exact. So I did, and I am so glad I did because I am here to tell you:
Yeast raised chocolate chocolate chip pancakes are delightful!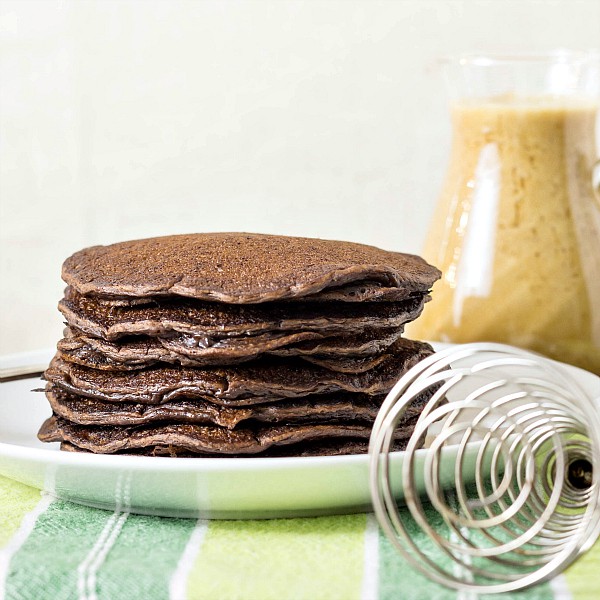 The whole process did not necessarily run smoothly (you can check out some of the behind the scenes action through about 5pm today, 2/9/16, on SnapChat. I'm PastryChfOnline over there). It took me a good 4-5 pancakes to get the heat regulated and to get my chip-adding process down. Here's how I finally made it work.
Ladle in 1/4 cup yeast raised chocolate chocolate chip pancake batter.
Allow to set up for about 30 seconds.
Evenly distribute 8-10 chocolate chips across the surface of the pancake, staying at least 1/2″ from the edges all the way around.
Grab a bit more batter in a tablespoon and drip just enough batter on each chip to cover it.
Wait until the pancakes are set all along the edges and about 1/4″ in from the edge all the way around, about 2-3 minutes.
Carefully flip once and cook for 1-1 1/2 minutes.
Why didn't I just mix the chips into the batter? I shall tell you why:
The chips would all sink, making it nearly impossible to get the same amount of chips in each pancake.
The chips sort of clump together, so it's hard to get an even distribution for chocolate chip goodness in every bite.
The batter doesn't pour out into perfectly round pancakes when the chips are in it.
So, while it sounds a bit fussy to do it my way, it results in really pretty, beautifully shaped pancakes with a nice even distribution of chips. You'll want to make these, seriously. They're not too sweet, plenty chocolate-y with a pleasant, slightly chewy texture that sort of reminded The Beloved and me of injera. And with the coffee maple syrup I made, they're pretty much perfect. You can guild the lily with whipped cream, sprinkles, more chocolate chips on top–even a scoop of ice cream, but I ask that you don't, at least for a couple of bites. You'll love the flavor.
Stay tuned after my recipe for all the great griddle breads this month.
And now, here's how to make yeast raised chocolate chocolate chip pancakes.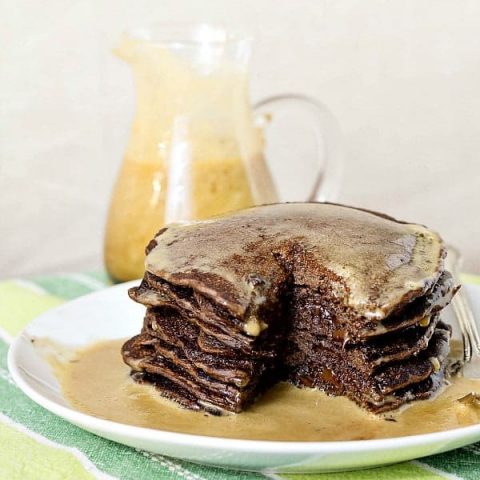 Yeast Raised Chocolate Chocolate Chip Pancakes | #BreadBakers
These rich yeast raised chocolate chocolate chip pancakes are not too sweet and intensely flavored. They make a very adult brunch item when paired with the coffee maple syrup.
Ingredients
For the Batter
6.75 oz all purpose flour
1.25 oz cocoa powder
3/4 teaspoon fine sea salt
1 1/2 teaspoons active dry yeast
4 Tablespoons brown sugar, , packed
8 oz whole milk, , barely warm
8 oz water, , barely warm
3 Tablespoons melted butter
1 large egg, , beaten
1 1/2 teaspoons vanilla extract
To Cook
softened butter
semi-sweet chocolate chips
For the Syrup
1 cup real maple syrup, , cold from the fridge
3 Tablespoons cool butter
1 teaspoon espresso powder, (more if you like)
1 teaspoon vanilla extract
1/8-1/4 teaspoon fine sea salt
Instructions
For the Batter
In a large bowl, thoroughly whisk all the dry ingredients together.
In another bowl, thoroughly whisk all the wet ingredients together.
Pour the wet into the dry ingredients and whisk very well until you have a smooth batter.
Cover and set in a warm place to rise until about doubled, an hour or so. The batter will increase in volume and become very light and bubbly.
To Cook
When the batter is ready, preheat a cast iron skillet over medium-low heat for a good ten minutes or so.
Smear a small amount of butter over the cooking surface (I used a wadded up paper towel) and then pour in 1/4 cup of batter.
Allow to cook for 30 seconds or so and then evenly distribute 8-10 chips over the surface, staying at least 1/2" away from the edges of the pancake.
With a measuring spoon, scoop up another teaspoon or teaspoon and a half of batter and drip it on top of each chip to cover them. It seems fussy, but this is the best way to get an even distribution of chips, lovely round pancakes and no burned chocolate.
Let the pancake cook until set up to about 1/4" in from the edge, a total of about 3-4 minutes.
Flip carefully and allow to cook an additional 1-1 1/2 minutes until done. Place on the prepared rack in the oven to keep warm.
Wipe out the pan, add another small smear of butter, and repeat with the rest of the batter. If you have a preferred pancake griddle, by all means use that instead.
For the Syrup
Place the maple syrup, butter, espresso powder, vanilla and salt into your blender jar and blend on high speed until thickened and well-emulsified. If you have a high-speed blender, this should also warm the syrup to about room temperature. Don't start with warm syrup or melted butter or it will be harder to form an emulsion.
Serve the pancakes hot with syrup and enjoy.
Notes
The yield is approximate.


Cook time is of course for one pancake. I only cooked one at a time since I was trying to figure out the best way to do it. If you're fancy and there is enough room in your pan, you can make 2-3 at a time.
Griddle Breads
#BreadBakers is a group of bread loving bakers who get together once a month to bake bread with a common ingredient or theme. Follow our Pinterest board right here. Links are also updated each month on this home page.
We take turns hosting each month and choosing the theme/ingredient.
If you are a food blogger and would like to join us, just send Stacy an email with your blog URL to foodlustpeoplelove@gmail.com.
Thank you so much for spending some time with the Bread Bakers today. Enjoy the yeast raised chocolate chocolate chip pancakes, and have a lovely day.