It is back to school time, friends! And I know some of you busy moms and dads out there need some back to school lunch box treats for kids who are headed back to the classroom. Most of these treats are suitable for adults too, so don't think you can't make these for yourselves, moms and dads. Even folks who don't have kids will enjoy these treats in their grown up lunches they take to work.
Here's a pin for you, too, so you can hold onto this–I think you'll want to.
Ten Back to School Lunch Box Treats
Cocoa Powder Brownies
Not everyone is going to have baking chocolate on hand, but most folks have a tin of Hershey's or Nestle Cocoa powder in their cupboards. Take full advantage of that brown box and make these deeply, darkly chocolate lunch box treats. For super kid-friendliness, use granulated sugar rather than brown sugar and omit the molasses entirely.
The Best Little Debbie Oatmeal Cream Pie Copycat Recipe
If you love Little Debbie Oatmeal Cream Pies as much as I do, you will be so happy to hear that these lunch box treats are within your grasp, minus the artificial flavors and colors, high fructose corn syrup and other additives. These are so close to the real thing, you will be amazed. This recipe is one I am most proud of because it really recreates a childhood favorite!
Oatmeal Raisin Cranberry Bars
One of my favorite lunch box treats as a kid, I put just a bit of a spin on these to bring them into adulthood. Feel free to use all raisins rather than a mix of raisins and cranberry. As well, you can leave out the orange flavor (though it is lovely). I hope you enjoy these oatmeal raisin cranberry bars as much as I do!
Mighty Rhinos
These lunch box treats win the prize for Best Name Ever! What they are is a chocolate oatmeal cookie base with lots of mix-ins including pretzels, cashews and chocolate chunks. Feel free to use your favorite mix-ins. I made these huge (hence the "mighty") but you can also make them smaller for portion control. To up the kid-friendliness, omit the espresso powder or just use sweeter mix-ins such as milk chocolate chips. Other mix-in ideas: peanut butter chips, crushed potato chips, toasted nuts of any kind, mini Reese's cups, chopped caramel candies, etc.
No-Bake Vegan Chocolate Chip Granola Bars
These lunch box treats are healthy, no-bake, and vegan, so they get a big gold star for both ease of making and feeling good about giving them to your kids. Or to yourself. Loaded with toasted almonds, rolled oats, raw chocolate chips. cacao nibs and dried fruit, these little bars will help you or your kids power through their day.
The Best Black Bottom Triple Peanut Butter Cookies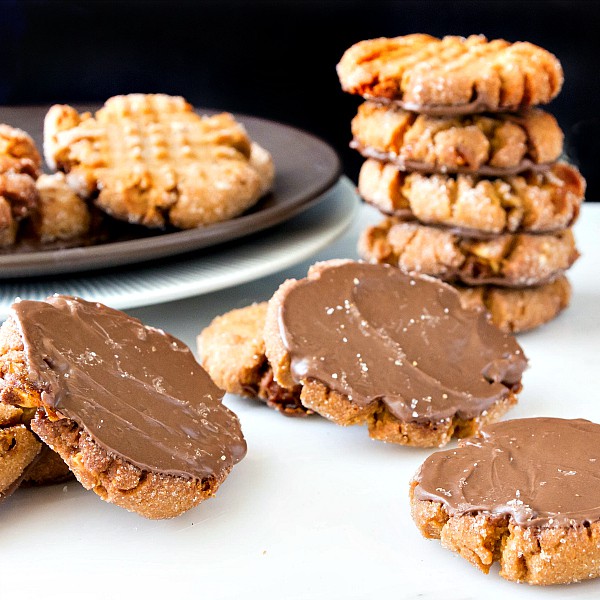 If your kids can have peanuts at their school, consider sending these bad boys with them as a lunch box treat. Triple peanut because: peanut powder, peanut brittle and peanut butter. Skim the bottoms with some chocolate, and this is a peanut butter and chocolate lover's dream cookie! So incredibly delicious, you guys!
Caramel Apple Pecan Blondies
Caramel, apple, pecans and chocolate all together in delicious, chewy blondies. These guys are lunch box treats not to be missed. I made these using Delightfulls from Nestle, so in one addition, you get both the chocolate and the caramel. Pretty sweet!
Brown Butter Toffee Chocolate Chip Cookies
These are my perfect chocolate chip cookie recipe. Send these beauties as lunch box treats, and your kids might just become chocolate chip cookie snobs. This version features browned butter, a touch of espresso powder and a mixture of milk chocolate toffee and bittersweet chocolate chips. This is another treat that adults will appreciate just as much as the kids.
Bourbon Honeycomb Chocolate Chunk Cookies
Here's another chocolate chip cookie that is none to shabby as far as lunch box treats go, even if I do say so myself. Chopped bourbon honeycomb candy makes these cookies really special, but you can omit it entirely and add extra chocolate chips if you'd like. You can also make your honeycomb candy without any bourbon at all. Either way, these browned butter chocolate chip cookies are another winner.
Creamy Cocoa Fudge
I gave you nine cookies and bars, and here's one candy. There is nothing like the flavor of old fashioned creamy cocoa fudge. Cut in small pieces, just one or two little guys sent as an extra special lunch box treat will be much appreciated. I made mine with pecans, but walnuts will do just as well. You can also leave them out entirely. Adults, this fudge will remind you of being a kid again.
And there you have it. Ten lunch box treats to send with your kiddos as they head back to school! If you don't have kids, or if they're older than Lunch Box Age, know that all these cookies and bars (and the fudge) pack well and are great picnic and tailgating treats, too!
Happy Back to School, everyone! Thank you for spending some time with me. Have a lovely day.