This Mexican-Style Instant Pot Fiesta Chicken recipe is a bit spicy and smoky with Mexican flavors and is ready in about an hour.

With cream cheese, chicken breast and smoky chipotle, this version of crack chicken is sure to become a favorite.

Looking for more Instant Pot recipes? You may enjoy my IP Beef Carnitas or maybe my cowboy pinto beans recipes.

For ease of browsing, here are all of my poultry recipes in one place. Thanks for visiting!
Watch my easy Instant Pot fiesta chicken web story here.
What Is Fiesta Crack Chicken?
Fiesta chicken is basically everyone's favorite addictive chicken dish, crack chicken, made with Mexican flavors.
Think of it as really creamy shredded chicken that you can then put in lettuce wraps, serve over cauliflower rice or zoodles of some sort or layer into a dip, maybe with guacamole.
The original recipe involves a packet of ranch dressing mix, and I'm sure it's tasty (hence the "crack"), but dressing mix has a bunch of weird ingredients that I'd just as soon avoid.
There are some recipes out there using real ingredients rather than a packet of ranch, but I was feeling Mexican-ish and went a different way with mine.
While crack chicken is often made in a slow cooker, this fiesta chicken uses an electric pressure cooker to have dinner on the table in about an hour.
Can I This in a Crock Pot or Slow Cooker?
Yes, you can absolutely make fiestachicken in your slow cooker.
To adapt my recipe to a slow cooker recipe, simply place all the ingredients in your slow cooker and cook for 4-5 hours on low.
To speed things up, you can cook on high for about 3 hours.
Instant Pot Directions
One of the nice things about fiesta chicken is that, for just a small amount of work, you end up with a ton of food. And since you're utilizing your instant pot (or other pressure cooker), your kitchen doesn't get hot.
I started with a base of avocado oil and bacon fat, because I like that combination.
The rest is easy. Here's the lowdown.
Heat your Instant Pot on the Saute setting.
Add fat and let melt/heat up.
Add garlic powder and stir.
Dump in the Ro-Tel, water, chipotles, cumin, salt, pepper, chicken breasts and cream cheese.
Turn off saute, attach lid, and set to high pressure for 20-30 minutes (use the longer time if you're starting with frozen chicken).
Allow natural pressure release for about 10-15 minutes and then use manual pressure release.
Remove lid.
Shred chicken.
Tips for Making Mexican-Style Instant Pot Crack Chicken
This crack chicken is really easy to make, but I discovered a couple of tips that will help you make it perfectly the first time.
Don't put the cream cheese on the bottom of the Instant Pot, because it can scorch. Pour in the Ro-Tel and water first. That layer will act as an insulator and keep the cheese off the bottom of the pot.
While you can use your mixer or a hand mixer to shred your chicken, it's just as simple to pull out the chicken, put it on a plate, and use two forks to shred it. It will shred easily, and you won't have to end up washing your mixer.
If you think the liquids are too runny after you remove the chicken from the Instant Pot, set it to "saute" again and let the liquid reduce for 10-15 minutes. Stir frequently to keep it from sticking. Add the chicken back in.
Allow the chicken to cool in the creamy sauce. If you let the chicken cool down separately from the sauce, it will be too dry, even when you stir it back in and reheat it.
PRO TIP: Whenever you cook meat in liquid, always let it cool in the cooking liquid. If you cool the meat separate from the liquid, it will dry out, and it will still taste dry even when you add it back to the liquid.
Step by Step Instructions
Ingredients
There are a few more ingredients in this recipe than in many crack chicken recipes. Don't worry, you pretty much just have to dump everything together, and I'll tell you what you can leave out and how you can simplify it if you want as well.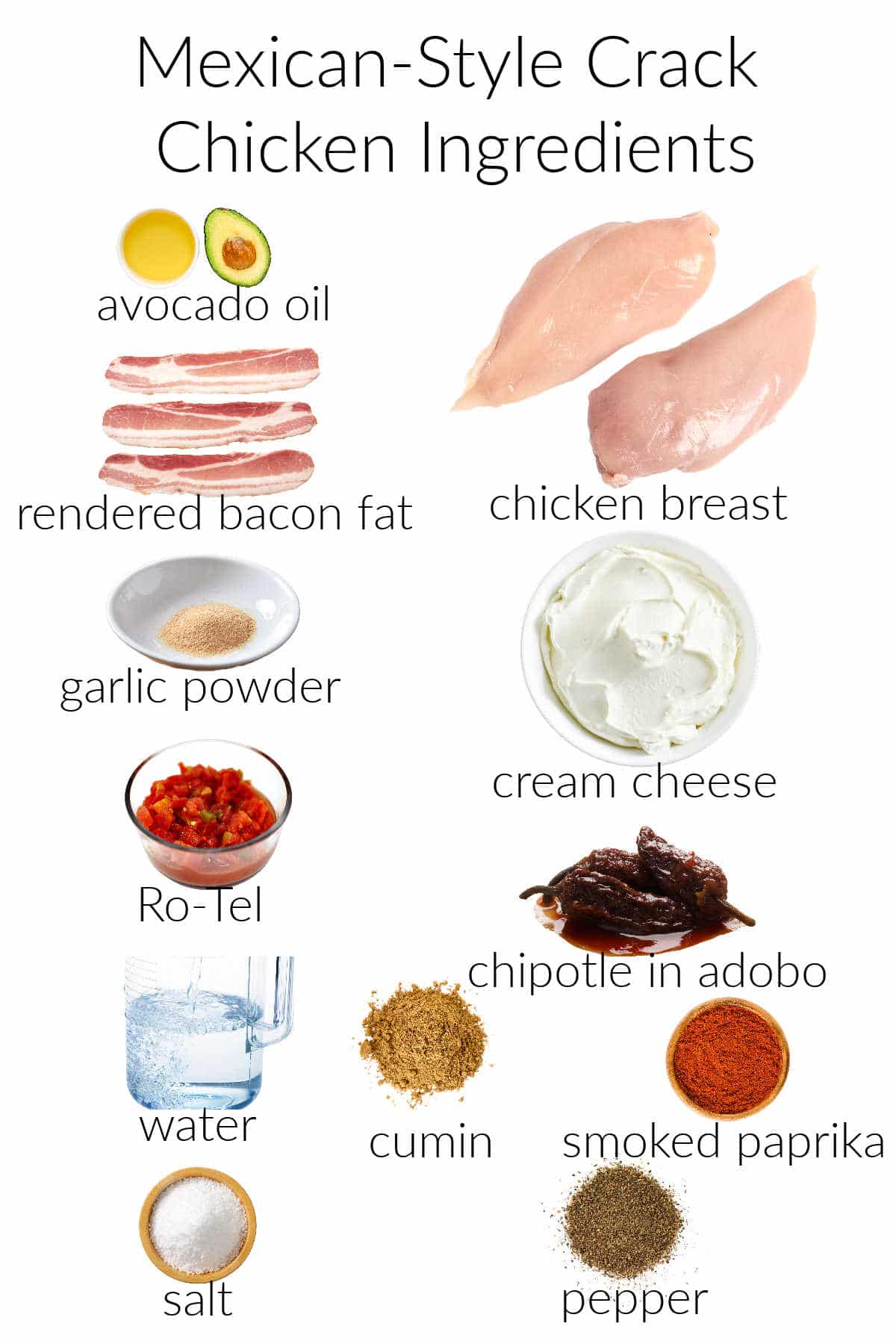 avocado oil and bacon fat: you can use all of one or the other if you like
garlic powder: or granulated garlic
Ro-Tel: you can just use diced tomatoes if you prefer, or use one of the hotter varieties of Ro-Tel such as with serrano or with habanero if you like things really spicy
water: you can also sub chicken stock or broth here
salt: I usually use kosher.
chicken breasts: you can also use thighs. Make sure it's boneless and skinless so it's easier to shred once cooked
cream cheese: this is what gives crack chicken its creamy, addictive texture.
chipotle in adobo: just mince them up really small. If you don't have/can't get chipotle in adobo, you can use some chili powder, a few dashes of hot sauce, a bit of cayenne, or ground chipotle
cumin: for me, cumin is a prominent and must-have spice in Mexican and Indian food. If you don't like it, you can leave it out.
smoked paprika: If you don't have this, you can add a bit more chipotle in adobo. Or if you don't like things super spicy, you can leave it out altogether
pepper: I prefer ground fresh to preground for the best flavor
Procedure
Here are some photos that hopefully will help you when you make your own crack chicken. I learned not to let the cream cheese touch the bottom of the pot, so these photos aren't in the order they would be in when I make this again.
This is the order you should put things in the pot to make sure there is no sticking:
Put your Instant Pot on the saute setting. Add avocado oil and bacon fat.
Add the garlic powder and brown the chicken just a bit.
Remove the chicken for a minute and add the Ro-Tel and water. Then add the chicken back in.
Add the cream cheese.
Add seasonings on top.
Place the lid on your Instant Pot, make sure the valve is set to "Sealing," and set to high pressure for 20-30 minutes.
I used 4 frozen breasts, and each pair was frozen together, so that's why it looks like there are only two breasts and why I cooked them for 30 minutes.
If your chicken breasts are smaller and not frozen, your crack chicken should be done in about 20 minutes.
**If starting from frozen, do check to make sure your chicken is thoroughly cooked at the 30 minute mark. If not, cook on high pressure for an additional 5-7 minutes.
How to Shred Your Chicken
This is what your Mexican style chicken will look like after you release the pressure. Whisk it well to break up any melty lumps of cream cheese.
Remove the chicken breasts to a large bowl or platter.
Shred with two forks.
Meanwhile, set the Instant Pot back on the saute setting and reduce the creamy sauce for about 10-15 minutes. Be sure to stir frequently so it doesn't stick and scorch.
Stir the chicken back in and enjoy.
Serving Suggestions
If you're on a low-carb eating plan, consider using your fiesta crack chicken as filling for lettuce wraps.
You can also steam or saute some cauliflower and stir it in with your keto chicken goodness, making a sort of low carb cheesy chicken pasta casserole.
If you are not super concerned about your carb intake but you just really like crack chicken, go ahead and use it as a hot sandwich filling, roll it into flour tortillas for a creamy chicken enchilada casserole, mix in cooked pasta, or use it as a dip with corn chips.
There are plenty of options for serving keto crack chicken!
Why Use a Mix of Natural and Manual Pressure Release?
While it can be convenient and fast to use manual pressure release, natural pressure release has some advantages.
Meat stays tender using natural release. Manual release is a pretty harsh way to release the pressure in your Instant Pot or other pressure cooker, and meat can end up tough if you use it.
Natural release is much better for ingredients that foam–like beans–or have a lot of fat in them, like so many keto recipes have.
The less liquid in the recipe, the less time natural release will take.
PRO TIP: Using a mix of natural pressure release of 15 minutes followed by a manual release to finish releasing the pressure ensures your meat will stay tender and there won't be any weird foaming. .
Keep in mind that food continues cooking during natural pressure release. While that could be bad for quick cooking vegetables, it's totally fine for this keto crack chicken. It won't overcook or dry out, especially if you remember to let it cool in the sauce.
Variation
If you like them, add in a can of rinsed and drained black beans or pinto beans when you add the rest of the ingredients.
Questions?
A Note About Measurements
For convenience, consistency, and accuracy, almost all my recipes are written by weight, either in ounces and/or grams, even the liquids.
I strongly encourage you to purchase a kitchen scale and learn to use it.
This is the one I used for years. I love it and highly recommend it:
Best for Home Use
Escali Primo Digital Food Scale
Don't let its small price and small size fool you. The Escali Primo is an accurate and easy-to-use food scale that I have used for years. It's easy to store, easy to use, has a tare function, and easily switches between grams and ounces/pounds for accurate measurements.
This is an affiliate link which means I earn from qualifying purchases. Your price is unaffected.
It would be so helpful to me and to other readers that, when you make a recipe, you rate it and leave a comment. Whether it's a recipe or an informational post, your feedback helps others decide if the post is helpful or if the recipe works as advertised.

If you could leave a star rating, that would be very helpful. Thank you for being here!
Instant Pot Fiesta Chicken
This instant pot crack chicken is spicy with chipotle, mellow with cream cheese, bright with tomatoes, and impossible to stop eating. The Mexican spices give this easy recipe a lot of flair and it's ready in about 30 minutes or so!
Ingredients
2

Tablespoons

avocado oil

2

Tablespoons

bacon fat

I save it in the fridge. If you don't have any, you can sub with more avocado oil

1

teaspoon

granulated garlic

1

cans Ro-Tel

original or your favorite type

½

cup

water

4

large chicken breasts

boneless and skinless

1

pound

cream cheese

2 blocks

3

chipotle peppers in adobo

finely chopped

2

teaspoons

cumin

2

teaspoons

smoked paprika

1.5

teaspoons

kosher salt

or to taste (I used Morton's)

black pepper

to taste
Instructions
Set your Instant Pot to "Saute" and add the avocado oil and bacon fat. Allow to heat for 2 minutes until the bacon fat is melted and hot.

Add the granulated garlic and stir for a few seconds. Add the chicken and brown for 3 minutes or so, just on one side. You don't have to brown the chicken at all, but I like to just to develop some caramelized flavor.

Remove the chicken and add the RoTel and water. Put the chicken breasts back in and add the cream cheese–just tuck the blocks down next to the chicken breasts.

Top with all the seasonings–spread them evenly.

Turn off the saute setting, fit the lid onto your Instant Pot and set to manual at high pressure for 20 minutes. 30 minutes if your chicken is frozen. Make sure the valve is set to "Sealing."

When the timer goes off, allow natural pressure release for 15 minutes then release the rest of the pressure manually.

Remove the lid and put the chicken breasts into a bowl or onto a large plate. Shred with two forks.

In the meantime, set the Instant Pot back to saute and allow the sauce to reduce, whisking well and stirring frequently so the sauce doesn't stick and scorch.

Return the chicken to the pot and stir well.

Serve however you'd like. Store leftovers in the fridge.
Did You Make Any Changes?
Notes
Nutritionals calculated for 1 full cup of crack chicken, or 8 servings per recipe.
STORING:
Crack chicken will keep well in the fridge, well covered, for 5-7 days. For food safety, reheat to an internal temperature of at least 165F for 15 seconds.
FREEZING:
You can freeze this in well sealed freezer containers for 3 months. Thaw in the fridge overnight. For food safety, reheat to an internal temperature of at least 165F for 15 seconds.
Nutrition
Serving:
1
cup
Calories:
608
kcal
Carbohydrates:
4.8
g
Protein:
76.6
g
Fat:
29.6
g
Saturated Fat:
12.7
g
Polyunsaturated Fat:
17
g
Cholesterol:
279
mg
Sodium:
1115
mg
Fiber:
1.8
g
Sugar:
1.5
g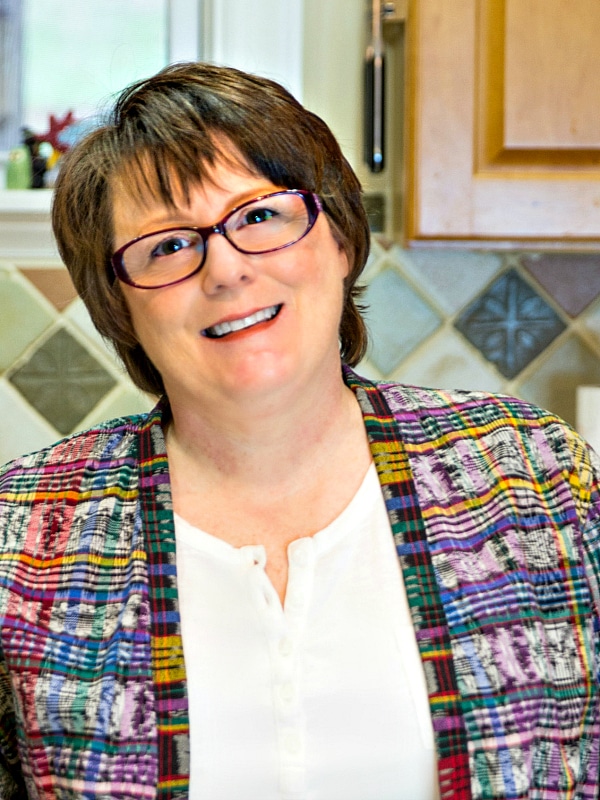 What are my qualifications to teach you baking and pastry? As a former working pastry chef and special educator, I marry my passions for both teaching and for baking into explaining techniques, methods, and developing the best possible recipes. For more info, you can read more about me.
If you'd like to receive new recipes and the occasional newsletter, I'd love for you to sign up for my Inbox Pastry Chef.
And there you have it, friends. I think you'll really like this Instant Pot version of crack chicken, Mexican style. If you don't have an Instant Pot, you can absolutely make this in your slow cooker.
Thanks for spending some time with me today. Take care and have a lovely day.