Why Whip Cream by Hand?
I've whipped gallons of cream by hand (a little at at time!), and I promise you that it's not hard to do.
Whipping by hand allows you to control the speed at which you whisk and to vary that speed as your cream gets closer to being done.
Since you build up all the bubbles more slowly, this will result in a more stable whipped cream.
Two Secrets About Whipping Cream
It seems as though most "recipes" for whipped cream start with either a big old stand mixer or at least a hand mixer. For large amounts of cream, that's fine.
But you can whip up to a cup or a cup and a half of cream with no more than your balloon whisk, a good, sturdy bowl, and some elbow grease in about 2 minutes.
For amounts of cream up to  1 1/2 cups, always whip by hand. More control=more stable cream.
Here's a secret: warmer cream whips faster than cold cream.
I'm not saying this is a good thing. It's just something you should know.
The purpose of getting everything–the cream, bowl, beaters, etc–super cold before whipping has more to do with the plasticity of the butter fat in the cream than it has to do with the speed of whipping.
Since butterfat is firm at refrigerator temperatures it takes longer to whip air into it, but the resulting foam will be much more stable.
Butterfat is firm at refrigerator temps and takes longer to whip, but that's a good thing!
Whipping room temperature cream will yield a thick cream very quickly, but since you haven't had a lot of time to pump air into it through whisking action, it will collapse almost as quickly.
You also run way more of a risk of ending up with butter when whipping warmer cream.
Here's another secret: a whisk with more wires/tines will whip up cream or egg whites faster than one with fewer.
Also, a rounder shape is better for whipping than a more compact shape. The more wires, the more you can agitate the cream and whip air into it.
A big round whisk will also help you get more air into your cream more quickly than a whisk with a more compact shape. If you are looking for just one whisk to own, buy a balloon whisk.
Some people swear by a cage whisk, and you can certainly use one to whip cream by hand. I don't think cage whisks are nearly as versatile as a balloon whisk is, though.
If you are looking for just one whisk to own, buy a balloon whisk.
How to Whip Cream by Hand
Pour cold cream into your cold bowl. Don't chill the whisk because you'll just end up freezing your hand while you're whisking.
To stabilize the bowl on the counter, wrap a damp towel around the base of your bowl. It's like a little nest for the bowl that it can settle down into. You can also use a piece of that non-slip shelf liner, although I actually prefer using a damp towel.
Wrap a damp kitchen towel around the base of a mixing bowl to stabilize it on the counter.
Add a pinch of fine salt and just a bit of sugar. Maybe 1 Tablespoon per cup to start. You can always whisk in a bit more. Why the salt? Just as salted butter tastes better on toast than unsalted butter, adding some salt to your whipping cream will make it taste better too. You won't need a lot, but you will be amazed at the depth of buttery flavor you can achieve with just a tiny pinch of salt.
Start whisking slowly and steadily. You don't really even need to pull the whisk up out of the cream. Just keep it moving steadily back and forth across the bottom of the bowl.

I often whisk side to side. You can also whisk back and forth. I don't suggest doing a lot of "round and round" whisking until the cream starts to really thicken up.

Going around and around with your whisk just ends up pushing the cream ahead of the whisk rather than allowing the whisk to cut through the cream introducing air. You end up stirring rather than whisking, and the whole process will take longer.
Whisk back and forth rather than in circles. Your cream will whip faster. Find out why!
Once the cream starts to thicken up a bit, taste it. Add a bit of sugar if you think it needs it. You can also add a few drops of vanilla. Or some cinnamon. Or some other spice or extract that will complement whatever you're putting it on.
Continue to whisk, alternating back and forth and side to side when you get bored, but keep the cream moving and be pretty assertive with the whisking. You don't have to break a sweat, but you want to whip the cream, not just massage it.
Once the whisk starts leaving tracks in the cream, it will start to thicken up fairly quickly. At this point you can do some around and around whisking if you can't help yourself. You can also lift the whisk up out of the bowl, whisking in a circle perpendicular to the surface of the cream. If that makes sense.
Check the consistency of your cream every few turns of the whisk, pulling it straight up out of the cream and then turning it sideways to check on the peaks. I almost never take my cream to full stiff peaks–where the peak just points straight out to the side without any curling over. At that point there's not much room for error. I generally stop when the peaks curl over a bit–medium to medium-firm peaks.
And there you have it: how to whip cream by hand. Ta da!
How Much Cream Do I Need for…
Plan on the volume of your cream doubling when whipped to medium-stiff peaks.
If you start with 1/2 cup cream, you'll end up with about 1 cup of whipped cream.
Starting with 1 cup of cream will yield approximately 2 cups of whipped cream.
How to Stabilize Whipped Cream
For most uses, just whipping cream with a pinch of salt, a little sugar, and some flavoring works great.
Sometimes you want the cream to hold up for a few days under refrigeration without weeping.
I have found the best way to do that is to whip some bloomed and melted gelatin into the cream. You can read how to make stabilized whipped cream in this post.
Sometimes Less is More
You can absolutely over-whip cream, although whipping cream by hand gives you more control so you probably won't.
Still, you should know why it can happen.
When whipping cream by hand, most folks run into trouble by whipping their cream to very stiff peaks. That's okay as long as all you're going to do with it is plop it into a mug of hot chocolate or on top of some plum crisp.
There are two times when whipping cream to stiff peaks is not the best plan:
when you are going to fold the whipped cream into something else like a mousse, cake batter, or pudding, or
when you're going to pipe the cream decoratively onto a cake, pie, or other dessert
In both cases, you run the risk of over-working your cream.
The act of folding the cream into another mixture and the act of pressing cream through a decorative piping tip both continue to work or "whip" the cream.
If you take the cream to very stiff peaks before folding or piping, you could end up with over-whipped-bordering-on-butter cream.
Give yourself a little wiggle room by whipping any cream that will be folded into another mixture to no more than medium-soft to medium peaks and whipping any cream that you'll be piping onto something else to no more than medium-firm peaks.
Now that you know how to whip cream by hand, you should treat yourself to this button, and show everyone what a culinary badass you are!
Can I Whip Creme Fraiche or Mascarpone?
You can whip creme fraiche (homemade or store-bought) and mascarpone in exactly the same way as you whip cream.
With mascarpone, you want to get it to room temperature and then whisk it fairly gently as it will get grainy if you over-whisk.
You can also whip mascarpone and cream (or creme fraiche) together in the same bowl at the same time.
NOTE: creme fraiche and mascarpone both will start out very thick, thin out once you start whisking, and then thicken back up pretty quickly as you whip air into them.
Always whip mascarpone by hand. It can get grainy quickly using a mixer.
Can I Whip Sour Cream?
You can't whip sour cream, and you can't add sour cream to liquid cream and expect it to whip up, but you can add some sour cream to already whipped cream without compromising its texture.
Here's how:
Whip 1/2 cup cream until it peaks gently and then
add 1/4 cup cold sour cream
continue whisking until you get the desired consistency.
And there you have it. All the ins and outs of how to whip cream by hand.
If you have any questions about this post or questions about another baking fundamental, please shoot me an email. I'm happy to help!
Can You Make Creme Chantilly By Hand?
Creme chantilly is the fancy French term for softly whipped cream.
The answer is yes. And it's really the preferred way to make creme chantilly because you don't really run the risk of over-whipping when doing it by hand.
Whip cream with sugar, a pinch of salt, and vanilla to taste to soft peaks. The end.
Can You Make Chocolate Whipped Cream by Hand?
Yes, it's so easy, friends!
Make a milk chocolate variation by
heating 2 parts cream and a pinch of salt to just below a boil
pouring it over 1 part of finely chopped milk chocolate (like making ganache).
Wait a couple of minutes for the chocolate to melt and whisk until thoroughly combined.
Cool it quickly in an ice bath and then store in the refrigerator until well chilled.
When it's good and cold, whip it to soft or medium peaks to spoon or pipe on…whatever you'd like:  cake, fruit, ice cream, etc.
Once you've got it at stiff-not-grainy peaks, you can quenelle it to top…whatever you'd like:  cake, fruit, ice cream, etc.
What to Serve Your Whipped Cream On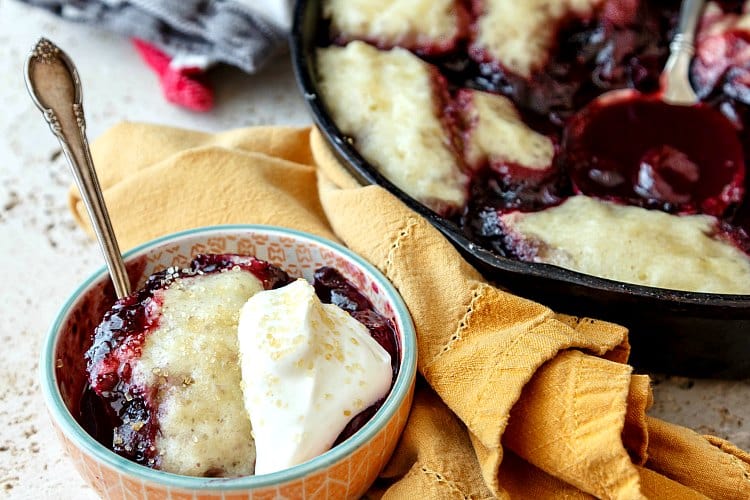 There are no shortage of ideas of what to serve your hand whipped cream with. Serve a meltingly tender whipping cream pound cake with a side of softly whipped cream. Whip up some cinnamon whipped cream to top a slice of brown sugar cinnamon pound cake.
Top any kind of fruit dessert with a dollop of whipped cream. Some of my favorites are strawberry peach sonker, strawberry shortcake, lazy peach sonker, peach crisp, and cherry blueberry slump.
Any pie would be happy to have a dollop or three of whipped cream on it. I think it's especially dreamy on "plain" pies that don't already call for whipped cream or meringue topping like chocolate chess pie or an old fashioned shoo fly pie or key lime pie.
Hand-Whipped Cream
How to make whipped cream by hand. Whipping cream by hand will give you a whipped cream that is more stable than the canned kind and that you can flavor however you want.
As written, this recipe is for my basic whipped cream that I usually flavor with vanilla and a pinch of salt.
It is easy to whip up to about a cup of cream by hand. You can whip larger amounts, but your arm may end up getting tired. For amounts larger than 1 cup, I generally pull out my stand mixer.
Ingredients
1/2 cup heavy cream
1 Tablespoon sugar
small pinch of salt
1/4 teaspoon vanilla extract
Instructions
Place the cold cream into a large metal bowl.
Add the sugar, salt, and vanilla.
Using a balloon whisk, whisk rapidly back and forth until the cream thickens to your liking.
With this amount of cream, you should have nicely whipped cream in about 2 minutes. Larger amounts will take a bit longer.
Notes
You can put your metal bowl in the freezer for 3o minutes or so before whipping. If your whisk has a metal handle, I wouldn't put it in the freezer because your hand will get really cold and the cream will whip up just fine with a room temperature whisk.
If your whisk has an insulated handle, feel free to put it in the freezer along with the bowl.
Nutritional Information
Nutritional Information is based on 4 1/4 cup servings of whipped cream.
How to Change the Flavor of Your Homemade Whipped Cream
An easy way to make chocolate whipped cream is to use squeeze in a little Hershey's syrup once your cream is partially whipped. You may have to adjust the amount of sugar you use since chocolate syrup is sweetened.
You can also melt some chocolate chips into cream and chill until cold. Then whip that mixture up along with a tiny bit of salt and vanilla. Try 1 Tablespoon chips per 1/2 cup cream.
Add ground spices such as cinnamon, ginger, cardamom, etc.
Zest in a bit of orange or lemon zest.
Add different extracts like almond or peppermint.
Steep herbs in cold cream overnight. Strain them out before whipping.
Steep tea or coffee beans in your cream overnight before whipping.
Recommended Products
As an Amazon Associate and member of other affiliate programs, I earn from qualifying purchases.
Nutrition Information
Yield

4
Serving Size

1
Amount Per Serving
Calories

114
Total Fat

11g
Saturated Fat

7g
Trans Fat

0g
Unsaturated Fat

3g
Cholesterol

34mg
Sodium

41mg
Carbohydrates

4g
Net Carbohydrates

0g
Fiber

0g
Sugar

4g
Sugar Alcohols

0g
Protein

1g
The stated nutritional information is provided as a courtesy. It is calculated through third party software and is intended as a guideline only.
And there you have it. Don't forget your badass button!
Thanks for spending some time with me today.
Take care, and have a lovely day.