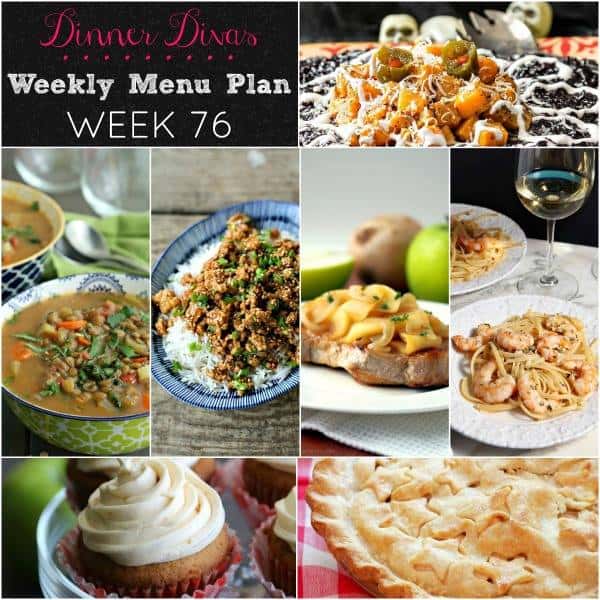 Happy Actual Fall, y'all! I hope your weather is reflecting the calendar. Ours isn't quite. Yet. But hopefully soon. At any rate, we're glad you're here to grab our weekly meal plan for week 76. And don't miss our extras–2 different takes on apple desserts!
Easy Lentil Soup from Pook's Pantry. I can almost guarantee you own everything you need to make this soup, with the possible exception of the lentils. So pick some up so you can enjoy this quick-to-make and healthy fall favorite.
Apple Cider Pork Chops from Comfortably Domestic. Pork and apples. Apples and pork. You really can't go wrong with this classic combo. And Kirsten has to feed four hungry boys, so you know this dish is kid-friendly and fast to make. Huzzah!
Black Rice Risotto with Butternut Squash from me. If you're feeling Halloweenish, it's hard to find a non-dessert treat. Until now, because you're going to love this Halloween twist on traditional risotto featuring black rice (or Forbidden rice). Plus, it's just fun!
Lemon Shrimp Pasta from The Speckled Palate. Here's a quick pasta meal that's easy to love from our friend Erin. Garlic. Lemon. Wine. Butter. Oh, and shrimp. Jump on this one, you guys. Start to finish, you'll have this on the table in about 45 minutes. Yes.
Cheater Sesame Chicken from Foodie with Family. Rebecca is a genius, y'all! Sub ground chicken for chicken pieces, skip the deep fry, and you have this delicious take out favorite on the table in about 20 minutes. TWENTY MINUTES!
Caramel Apple Cupcakes with Apple Cider Buttercream from Pook's Pantry. Oh, hello, delicious fall cupcakes! You're going to enjoy these little guys, yes you are.
Classic Apple Pie from Comfortably Domestic. Like Kirsten says, this is a classic. A short ingredient list bakes up into a syrupy, cinnamony, delicious pie. Make your own pie crust or start with store-bought. Your whole family will thank you.
And there you have it, friends, our weekly meal plan for week 76. I know you'll find something to make that will wow your family and streamline your dinner preparation.
Tell me what you're going to make!
Thanks for spending some time with The Dinner Divas this week. Take care, and have a lovely day.