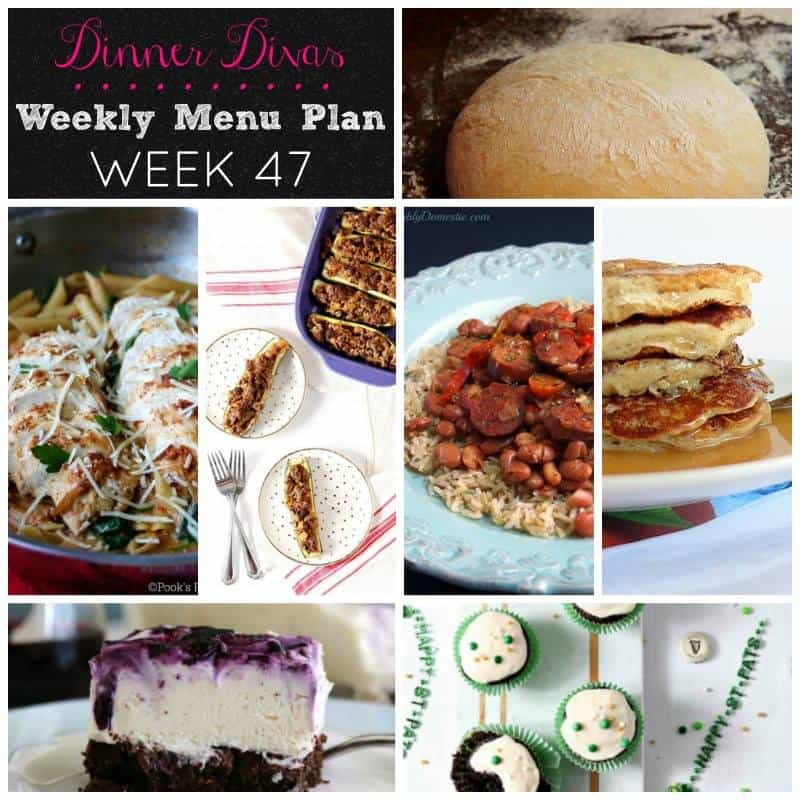 It's Friday (FriYAY!) and time for our weekly meal plan post. Grab your list-making app or a pen and some paper and get that shopping list ready. Enjoy, and as always, you can Peruse the Archives to find all the recipes in one place.
Slow Cooker Chicken Andouille Beans and Rice from Comfortably Domestic. I could live on beans and rice. Seriously. Throw in some chicken andouille sausage (or any sausage, really), and I am all in. And in the slow cooker, too! Walk away for a few hours, and dinner is served. Yes.
Vegan Vanilla Chai Pancakes from me. I have a no egg pancake recipe that I really love. I find that eggy pancakes can turn the bend to leathery pretty quickly. Add some non-dairy "dairy," and some delicious spices, and you're all in for a vegan breakfast for dinner extravaganza.
Whole30 Taco Zucchini Boats from The Speckled Palate. So many people who try doing Whole30 get bored. Fortunately, Erin has got our backs with this anything-but-boring taco meal with the part of the taco shells played by zucchini. Nice!
One Pot Chicken Pasta with Creamy Sun-Dried Tomato Sauce from Pook's Pantry. Pur comfort in one pot. Let's make this immediately!
30 Minute Cornmeal Pizza Dough from Comfortably Domestic. FriYAY pizza night! With homemade crust ready in 30 minutes. Your Friday movie/pizza night is sorted in no time. Thanks, Kirsten!
Chocolate Guinness Cupcakes with Creamy Bailey's Icing from The Speckled Palate. There's not much better than a moist and delicious chocolate stout cake or cupcake. And spread that guy with some Bailey's-kissed icing, and I am all in. Happy St. Patrick's Day. God bless us, everyone.
Blueberry Swirl No-Bake Cheesecake Bars from Pook's Pantry. Blueberries and cheesecake are made to go together. Add in a chocolate crust, a thin layer of melted chocolate, and no-bake ease? This will become your go-to dessert for a crowd!