I am excited to share with you this recipe for the best Great Northern Beans Recipe. Not only will you get a meaty version, but I have options for vegetarian and vegan variations of these delicious and creamy white beans.

For those of you who wonder how to season your Great Northern Beans without meat, we'll take a look at many ways to add some zip to your bean dishes. I'll also give you instructions for cooking your beans in the Instant Pot, in a Dutch oven on the stovetop, and in a slow cooker.

You may also want to check out my cowboy pinto beans recipe. Really good, and made in the Instant Pot.

And for ease of browsing, you can find all my side dish recipes in one place. Thanks so much for visiting!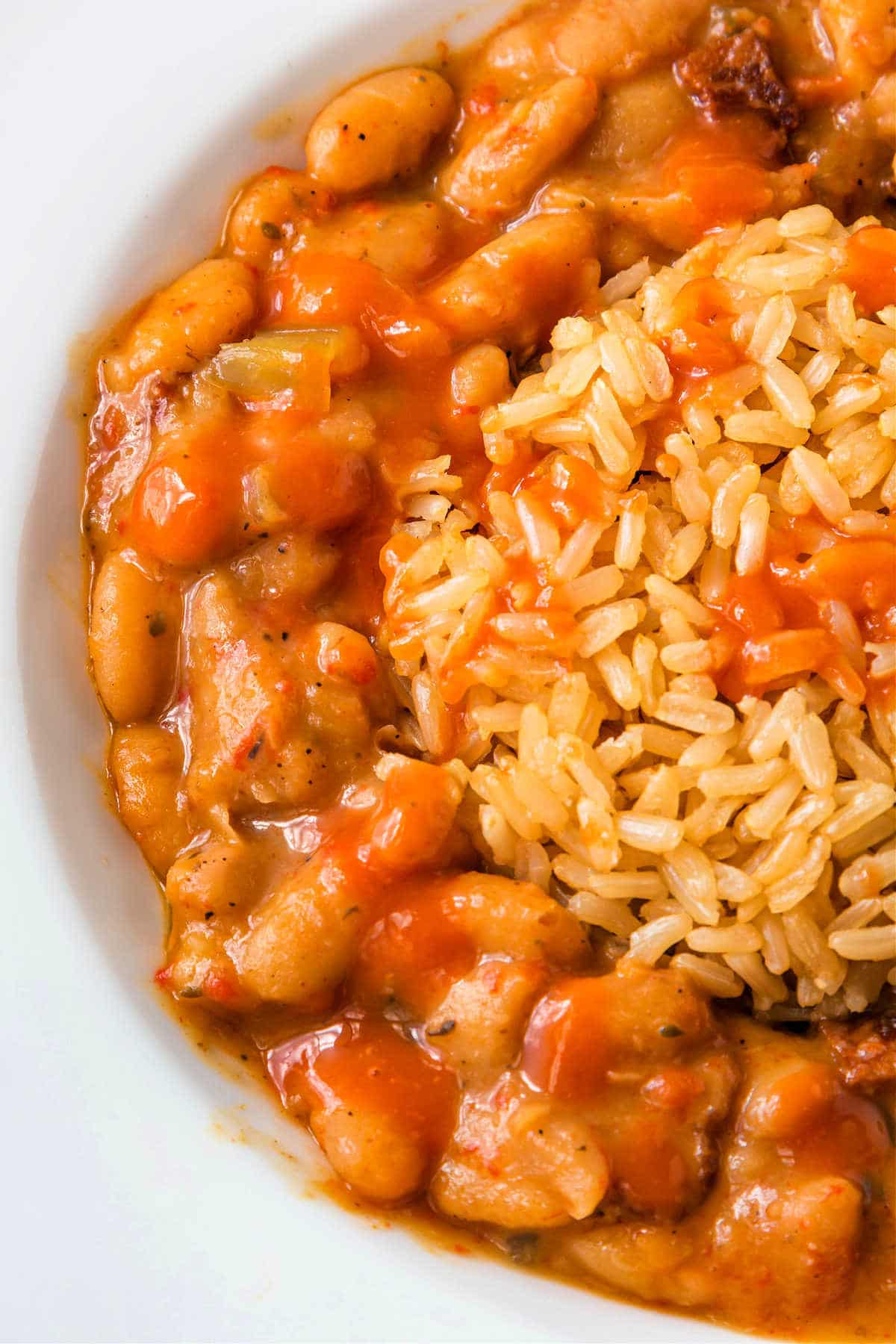 See my best Great Northern Beans recipe web story here.
Why You Need to Make This Recipe
When you do make this recipe, it will help me and other readers if you:
✅Rate the recipes using the stars in the recipe card
✅Leave a review when prompted in the recipe card
✅Leave a comment on the post
Thank you! ❤️
This recipe is easy to make and has huge flavor. And it's just a bit of a twist on "standard" red beans and rice.
The beans cook up super creamy, and served with rice it makes a filling meal, whether you make them vegan, vegetarian, or meaty.
I'll also show you three different ways to make them, so depending on the time you have, you can cook them in as little as about an hour (including natural pressure release) in an Instant Pot.
If you have a lot of time, you can also let them simmer away on the stovetop.
If you love Cajun flavors, you'll really enjoy this recipe.
Plus, it calls for all easy-to-find ingredients that you'll be able to get at your local grocery if you don't already have them on hand.
How to Make the Best Great Northern Beans
This is a very straightforward recipe. In short, you'll
cook aromatics
add herbs and spices
add beans and cook until soft
So you know what to expect, I'll
go over the ingredient list along with any substitutions I recommend
give you a breakdown of how to make it on the stovetop (you'll find Instant Pot and slow cooker variations in the recipe card Notes section)
talk about whether or not to soak your beans (and if it matters)
provide some more helpful tips and tricks
offer up some serving suggestions
If you don't need all the instructions, you can jump straight to the recipe.
Ingredients and Substitutions
Here's what you need to make what I think is the best Great Northern Bean recipe around: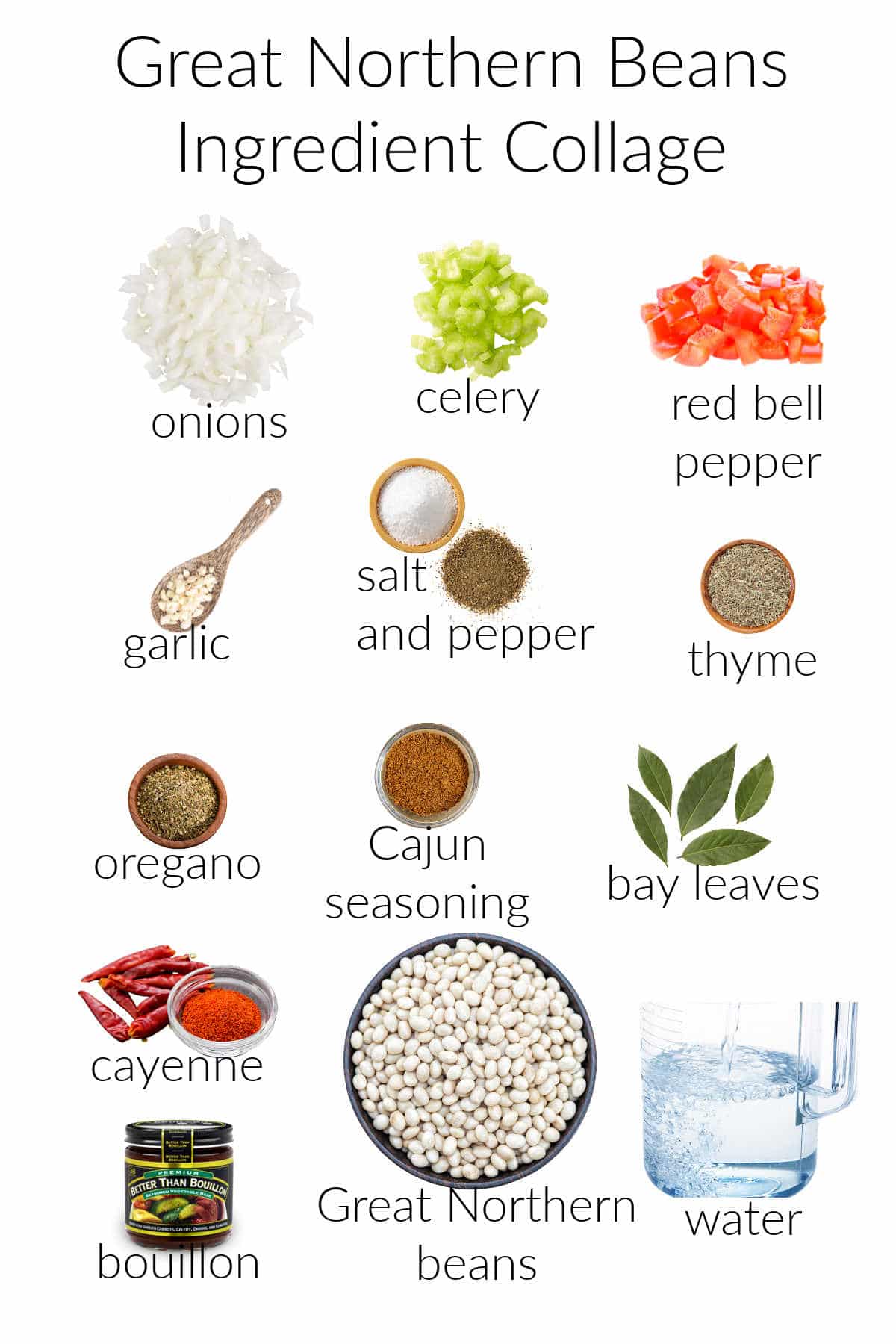 bacon (not pictured): If making vegan or vegetarian beans, leave out and use 2 Tablespoons oil to cook the vegetables. You can use liquid smoke to give a smoky flavor to your beans without using bacon
onions: I use sweet onions, but yellow or white will work as well
celery: Along with onions and bell pepper, celery is part of the trinity of Cajun cuisine, so don't leave it out
bell pepper: I used red bell pepper for this recipe because I wanted the little bits of color and a sweeter flavor. You can also use green bell peppers
garlic: minced fresh or freeze-dried. I tend to keep the freeze-dried on hand since its shelf life is so much longer
salt and pepper: to taste. And if your Cajun seasoning has salt in it, you may not need extra. I used Tony Chachere's, and salt is the first ingredient.
thyme: Thyme and oregano are both prevalent in Cajun cooking, so they enhance that flavor profile. Dried here is just fine
oregano:
Cajun seasoning: Use your favorite, with or without salt. Adjust the other salt in the recipe accordingly
bay leaves: 2 dried Turkish bay leaves, which is what you can get at the regular grocery store. I use McCormick's brand
cayenne pepper: optional, if you want a little more kick. You can also substitute smoked paprika, either sweet or hot
vegetable bouillon: I use Better Than Bouillon. You can also use vegetable broth or chicken broth if it's you're not making a vegetarian version
water: for diluting the bouillon. You won't need it if you're using stock or broth
Great Northern beans: Picked over and rinsed. I did not presoak my beans. If you do, you will need less liquid than called for in the recipe. I've made notes about how much you may need in the recipe card itself. If you don't have Great Northern Beans, you can substitute pretty much any white bean or even kidney beans. Here are some options:

cannellini beans
Navy beans
pinto beans
black-eyed peas
Best Cajun Seasoning
Tony Chachere Seasoning Blends, Variety Pack
For my money, you can't beat Tony Chachere's seasoning blends for Cajun-inspired goodness. The variety pack will let you try out all the offerings. I use the original or salt-free, but if you like bolder flavor or more spice, Tony has you covered. As an aside, it's pronounced "Sa-sher-ee's."
This is an affiliate link which means I earn from qualifying purchases. Your price is unaffected.
Procedure
Whether making these beans in the Instant Pot, in a Dutch oven or in a slow cooker, the steps are all basically the same:
Cook the bacon and set aside (or just heat oil in a pan if not using bacon)
Cook the vegetables in some of the bacon fat (or oil) until soft
Add the spices and herbs and cook another minute or two
Add the rinsed and drained beans and the bouillon/water or stock/broth
Cook at a simmer (or at high pressure in your Instant Pot) until the beans are cooked through and are creamy
Stir in reserved bacon, and taste and adjust the seasonings as necessary
Serve and enjoy
Equipment Recommendations
I guess I'm sort of old-school, but I really love making this dish in a Dutch oven.
This is an affiliate link which means I earn from qualifying purchases. Your price is unaffected.
Of course, it really depends on how much time you have.
Of the three cooking options, cooking beans in a slow cooker takes 7-8 hours, a Dutch oven can take anywhere from 1 1/2-3 or more hours depending on
if you've soaked your beans or not and
how old your beans are (how dried out)
The Instant Pot is your fastest option at about 30 minutes or so for dry beans and 8 or so for soaked beans.
The downside of the Instant Pot is that you won't get any evaporation during cooking, so you may need to reduce your sauce once the pressure has released.
Soaking Beans versus Not Soaking Beans
One thing you should know is that beans will cook when you simmer them (or pressure cook them) in hot liquid.
The only issue is time.
Soaking your beans to rehydrate them before cooking will do a couple of things:
It will drastically reduce the cooking time, possibly by as much as 75%
Since the beans are rehydrated in water before cooking, you can use less liquid in your recipe.
For instance, I didn't soak my beans, so I needed 7 cups of liquid altogether. If you do soak your beans, you may only need 3 1/2-4 cups of liquid.
It really is up to you. If you have time to soak the beans overnight, do that.
But if not, and you don't mind a long cooking process in a Dutch oven on a lazy Saturday, then don't bother.
Caveat: if you plan on cooking your beans in a slow cooker, always soak them first.
If you decide you do not want to soak your beans before cooking, choose the Dutch oven or Instant Pot method.
For soaked beans, you can use any of the methods outlined in the recipe.
Tips for Success
For the fastest cooking time, you can use 2 rinsed and drained cans of white beans in place of the dried beans.
An easy way to thicken your broth if it needs it is to mash some of your beans against the sides of your pan and then stir them into the broth. The starches in the beans will thicken it up nicely.
There is no rule that says you have to use all of one kind of bean. Play with this recipe and use a mixture of dried beans. There are many kinds of bean mixes at the grocery store.
How to Season Great Northern Beans without Meat
Beans are creamy and dense and so very tasty.
They also soak up flavors like little sponges, so they're a great vegetarian protein to play with by flavoring them in all sorts of ways.
Here are some ideas for you:
Mexican-Inspired
Saute onion and garlic with some minced chipotle in adobo. Add cumin, Mexican oregano, your favorite chili powder, and a touch of cinnamon. Add beans and broth or water, salt, and finish them with some chopped cilantro and a squeeze of lime juice.
Italian-Inspired
Saute onion, carrot, and celery in olive oil with some rosemary. Add a can of tomatoes and some basil along with your dried beans, broth, water, and salt. If you have a rind of Parmesan or Romano cheese, add that as well. Finish them with chiffonade basil and some microplaned Parmesan.
French-Inspired
Saute onions, celery, and carrot in oil. Add some minced shallot and dried Herbes de Provence, bay leaf and some peppercorns (you can tie these up in cheesecloth if you want). Deglaze the pan with some wine and cook until almost dry. Add the beans and broth/water and salt, and finish the dish with some chopped tarragon.
Greek-Inspired
Cook onions and garlic in olive oil. Add oregano, bay leaf, and canned diced tomatoes. Add the beans and broth/water and salt. Finish the dish with olive oil, lemon zest, a squeeze of lemon juice, and some chopped fresh oregano. For more brininess, add some crumbled feta.
I hope these ideas inspire you to look beyond bacon for seasoning ideas for Great Northern beans, and really for any kind of bean.
Great Northern Beans Q & A
Are Great Northern Beans gluten-free?
Yes, all beans are gluten-free. There may be some issue with cross-contamination in some packaging plants, so always check your labels carefully and/or check the manufacturer's website. As written, this recipe is gluten-free, so you should be good to go!
Are Great Northern beans the same as Navy beans?
While they are both varieties of white beans, Great Northern beans are a bit larger than Navy beans, and they hold their shape better when cooked. If you don't have Great Northern beans, Navy beans are a good substitute.
How long can I keep these in the fridge?
Keep your cooked beans in the fridge, well-covered, for up to 7 days. For food safety, reheat them to at least 165F for at least 15 seconds.
Can I freeze these beans?
Yes. Beans freeze very well. Freeze them in portions in freezer containers or freezer bags. Be sure to press out as much of the air as you can before sealing. Keep them frozen for up to 3 months. Thaw in the fridge and then heat to a safe temperature of at least 165F for at least 15 seconds.
Make White Beans and Rice with Camellia Brand Beans
I mean, if you're going to make some Cajun food, go with a Louisiana company for your beans as well as your seasonings.
Tony Chachere's has you for seasonings, and Camellia is the name you want for your beans, period.
Jenni's Pick
Camellia Brand Dried Great Northern Beans
Camellia holds their suppliers to a higher standard than required by the USDA, so their quality really is second to none. Recommended by me and also by my Louisiana friends who really know what they're talking about. This link is for 2 1-pound bags of Great Northern Beans.
This is an affiliate link which means I earn from qualifying purchases. Your price is unaffected.
Serving Suggestions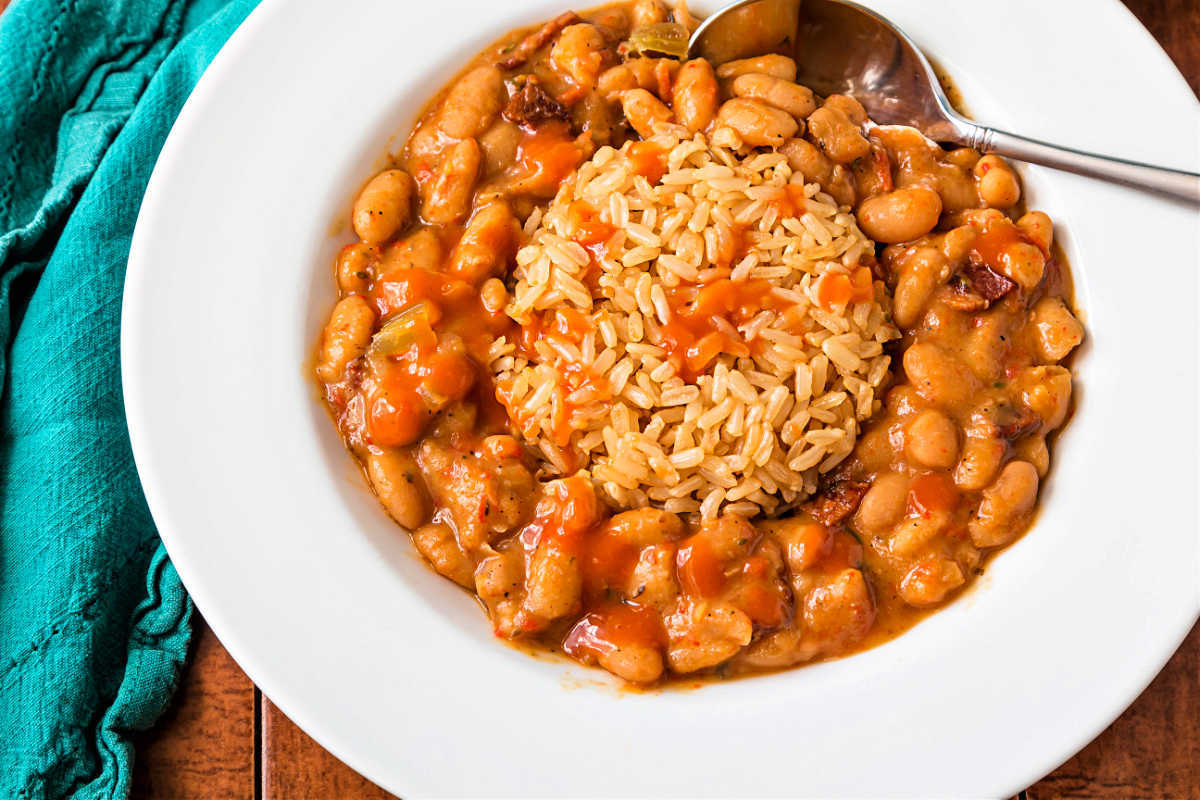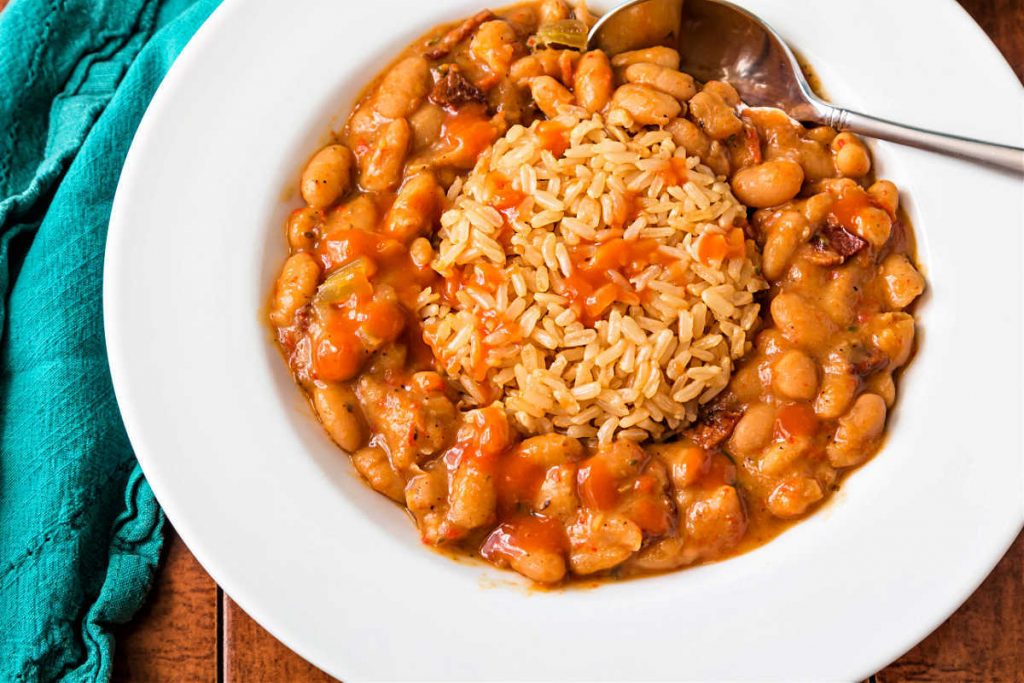 Since these beans are inspired by the flavors in Louisiana cooking, you'll definitely want to serve your beans with rice.
I made brown rice, but white rice is probably more traditional.
If you're vegetarian, consider topping them with sour cream and some grated jack cheese.
If you're vegan, serve them with hot sauce and maybe some shredded vegan cheese.
The sauce that the broth and seasonings make is thick and flavorful, and you won't want to miss a bite. So consider making some soft potato bread or dinner rolls to sop up all the goodness.
And if you make these Northern Beans as part of your Mardi Gras celebration, consider ending your meal with a slice of King Cake Cheesecake!
Questions
A Note About Measurements
For convenience, consistency, and accuracy, almost all my recipes are written by weight, either in ounces and/or grams, even the liquids.
I strongly encourage you to purchase a kitchen scale and learn to use it.
This is the one I used for years. I love it and highly recommend it:
Best for Home Use
Escali Primo Digital Food Scale
Don't let its small price and small size fool you. The Escali Primo is an accurate and easy-to-use food scale that I have used for years. It's easy to store, easy to use, has a tare function, and easily switches between grams and ounces/pounds for accurate measurements.
This is an affiliate link which means I earn from qualifying purchases. Your price is unaffected.
Credit Where Credit Is Due
I adapted this recipe from my friend Kathy Hester's wonderful cookbook, The Great Vegan Bean Book. All the recipes are excellent, and she won't be sad if you decide to make any of them and put meat in them.
You can also find tons of great vegan recipes on her blogs, Healthy Slow Cooking, and Plant-Based Instant Pot.
It would be so helpful to me and to other readers that, when you make a recipe, you rate it and leave a comment. Whether it's a recipe or an informational post, your feedback helps others decide if the post is helpful or if the recipe works as advertised.

If you could leave a star rating, that would be very helpful. Thank you for being here!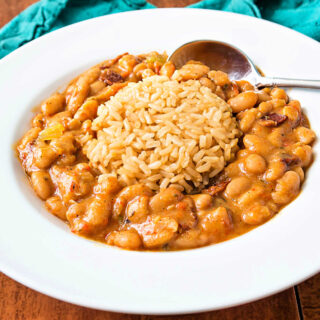 The Best Great Northern Beans Recipe
These Great Northern Beans cook up creamy and deeply flavored. With a flavor base of trinity and (optional) bacon fat and lots of Cajun-inspired spices, I think you'll agree this really is the best Great Northern Bean recipe, whether you make it vegetarian, vegan, or meaty.
Ingredients
4

oz

bacon

chopped and cooked

2

Tablespoons

bacon fat

1

medium onion

diced

1

red bell pepper

diced

2

stalks celery

diced

3

cloves

garlic

minced

2-3

teaspoons

Cajun seasoning

I used Tony Chachere's

1 ½

teaspoons

dried thyme

1

teaspoon

dried oregano

¼ to ½

teaspoon

cayenne pepper

2

bay leaves

2

tablespoons

(12g) veggie bouillon (I used Better than Bouillon)

1

pound

dried white beans

7

cups

water if you don't presoak your beans. Use 4 cups for pre-soaked beans

salt and pepper

to taste

Cooked rice

for serving
Instructions
Stove-Top Dutch Oven Directions
Cook the bacon, drain, and reserve.

Pour off all but 2 Tablespoons of bacon fat and cook the onions, celery, and red bell peppers over medium heat until softened, about 5 minutes.

Add the garlic and cook a couple of minutes more.

Stir in the spices and herbs and cook another 2 minutes.

Rinse and drain the beans and add them to the pot along with the bouillon and water.

Bring to a boil and then reduce the heat to keep it at a simmer until the beans are cooked through and creamy, about 3 hours. (See Notes)

Stir in the bacon and heat through.

Taste and adjust the seasonings as necessary, adding salt, pepper and/or more of the other spices if you think it needs it.

Serve over rice.


SERVING SUGGESTION

Add your favorite hot sauce and some grated pepper jack cheese. Serve with crusty bread.
Did You Make Any Changes?
Notes
Slow Cooker Directions
Pre-soak your beans in cold water for 8 hours. Drain.
Cook the bacon in a soup pot. Use oil to keep this recipe vegan.
Drain the bacon and pour off all but 2 Tablespoons of bacon fat.
Add the vegetables and saute for 5 minutes.
Add garlic, and saute for 2 minutes more.
Transfer to the slow cooker and add the rest of the ingredients except the salt and pepper, but use only 3 cups (700ml) water. Cook on low for 8 to 10 hours.
Remove the bay leaves.
Stir in the reserved bacon, if using.
Taste and add salt and pepper to your liking. Serve over rice.
Instant Pot Directions
Soak the beans in cold water for 8 hours. Drain.
Set your Instant Pot to saute.
Cook the bacon until crisp. Set aside and pour off all but 2 Tablespoons bacon fat. (Skip this step to keep it vegetarian and use 2 Tablespoons of your favorite cooking oil.)
Cook the trinity on saute for 5 minutes. Add the garlic and cook for 2 more minutes.
Add all the spices, the drained beans, and 4 cups of water.
Clamp the lid onto your Instant Pot, making sure it is set to "Sealing."
Cook on high pressure for 8 minutes.
Allow for natural pressure release, then remove the lid.
Check to make sure beans are soft and creamy. If not, clamp the lid back on and cook on high for an additional 2-3 minutes, also with natural pressure release.
Once the beans are tender, taste and adjust seasonings.
If the bean liquid is runnier than you'd like, mash some of the beans against the side of the pot and turn the Instant Pot to saute to reduce the liquid until it's a bit thicker.
Stir in the bacon, if using, and serve over rice.
Nutrition Information for Vegetarian Great Northern Beans (No bacon and using vegetable oil)
Calories: 322 Total Fat: 5.6g Cholesterol: 0g
To Store
Leftovers will be good in the fridge for up to 7 days. Reheat thoroughly either on the stovetop or in the microwave. For food safety, reheat to at least 165F for at least 15 seconds.
To Freeze
Beans and rice freeze really well. Put leftover rice and the beans in separate zip-top freezer bags, being sure to press out as much air as you can before sealing. Store in the freezer for up to two months.
Nutrition
Serving:
1
g
Calories:
425
kcal
Carbohydrates:
53.2
g
Protein:
24.8
g
Fat:
13.5
g
Saturated Fat:
3.8
g
Polyunsaturated Fat:
9
g
Cholesterol:
21
mg
Sodium:
1199
mg
Fiber:
16.3
g
Sugar:
3.6
g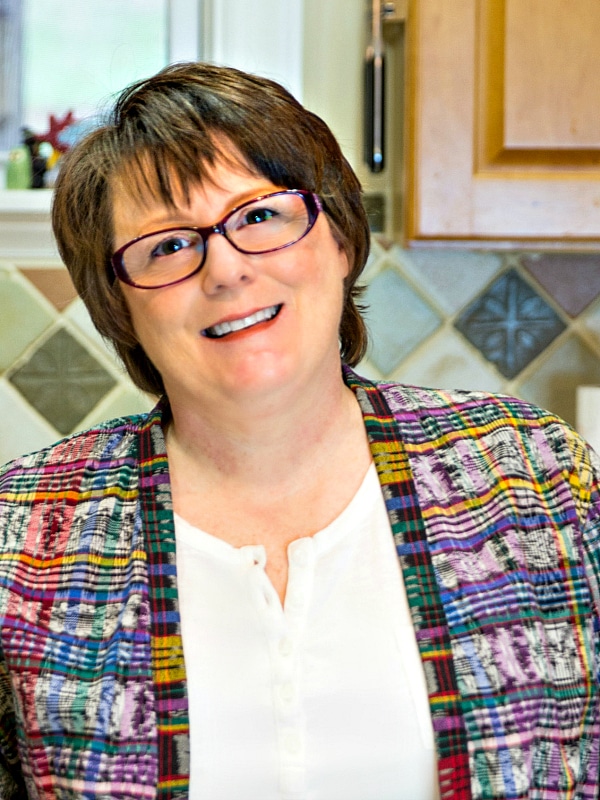 What are my qualifications to teach you baking and pastry? As a former working pastry chef and special educator, I marry my passions for both teaching and for baking into explaining techniques, methods, and developing the best possible recipes. For more info, you can read more about me.
If you'd like to receive new recipes and the occasional newsletter, I'd love for you to sign up for my Inbox Pastry Chef.
Thank you all for spending some time with me today. I hope you enjoy what I think is the best Great Northern Beans recipe around!
Take care, and have a lovely day.
Watch my white beans and rice web story here.