Most Recent Update:
Homemade ice cream lovers, don't forget I have a gift for you!
Click HERE for a FREE Restaurant
Ice Cream Recipe and Eleven Variations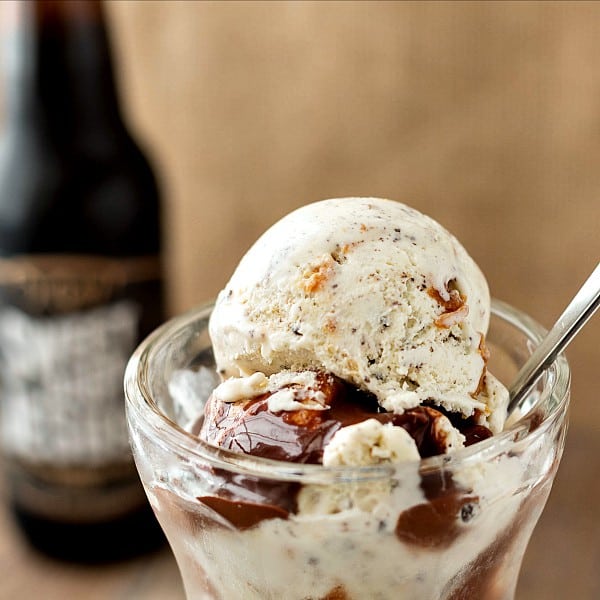 What You'll Find in This Post
hide
Chocolate Peanut Butter Porter Ice Cream Sauce
This chocolate peanut butter porter ice cream sauce gets a bit of backbone and depth of flavor from chocolate peanut butter porter. Only made sense to turn it into ice cream sauce! All ounce measurements are in weights.
Ingredients
12 oz semi-sweet or bittersweet chocolate chips, (I used Ghirardelli 60%)
1 1/2 teaspoons vanilla extract
1 12 oz can evaporated milk, (not sweetened condensed milk)
8 oz creamy peanut butter
4 oz chocolate peanut butter porter, (I used Sweet Baby Jesus)
5 oz granulated sugar
1/2 teaspoon kosher salt
Instructions
Place the chocolate chips and vanilla in a large bowl convenient to the stove.
In a heavy-bottomed sauce pan, heat the evaporated milk, peanut butter, beer and salt over medium heat. Whisk well to help the peanut butter melt evenly into the mixture.
Bring the mixture just to a boil.
Pour milk/peanut butter mixture over the chocolate chips and vanilla. Let sit a minute so the chocolate chips begin to melt.
Whisk until smooth and glossy.
Serve warm or at room temperature over ice cream
Progressive Eats: Cooking with Alcohol or Beer

Appetizers
Soups
Main Course
Desserts
Thank you for spending some time with me and the Progressive Eats crew. Enjoy the chocolate peanut butter porter ice cream sauce, and have a lovely day.
Want to go back and see what you may have missed? Click BACK! Or click NEXT to go to my favorite hot fudge sauce recipe!