A Nostalgic Treat
I didn't grow up eating Hamburger Helper, and as a result, I have always had a soft spot for it. I loved the commercials: "Hamburger Helper helped her hamburger HELLLLLLP her make a great meal!"

If you're in the mood for, say, Bacon Cheeseburger Macaroni, go for it. The fun in making your own is that you can customize it.
Why Make This Recipe?
My Cheeseburger Macaroni is by no means diet food, but it's a bit lighter than a traditional mac&cheese because I used half chicken broth for the liquid and didn't completely load it down with cheese as in a traditional Mornay sauce.
The jalapenos bring a ton of extra flavor without making the dish too spicy. I think even kids would dig this.
I do hope you give it a try when you're feeling retro and want some homemade comfort food!
It would be so helpful to me and to other readers that, when you make a recipe, you rate it and leave a comment. Whether it's a recipe or an informational post, your feedback helps others decide if the post is helpful or if the recipe works as advertised.

If you could leave a star rating, that would be very helpful. Thank you for being here!
Homemade Cheeseburger Macaroni
Comforting food that reminds you of childhood. That's cheeseburger macaroni. Making homemade hamburger helper from scratch doesn't take too long, and you can customize it however you would like. Enjoy!
Ingredients
1

pound

ground beef

(I used grass-fed 85/15)

2

Tablespoons

olive oil

1

small sweet onion

small dice (I used Vidalia)

salt and pepper

to taste (season throughout)

3

Tablespoons

flour

1 ½

cups

chicken broth

(I used a fat-free organic brand)

1 ½

cups

half and half

(you could get away with whole milk, but why?)

1

Tablespoon

yellow mustard

½

cup

diced pickled jalapenos

(or more or less, depending on how hot you like things)

6

oz

Havarti cheese

grated (or other cheese that melts smoothly)

4

oz

sharp cheddar cheese

grated

1

pound

macaroni

cooked to just shy of al dente

⅓

cup

of the pasta liquid
For Garnish (optional)
2-3

teaspoons

diced pickled jalapenos per serving

minced flat leaf parsley
Instructions
In a medium skillet, brown the ground beef with a bit of salt and pepper. Make sure to break it up well. Drain off any fat and set aside.

In a large skillet, heat the olive oil over medium heat.

Add the onion and season with salt and pepper. Cook until the onion is translucent, about 5 minutes.

Add the flour and cook another 1-2 minutes, stirring with a wooden spatula (or similar).

Add the broth and half and half. Turn the heat up to high and bring to a boil to thicken the sauce.

Turn the heat down to a low simmer. Taste and add salt and pepper. Season a bit lightly because the cheese contains some salt as well.

Stir in the mustard and the peppers.

Simmer for a few minutes to tighten up the sauce.

Turn the heat off–no boiling at this point–and stir in the grated cheeses a bit at a time until the sauce is smooth.

Stir in the reserved ground beef.

Taste and adjust seasonings if necessary.

Stir the sauce into the pasta along with the cooking liquid. Turn the heat to medium high and, stirring constantly, let the sauce reduce again so it coats the pasta nicely, about 1-2 minutes.

Taste and adjust seasonings if necessary.

Garnish as desired.

Serve and enjoy.
Did You Make Any Changes?
Nutrition
Calories:
779
kcal
Carbohydrates:
68
g
Protein:
38
g
Saturated Fat:
18
g
Cholesterol:
118
mg
Sodium:
1160
mg
Fiber:
3
g
Sugar:
5
g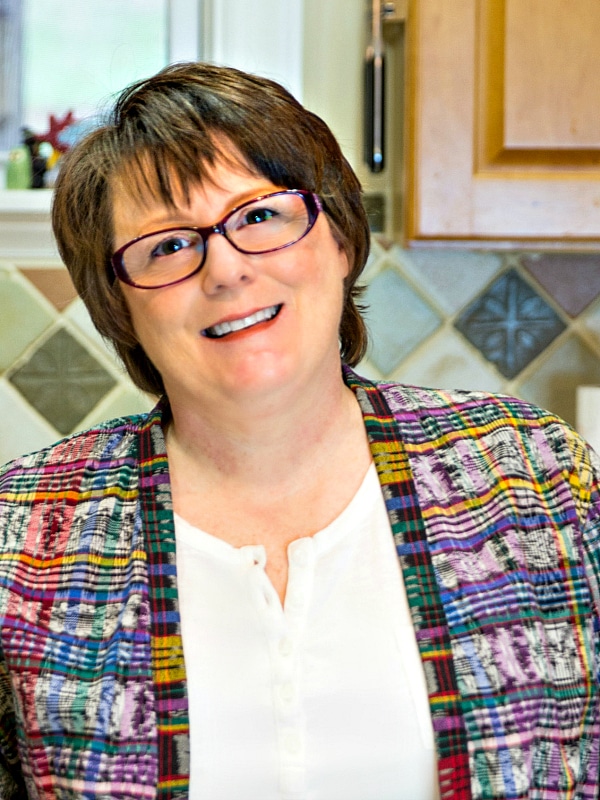 What are my qualifications to teach you baking and pastry? As a former working pastry chef and special educator, I marry my passions for both teaching and for baking into explaining techniques, methods, and developing the best possible recipes. For more info, you can read more about me.
If you'd like to receive new recipes and the occasional newsletter, I'd love for you to sign up for my Inbox Pastry Chef.
And there you have it, friends. A delicious, filling, retro meal that I'm pretty sure your whole family will enjoy. So, the next time you reach for that box of Hamburger Helper, and I don't care how cute that white glove/hand character is, go ahead and make a homemade version of cheeseburger macaroni.
Thank you for spending some time here with me today. Have a lovely day.