What You'll Find in This Post
hide

Bourbon Honeycomb Chocolate Chunk Cookies
Aside from Viviane's fabulous base recipe, these cookies owe their awesomeness to two ingredients.
Cloister Honey
The first is Cloister Honey, based in my hometown of Charlotte, NC, and their very boozy Bourbon Honey made with Woodford Reserve Bourbon. Because why not use the best, right? 
Aside from their infused honeys, they also have flavored whipped honey spreads and traditional honeys (orange blossom, sourwood (my favorite!) and wildflower). Use the store locator to see if you can find it locally. There is also a small offering of Cloister products available on Amazon (affiliate link). 
Videri Chocolate
The other ingredient that I used because it is both delicious and local is Videri Chocolate. You, of course, can and should use your favorite semi-sweet and/or bittersweet chocolate in your cookies, but here's just a bit of information on Videri. Videri is a chocolate factory. They source beans, roast them and then loving turn them into luscious chocolate. Their plain chocolate comes in 70%, 70% with sea salt and their signature "dark milk" which is a 55% cocoa mass chocolate. As far as I'm concerned, it provides the best of both worlds: the mellowness of milk chocolate and the fruitiness of dark chocolate. Aside from their bars, they also make and sell a variety of bonbons and truffles. I have sampled many of their chocolate fillings, but when we stopped in last Saturday, they were sampling their raspberry sage truffle filling, and I am pretty sure my eyes rolled back in my head when I tasted it. You can shop online from Videri or visit the factory across from The Pit in downtown Raleigh.
About That Honeycomb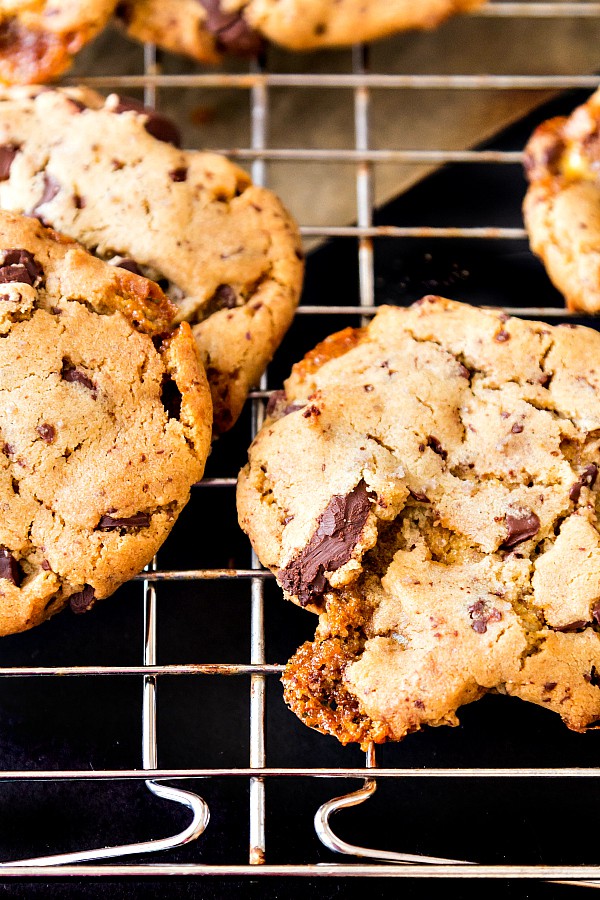 One cannot very well make Bourbon Honeycomb Chocolate Chunk Cookies without some Bourbon Honeycomb. I used this recipe as my base recipe, but I did make a few tweaks. I will post the formula I settled on probably on Thursday, and then I'll link the posts together. If you can't wait to make bourbon honeycomb chocolate chunk cookies (and you really shouldn't), go ahead and use your favorite honeycomb recipe or even some from the candy store. I promise it will be just as delicious. You may not even miss the bourbon. Maybe. UPDATE: here's the bourbon honeycomb candy recipe for you!
I wish I had a fun story to weave for you about these cookies, but I don't. The truth is that I saw Viviane's originals, immediately began drooling, and didn't stop until I made them. Not a very glamorous story, but it's true. Click below to grab the recipe.