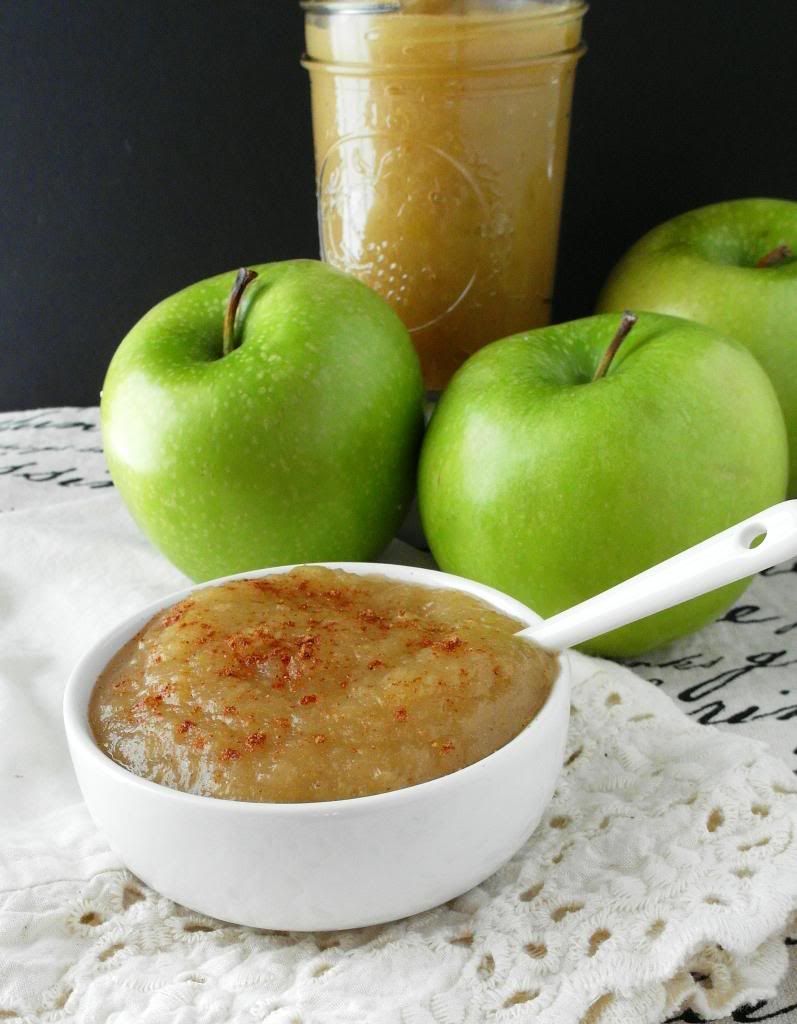 Spring is Springing all around us here in North Carolina. Trees that until recently had been dormant are now leafing out. Flowers are popping up here and there. The children are bringing in a ton of mice (thanks, children). All signs of Spring.
Apples do not sing of Spring. They sing of crisp Autumn Days; of long cold evenings; of trees that blaze red, yellow and orange.
I'm not really sure why my mind went to applesauce yesterday. Bright blue sky. Warm sun. Cool breeze. Windows thrown open. For me, a perfect day.
It could be that, taken by itself, yesterday could also have been a glorious Autumn day. Bright blue sky. Warm sun. Cool breeze. Windows thrown open.
In North Carolina, we are fortunate to have four distinct seasons, although I'm pretty sure the summers are a bit longer and hotter than they used to be while the winters are a bit shorter and milder. Spring and Fall are my favorites though. Change is in the air. In the Autumn, nature gets itself ready for bed. In the Spring, it goes about its morning routine.
And even though gloriously perfect Autumn days inevitably lead to colder days and longer nights while gloriously perfect Spring days lead to the longer, hotter, humid days, I savor them both. Rather than anticipate the days that follow with just a bit of dread, I choose to live in the moments of those perfect Spring and Fall days.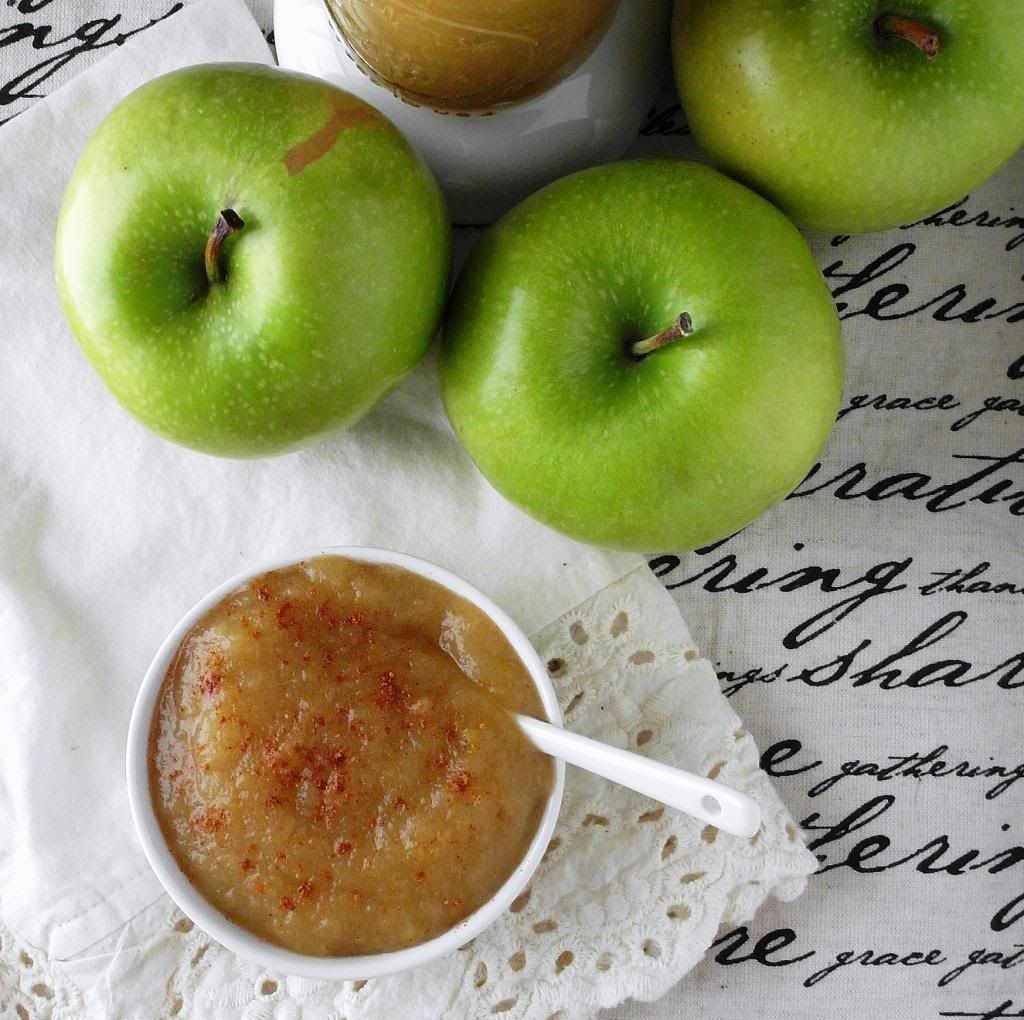 And that, my friends, is why I ended up making apple sauce yesterday.
That, and I had a bag of organic apples that needed Seeing To…
Granny Smith Apple Sauce
Four ingredients. Couldn't be easier. I am not giving any real measurements here because it really is made all to taste. Use whatever apples you have on hand. Feel free to change up the spicing however you see fit.
What You'll Need
Apples

, preferably organic, washed and cored, cut into pieces. Peeling is optional, especially if you have a food mill

Apple juice or apple cider

, enough to fill your pan by about 3/4".

Fine sea salt

, to taste

sugar

(brown or white), to taste
Optional
a sprinkle of your favorite baking spices

(I used "Baking Spice" from Savory Spice Shop)
What To Do
Place the apples, salt and optional spices into a heavy-bottomed pan large enough to hold all the apples.

Pour in the apple juice or apple cider.

Bring up to a boil and then turn the heat down to maintain a simmer. You will have to stir occasionally to make sure all the fruit has a chance to cook in the juice in the bottom of the pan.

When all the fruit is cooked and very soft, remove from heat and run through a food mill fit with the medium die.

Taste the applesauce and add sugar to your taste if it is needed. If you use very sweet apples, you might not need any at all. I used 100% Granny Smiths, so I definitely had to add some.

Let cool then refrigerate.

Use within a week to ten days.
Recipe Notes
If you don't have a food mill, you can mash your apples with a potato masher, run them through a ricer or even use your blender or immersion blender for very smooth sauce. If using one of these methods, go ahead and peel the apples before cooking.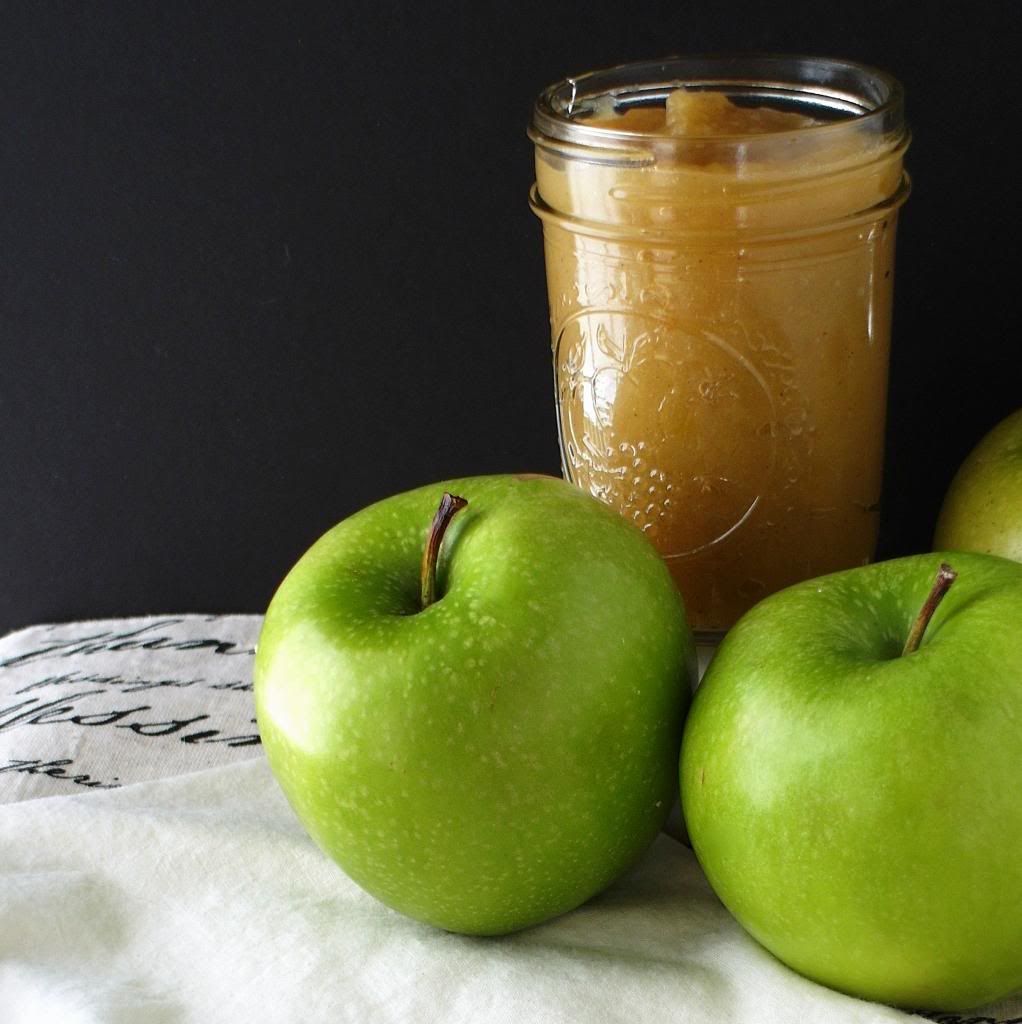 There is no reason that you can't add other fruits to your applesauce, so don't feel bound by convention to just stick to apples. What kind of fruits would you put in yours?
Thank you for spending some time with me. Have a lovely day.